Lemelson-MIT Prize goes to imaging scientist Ramesh Raskar
Ramesh Raskar of the MIT Media Lab is the recipient of the 2016 $500,000 Lemelson-MIT Prize.
Sep 14th, 2016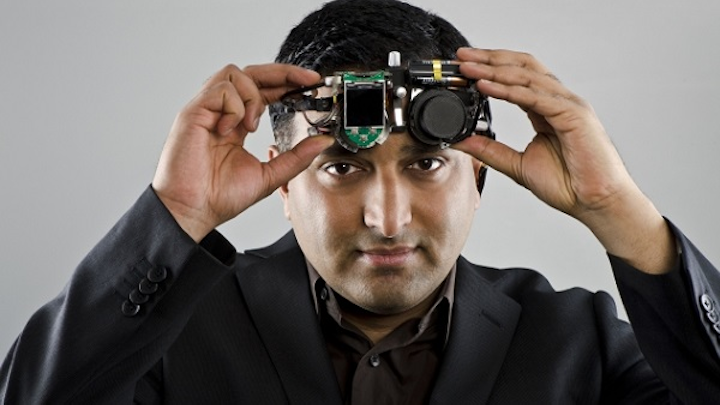 IMAGE: The 2016 Lemelson-MIT prize was awarded to Ramesh Raskar of the MIT Media Lab for his breakthrough imaging technology and innovation mentoring skills. (Image credit: MIT)
Ramesh Raskar, founder of the Camera Culture research group at the Massachusetts Institute of Technology (MIT; Cambridge, MA) MIT Media Lab and associate professor of media arts and sciences at MIT, is the recipient of the 2016 $500,000 Lemelson-MIT Prize. Raskar is the co-inventor of radical imaging solutions including femtophotography, an ultrafast imaging system that can see around corners; low-cost eye-care solutions for the developing world; and a camera that allows users to read pages of a book without opening the cover. Raskar seeks to catalyze change on a massive scale by launching platforms that empower inventors to create solutions to improve lives globally.
RELATED ARTICLE: Time-of-flight camera sees around corners
"Everyone has the power to solve problems and through peer-to-peer co-invention and purposeful collaboration, we can solve problems that will impact billions of lives," Raskar says. He plans to use a portion of the Lemelson-MIT Prize money to launch a new effort using peer-to-peer invention platforms that offer new approaches for helping young people in multiple countries to co-invent in a collaborative way. Visit redx.io to learn more or to apply.
Raskar has dedicated his career to linking the best of the academic and entrepreneurial worlds with young engineers, igniting a passion for impact inventing. He is a pioneer in the fields of imaging, computer vision and machine learning and his novel imaging platforms offer an understanding of the world that far exceeds human ability. Raskar has mentored more than 100 students, visiting students, interns, and postdocs, who, with his guidance and support, have been able to kick-start their own highly successful careers.
"We are thrilled to honor Ramesh Raskar, whose breakthrough research is impacting how we see the world," said Dorothy Lemelson, chair of The Lemelson Foundation. "Ramesh's femtophotography work not only has the potential to transform industries ranging from internal medicine to transportation safety, it is also helping to inspire a new generation of inventors to tackle the biggest problems of our time."
Making the invisible visible
In 2012, Raskar co-created femtophotography, an advanced form of photography allowing cameras to see around corners. The technology, currently in development for commercialization, uses ultrafast imaging to capture light at 1 trillion frames per second, allowing the camera to create slow motion videos of light in motion.
A vision for improved eye-care in the developing world
Raskar is the co-founder of EyeNetra, an inexpensive, disruptive eye-care platform that spun out of Media Lab research. EyeNetra enables on-demand eye testing in remote locations via a handheld technology that snaps onto a mobile device. When looking into the binocular the user is provided with interactive cues to rapidly calculate a prescription for eyeglasses.
Empowering social impact among youth and entrepreneurs
Raskar is also the founder of the Emerging Worlds initiative, a year-round effort focused on solving some of the world's most pressing problems and impacting billions worldwide. This initiative, based at MIT, links corporate members, government organizations, educational institutes, and venture partners. The members work in very specific integrated ecosystems to spot problems, probe solutions, grow adoption, and scale the deployment.
The Lemelson-MIT Program is now seeking nominations for the 2017 $500,000 Lemelson-MIT Prize. Contact the Lemelson-MIT Program at awards-lemelson@mit.edu for more information or visit the prize website.
The Lemelson-MIT Program celebrates outstanding inventors and inspires young people to pursue creative lives and careers through invention. Jerome H. Lemelson, one of the most prolific inventors in U.S. history, and his wife Dorothy founded the Lemelson-MIT Program at MIT in 1994. It is funded by The Lemelson Foundation and administered by the School of Engineering at MIT. Based in Portland, OR, The Lemelson Foundation helps the next generation of inventors and invention-based businesses flourish and to date, the foundation has made grants totaling more than $200 million in support of its mission.
SOURCE: MIT;http://news.mit.edu/2016/ramesh-raskar-awarded-lemelson-mit-prize-0913