Free-space-optics vendors find new markets in traditional places
Free-space-optics (FSO) technology has been used in military applications for about four decades.
Aug 1st, 2005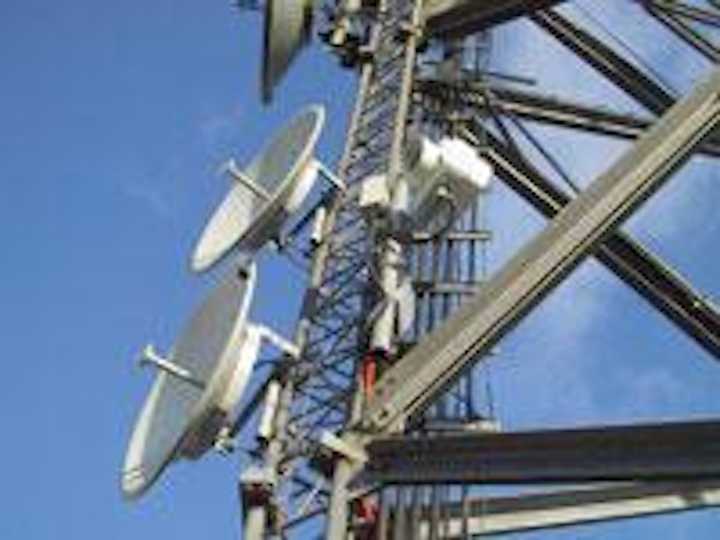 Free-space-optics (FSO) technology has been used in military applications for about four decades. Its commercial development was strongly stimulated at the beginning of this decade during the expansion of the telecom bubble. The bubble may be gone now, but commercial firms remain, integrating new and old technologies in products for both telecom and military applications.
Bob Preston, senior vice president and chief marketing officer at Lightpointe (San Diego, CA), points out that for point-to-point communications in general, whether wireless or wired, users ultimately need to find an optimal three-way tradeoff between distance, bandwidth, and availability to suit any given application. Free-space optics offers high bandwidth of course, and in May, Lightpointe moved to boost availability in its product line for the enterprise market by introducing an integrated FSO-radio frequency (RF) system.
The size of the enterprise market (outdoor point-to-point connections over 500- to 1500-m distances) was about $100 million in 2004 and is projected to hit $165 million this year, according to Preston. By boosting availability (uptime percentage) from 99.9% with FSO alone to 99.999% with a combination of FSO and RF, the company hopes to extend the enterprise market potential out to what they call a short-haul high-capacity market segment, estimated at $352 million last year and projected to climb through $439 million this year to reach $669 million by 2007.
The recently introduced Lightpointe system (FlightStrata 100 XA) uses a series of algorithms to monitor performance thresholds automatically and to transfer traffic instantaneously from the primary FSO to the active-standby secondary path (a license-free 5.8-GHz RF transmitter) to maintain network availability, when thick fog, for instance, obstructs the FSO line of sight.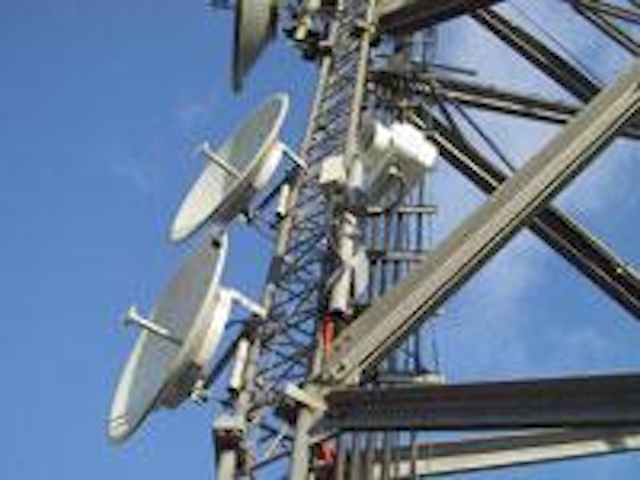 A SONAbeam FSO system complements the microwave antennas of a major wireless service provider in a cellular backhaul application located in Puerto Rico.
Click here to enlarge image
New strategic initiatives at fSONA (McLean, VA) this year include a physical move into fuller engagement with the U.S. military and federal market and a broadening of market offerings through a distribution agreement with LaserBit (Budapest, Hungary). Chief executive Sunny Taylor, former vice president of North American sales at fSONA with a particular focus on U.S. military and federal accounts, moved into the CEO position about a month before announcing a relocation of corporate headquarters from British Columbia, Canada, to Northern Virginia, and the appointment of defense sector veteran, Samuel D. Wyman III to chair the fSONA Board of Directors at the end of April.
"We feel there is a great opportunity for fSONA to serve the military and homeland-security efforts," Taylor said. "For military customers, our SONAbeam systems are ideal for distributing bandwidth throughout a base or campus at a fraction of the cost of fiber. For federal customers, SONAbeam can aggregate real-time digital video surveillance feeds to a central point for monitoring and processing."
Taylor emphasized that fSONA is not moving away from its commercial customer base, however, and the company announced a bilateral distribution agreement in April with LaserBit (Hungary) that allows both companies to sell their combined product portfolio globally. The products offered by the two companies will range from LaserBit's low-cost Power over Ethernet (PoE) Pluto solutions to fSONA's military-grade, high-performance SONAbeam M Series.
fSONA's product line uses 1550-nm wavelength lasers, yielding a significant eye-safety benefit over commonly used 750- to 900-nm lasers according to product development manager Pablo Bandera. Since 1550-nm signals tend not to pass through the cornea to cause retinal damage, the systems can be operated at higher power levels, thereby providing advantages in penetrating poor visibility conditions such as fog and thus boosting FSO system availability percentages, as well as potentially longer distances and higher data rates.
Both fSONA and Lightpointe use multiple beams in their high-end systems to average out the effects of atmospheric scintillation due to heated air rising from the earth or man-made devices such as heating ducts, which can create temperature variations among different air pockets and cause fluctuations in signal amplitude. While this fits the bill for the single-digit kilometer distances required for telecom and datacom applications, it would not work for the military and defense FSO applications such as surveillance and reconnaissance, laser target designation, directed energy, IR countermeasures, or various command and control applications targeted by Aoptix (Campbell, CA).
Free-space optics systems for military and defense application distances and bandwidths must climb by orders of magnitude over telecom requirements to hundreds of gigabits per second over 20- to 30-km links and into terabits per second over short ranges. Mobile point-to-point applications include surface-to-surface, air-to-air, and air-to-surface, as well as applications in which mobile airborne platforms communicate with vehicles in space. In addition, atmospheric distortion issues become more severe in airborne situations because of the increased rate of atmospheric scintillation around moving aircraft. Acquisition and tracking obviously also become much more demanding at greater distances and between moving targets.
Aoptix was founded five years ago with an adaptive-optics-based intelligent beam control technology that includes acquisition and tracking in addition to atmospheric distortion control, according to Anthony Mazzarella, cofounder, chairman of the board, and former CEO of Aoptix. The company's original intention was to serve telecom and datacom markets for which, at the time anyway, even the sky was not a limit. When the telecom bubble burst, however, Aoptix began to look elsewhere and eventually made a solid market connection with the roots of FSO technology, in the high-performance and high-end needs of military and defense applications.
The Aoptix technology is based on a double-conjugated adaptive-optics approach that, instead of sensing wavefront distortion and correcting the signal at the receiver, uses a common aperture for transmit and receive ends and applies the correction throughout the beam, from source to detector. The beam control is so precise that no separate source or receiver is required. The optical signal emitted from an optical fiber at the transmit end enters directly back into another optical fiber at the receive end. While well beyond the performance needs and cost limits of telecom and datacom users, the system offers a good match for military needs because the tightly controlled beams (expanding to less than 6 in. in width over ranges on the order of 10 km) yield a low probability of interception or detection. "Any beam bigger than the target will go past the target and be detectable down range," said Dean Fenner, who took over the CEO spot from Mazzarella last spring.❏