Opto Ireland 2005 highlights a flourishing optics community
Opto Ireland 2005 (OI05; Dublin, April 4-6), held by SPIE Europe (Cardiff, Wales), took place at one of the most historic centers of Irish science and optics: the Royal Dublin Society (RDS).
Jun 1st, 2005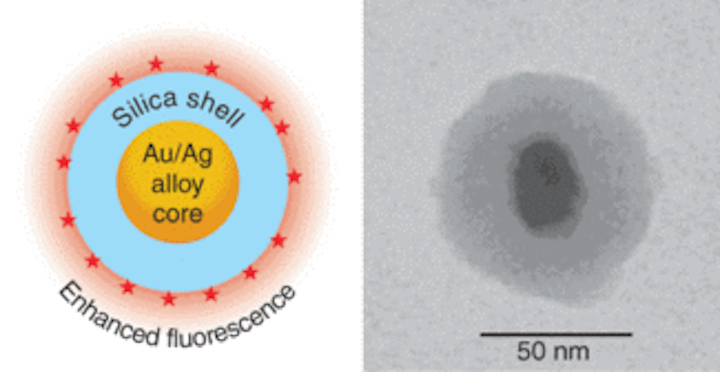 Opto Ireland 2005 (OI05; Dublin, April 4-6), held by SPIE Europe (Cardiff, Wales), took place at one of the most historic centers of Irish science and optics: the Royal Dublin Society (RDS). The unveiling of a plaque by Minister Brian Lenihan, commemorating Thomas Grubb (1800-1878), whose factory was one of the most important optical manufacturers in the world in the 19th century, marked the beginning of the event.
Opto Ireland 2005 highlighted the impressive scope of optical research programs across the island. Barry McSweeney, the chief science advisor to the Irish government and one of the keynote speakers, made this point by providing insights into current government funding activities. Ireland's approach to research funding has led to major investments via agencies such as Science Foundation Ireland, Enterprise Ireland, the Irish Research Council for Science Engineering and Technology, and the Irish Development Agency in areas including optical engineering, optoelectronics, nanotechnology, and biotechnology.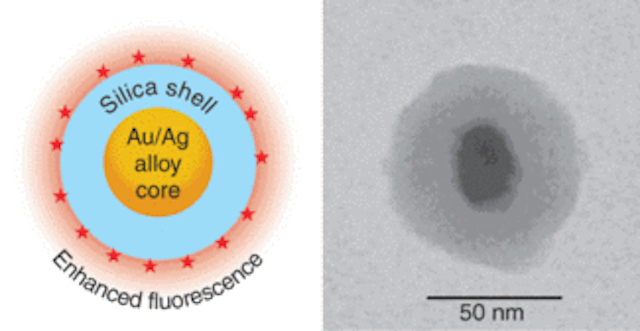 Click here to enlarge image
Nanoparticles that improve the efficiency of biochips were described by researchers from the National Centre for Sensor Research (NCSR) of Dublin City University at Opto Ireland 2005. Here, a nanoparticle has a gold-and-silver alloy shell; the alloy content is adjusted to match the metal surface-plasmon resonance to the absorbance of the relevant fluorophore, which is immobilized on the outer surface of the shell (left). The thickness of the silica shell is tailored to enhance fluorescence. A transmission-electron-microscope image shows a nanoparticle with a metal-core diameter of 30 nm and silica-shell thickness of 24 nm (right).
The leader of the Irish Seanad, Senator Mary O'Rourke, opened the event with a speech at the WITS/WiO (Women in Science and Technology and Women in Optics) event. The vital issue of how to encourage young women to study ­optics was explored in a keynote contribution from Susan McKenna-Lawlor, managing director of Space ­Technology ­Ireland (Maynooth, Ireland), whose own work on spaceflight technology has caught the attention of many in the discipline of optical engineering.
Speakers at the Business Development Forum included representatives of venture-capital firms specializing in startups, as well as multinationals newly located in Ireland, who addressed attendees' commercial and industrial interest. (It is hoped this forum will be the basis of a future business event that will be a collaboration between the Irish Photonic Association and SPIE in late 2005 or early 2006.) The industrial exhibit was sold out, with more than 80 registered industrial attendees; several exhibitors gave well-attended commercial presentations that showcased their products. A comprehensive survey of exhibitors revealed that good business took place and the vast majority expected to return for Opto Ireland 2007.
The plenary sessions were impressive in terms of the high international standing of the speakers and the quality of the work presented. Clivia Sotomayor Torres, a professor at the Tyndall National Institute (Cork, Ireland), spoke on "Nanophotonics: Achievements and Challenges," and Antonio Ricco on "Microfluid Devices with Optical Detection for Bioassay Applications." Frank Wyrowski of the University of Jena (Jena, Germany) delivered a keynote talk, "Innovation Through Photonics," Ray Smith of the Lawrence Livermore National Laboratory (Livermore, CA),), spoke on "X-ray Laser Developments," and Donal Bradley, the chair of experimental solid-state physics at Imperial College London's Blackett Laboratory (London, England) delivered a talk, "Polymer Optoelectronic Materials and Devices."
Eleven sessions
Eleven collocated conference sessions were offered, with four running in parallel at any one time: Imaging and Vision; Nanotechnology and Nanophotonics; Surface Engineering and Nanotechnology; Optoelectronics and Photonics Devices; Optical Networks: Systems and Devices; Photonics Fabrication, Integration and Packaging; Spectroscopy; Optical Sensing; Photon Management; Laser-based Materials Processing; and Optics Education (see figure). Approximately 250 papers were delivered during OI05.
In total, there were more than 500 registered attendees from 30 counties, about 400 submissions, strong interest in all eleven conference sessions, and a vigorous commercial exhibit. While attendees were aware of particular areas of expertise within Ireland, most were not aware of the depth and breadth of activity being carried out. What most participants specifically commented on when asked was the obvious good spirits of the Irish optics community, driven by a realistic economic optimism, a growing appreciation of Ireland's past achievements, and a growing confidence in their future.
NORMAN MCMILLAN was the OI05 conference chair and is a senior lecturer at the Institute of Technology Carlow (Carlow, Ireland); e-mail: mcmillan@itcarlow.ie. JOHN T. SHERIDAN was the OI05 local organizing committee chair and is a professor at the University College Dublin; e‑mail: john.sheridan@ucd.ie.