Photonex05expands offerings
Now in its 13th year, the Photonex05 Exhibition and Conference (Oct. 5-6; Stratford-upon-Avon, England) has expanded to include photonics and business seminars, as well as workshops.
Dec 1st, 2005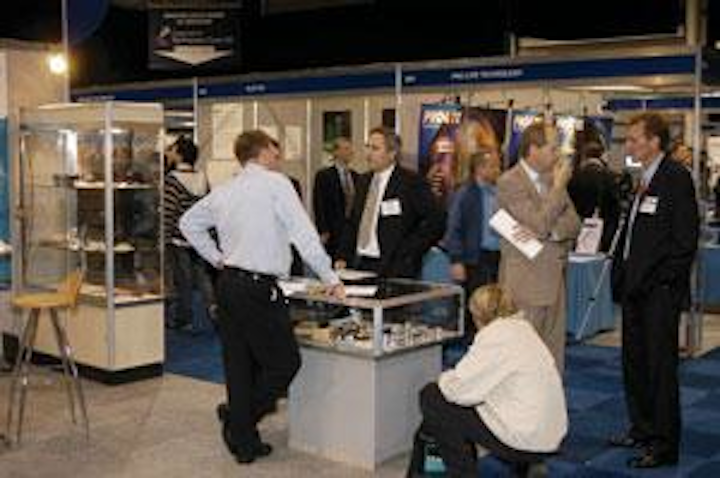 Now in its 13th year, the Photonex05 Exhibition and Conference (Oct. 5-6; Stratford-upon-Avon, England) has expanded to include photonics and business seminars, as well as workshops. For the first time the organizers launched seminars on biophotonics and biological imaging that proved to be extremely popular and well attended. The exhibition also integrated with the Imaging Science exhibition that covered the areas of vision, spectroscopy, and microscopy and included a seminar program, "Imaging for Industry." The exhibition featured around 130 booths and was attended by some 1500 visitors. Most of the major manufacturers and suppliers of photonics and lasers exhibited, as well as U.K.-based representatives and distributors of lasers, fiberoptics, photonic and spectroscopy products, and vision systems. Several start-up companies exhibited for the first time.
While Photonex is a relatively small exhibition on the European scene, it plays an important role in the U.K. photonics and imaging markets. Despite the attendance figures being flat compared with last year's show, most of the exhibitors expressed satisfaction at the level of interest and several mentioned that while the level of sales leads were not significant, they were happy with the quality of the inquiries.
New products
While most of the major companies chose to launch new products at the bigger shows like Laser Munich, Photonics East/West, or CLEO, several companies launched new products at Photonex05. Diode-pumped solid-state (DPSS) lasers were the largest category, with no less than 25 companies offering DPSS lasers. The products were offered by the larger companies such as Newport Spectra-Physics (Irvine, CA), Coherent (Santa Clara, CA), and Melles Griot (Carlsbad, CA), as well as smaller U.K. manufacturers like Laser Quantum in Manchester, Laser SOS in St. Ives, and Elforlight in Daventry.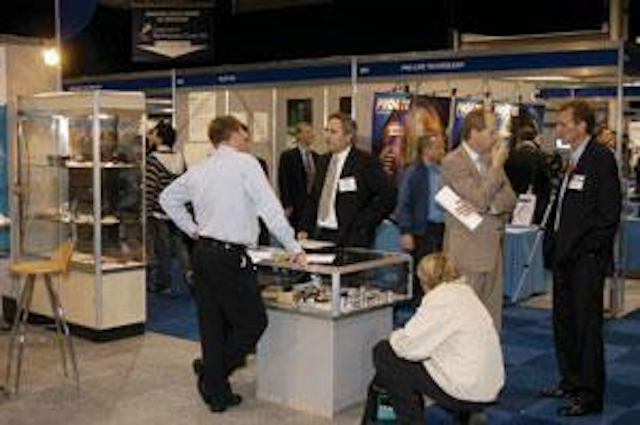 The Photonex05 Exhibition attracted many industry visitors to displays of a wide variety photonics and imaging products.
Click here to enlarge image
Other new products included a pulsed dye laser offered by Photonic Solutions from Sirah (Karst, Germany), which is tunable from 4.8 to 11 µm for high-resolution spectroscopy, while a new company, Gilden Photonics (Edinburgh, Scotland), unveiled a range of spectroscopy products including high-resolution triple monochromators.
In addition to vendors, five university spinoff and technology-transfer companies attended from universities in England and Scotland. The U.K. Photonics Cluster was actively involved in organizating the supporting seminar program; the Scottish Optoelectronics Association (SOA) and Welsh Opto-Electronics Forum (WOF) also participated.
Seminars included one-day meetings on fiber Bragg gratings and special fibers, optical environmental sensing, spectral imaging, biological imaging, and microscopy. The separate Photonics Cluster seminar program was well attended throughout the two days. The business and finance session attracted technology companies wanting to protect their intellectual property assets or consider raising financing to grow their enterprises.
The technology seminar program included dedicated biophotonics sessions with these activities proving to be a substantial draw to the exhibition. Topics included covered such diverse areas as "Photonics to detect dental disease," presented by the Institute of Photonics (Glasgow, Scotland), "Optical sensing of glucose in the eye," presented by Lein Applied Diagnostics (Wokingham, England), and "THz radiation for medical applications" presented by HT Consultants (Oxford, England).
A two-day seminar program, "Imaging for Industry" was organized by the U.K. Industrial Vision Association and was part of the Imaging Science Exhibition.
Next year's Photonex will be held at the same location on Oct. 4 and 5, 2006.
Shaun Coles
WEB LINKS
Photonex: www.photonex.org
Imaging Science: www.imagingscience.co.uk
Photonics Cluster (U.K.): www.photonicscluster-uk.org
U.K. Industrial Vision Association: www.ukiva.org
Scottish Optoelectronics Association www.optoelectronics.org.uk: Welsh Opto-Electronics Forum www.wof.org.uk
SHAUN COLES is a photonics and marketing consultant based in Melbourn, England; e-mail: shaun@consultcoles.co.uk.