Review and forecast of the laser markets Part I: Nondiode lasers
The Laser Focus World 2003 annual review and forecast of the laser markets is conducted in conjunction with Strategies Unlimited, an optoelectronics market research firm based in Mountain View, CA. Part I of the review reports on the overall market and focuses on nondiode laser markets. Part II, written by Robert Steele of Strategies Unlimited, covers the diode-laser marketplace and will be published next month. �Ed
Jan 1st, 2003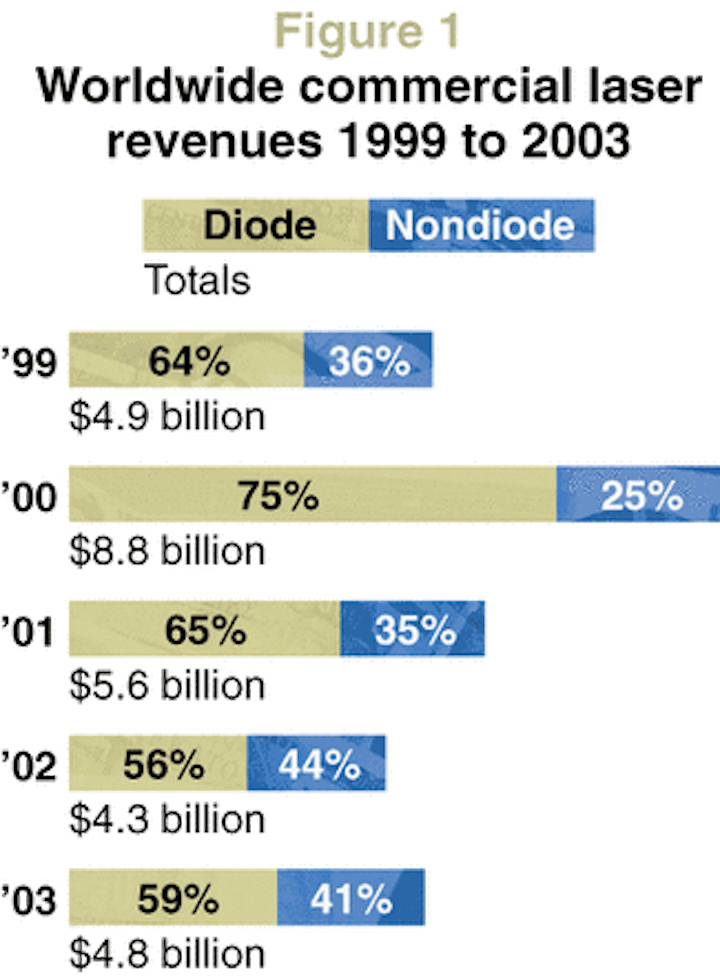 All metaphors aside, the last two years have been among the toughest in the laser industry's 40-year history. While a few market segments have remained relatively stable, the downturn in telecommunications and semiconductor manufacturing has hurt almost every laser, optics, fiberoptics, imaging, and display company in one way or another. It is like the hangover from hell.
Worse still, no relief appears to be in sight. The global economic malaise continues, and the anticipated turnaround in the telecom sector keeps getting pushed further and further out, with some analysts now saying it may be late 2004 before any significant investment returns to the telecom space. And while the semiconductor-processing market has shown some signs of life over the past year, several equipment suppliers noted in the latter part of 2002 that they were seeing a "double-dip" downturn that is further straining efforts to maintain profitability in this market.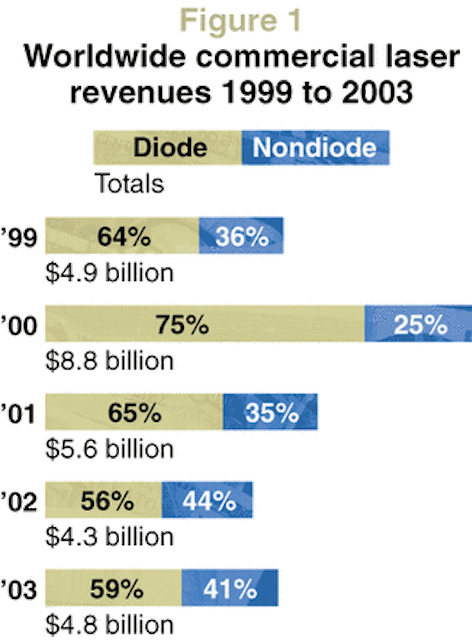 Click here to enlarge image
Thus, despite the fact that several markets actually avoided the effects of the telecom "meltdown"—most notably basic research, security/defense, image recording, and data storage—overall laser industry revenues declined in 2002 for the second year in a row, to $4.3 billion, off $1.3 billion (-24%) from $5.6 billion in 2001 (see Fig. 1). Diode lasers accounted for almost all the decline, with nondiode lasers losing a mere $83 million (-4%). Looking forward, the overall market is expected to gain 12% in 2003, reaching total sales of $4.8 billion—a surprisingly robust growth number given the strong dose of realism we have all received over the past 18 months.
Nondiode-lasers sales data for 2002 and 2003 are charted in detail by application and by type in Fig. 2 and Fig. 3. Nondiode-laser sales data by unit shipment and dollar revenues are shown in Tables 1 and 2, respectively. The corresponding charts and tables for diode lasers will appear next month. For an explanation of our methods, see "Where the numbers come from," below. Note also that sales of fiber lasers and metal-vapor lasers are included in the "other" category, but we are unable to publish any applications-specific data for these lasers.
The data presented in the tables are available with additional commentary in the Jan. 1 issue of Optoelectronics Report. The survey data will also be analyzed at the 17th annual Laser and Optoelectronics Marketplace Seminar on Jan. 27, which is held in conjunction with Photonics West (San Jose, CA) and is sponsored by Laser Focus World in conjunction with Strategies Unlimited. (For more information, see p. 96 and www.marketplaceseminar.com.)
Industry impact
Consolidation was one of the most consistent buzzwords in the optoelectronics industry throughout 2002. Hurt by the telecom and semiconductor-processing downturns and the ongoing general economic decline, even well established companies were forced to reorganize, restructure, downsize, merge, and even, in a few sad cases, go out of business. In a rather bleak summary of the situation, Patrick Nettles, chairman of Ciena (Linthicum, MD), noted that the telecom industry as a whole has lost more than 560,000 jobs since late 2000, of which 50,000 jobs were from the major optical component suppliers. While speaking in November at the Boston University Photonics Center's "Future of Light" conference in Boston, Nettles also noted that telecom vendors and component suppliers have lost more than $2.4 trillion (more than 90%) in market capitalization since the peak two years ago.
Declines taking place in venture capital investments are further fueling the uncertainty underlying the future of the optical-communications market. In the first two quarters of 2002, venture investments (mostly in information technology startups) totaled about $6 billion per quarter, according to VentureWire Research (New York, NY). While this is well below the peak of $27 billion invested in the second quarter of 2000, it is still 40% higher than at any time since before the second quarter of 1999. VentureWire found that, while VCs now tend to invest more in established companies rather than startups, there is still money available for newer firms that can use innovative technologies to help corporations save money, particularly in the data-storage and data-security fields.
At the same time, however, there are concerns that, despite all the industry consolidation, we have not seen the last of the shutdowns, particularly among smaller, younger firms that are still living off their initial VC investments. In the past year, various analysts have noted that there is a "massive overhang" of venture capital money that will never make a return, and that many of the companies relying on that money will begin to run out of capital and eventually have to cease operations. According to VentureOne, from 1992 to 2002, 10,049 companies were funded with venture capital; of those, 1785 were acquired, 864 went public, and 1532 went out of business. That leaves 5868 still trying to survive.
For the more established firms still surviving their forays into telcom, the goal has been to move away from telecom (at least for the time being) and focus their remaining resources on markets with better growth opportunities.
International markets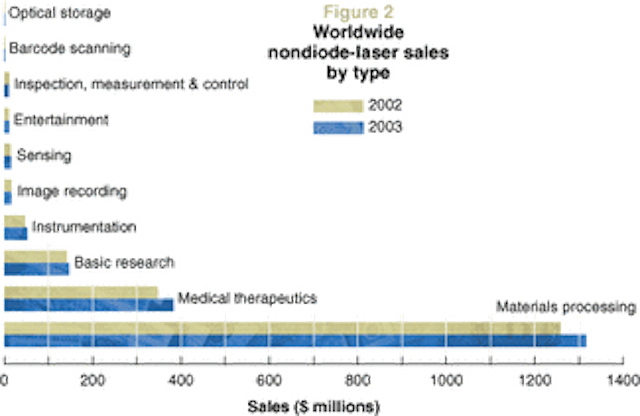 Click here to enlarge image
The situation is much the same in markets outside North America. In Europe, for example, the telecom market is still bumping along the bottom. Those companies tied exclusively to the telecom sector are in even worse shape now than in 2001, although some are riding it out better than others and those with money to spend are picking up other companies at bargain-basement prices.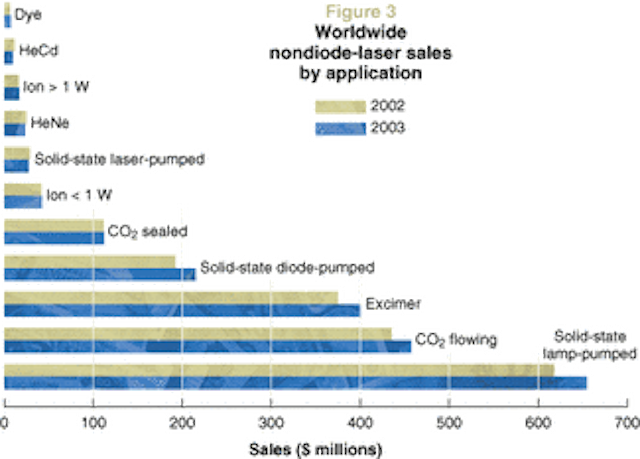 Click here to enlarge image
Cash-rich Bookham Technology (Abingdon, England) has been restructuring but also making acquisitions, including Marconi Optical Components and the Optical Transmitter and Receiver and Optical Amplifier Businesses from Nortel Networks (Toronto, Canada). As of September 2002, the company still had cash reserves of more than €200 million ($198 million) and was expecting revenues in the fourth quarter to increase at least 50% over the third quarter and to double between fourth-quarter 2002 and first-quarter 2003.
Meanwhile, Marconi (London, England) has spent the year trying to keep its head above water. Struggling with debts running into the billions, the company narrowly avoided bankruptcy by disposing of many of its noncore businesses and agreeing to a financial restructuring package with its creditors and shareholders. Alcatel Optronics (Paris, France) has also struggled with the continuing recession and has launched a "strategic refocus plan" that includes cutting its staff to less than 500 by the end of 2003. The company expected its third-quarter 2002 revenue to drop by as much as 50% sequentially, but hoped that operating profit would not be affected as badly because of its cost saving measures.
As in North America, looking beyond telecom brings a more encouraging glimpse of healthier markets. Companies with a broad range of interests, especially those with products aimed at the defense sector, are still relatively buoyant. Thales (Paris, France), for example, has major optoelectronics interests in Europe. Thales Optronics and Optics group comprises 27 companies globally, covering defense optoelectronic systems and high-tech optics. Thales had a 15% increase in sales in the first half of 2002, to €981 million ($974 million). This increase reflected the sharp growth in defense-related sales, which were up 21%.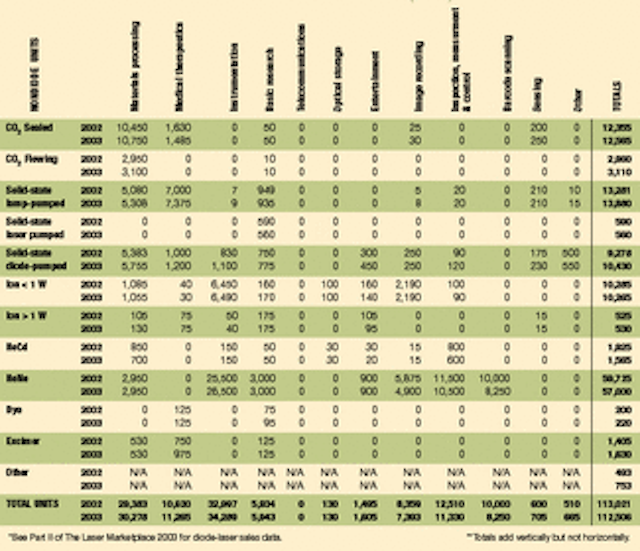 TABLE 1. Worldwide commercial nondiode-laser sales 2002-2003 (units)
Click here to enlarge image
The European industrial-laser business is also holding up well. Trumpf (Ditzingen, Germany) had a good year; its Laser Technology division increased sales by 12%, to €319 million ($317 million), in FY2002 ending June. For the nine months ending in June 2002 Rofin Sinar (Hamburg, Germany, and Plymouth, MI), reported a 5% drop in year-over-year sales, although the last quarter showed an increase of 16% on the previous quarter and 3% on the same quarter of the previous year. Lambda Physik (Göttingen, Germany) managed to end 2001 with sales figures close to €140 million ($139 million), one of its best years ever. But the downturn in the semiconductor industry meant that net income dropped from €9 million ($9 million) to €1.6 million ($1.58 million).
In Asia, China has emerged as a hotbed of optoelectronics activity. According to a 2002 report from TechSearch International (Austin, TX), with packaging now one of the primary cost issues in optoelectronics manufacturing, a growing number of photonics firms are following in the footsteps of their semiconductor and disk-drive counterparts and shifting component production and assembly to China and Thailand. Several U.S. companies have already moved at least some of their components manufacturing to China, while others have formed distribution partnerships and joint ventures in China.
There is also an expanding domestic market for optoelectronics products in China, especially in telecommunications. According to a 2002 report from Strategies Unlimited, while worldwide optical communications equipment and component revenues declined 34% in 2001, the Chinese market grew 70%, to $1.9 billion. According to the Chinese government, the dense wavelength-division multiplexing (DWDM) market in China is expected to reach $1.5 billion by 2005, up from $185 million in 2000.
Other parts of Asia are not faring as well. While the Japanese economy has stabilized over the past year, a slowdown in overseas demand for Japanese exports prompted the Bank of Japan in November to downgrade its assessment of the Japanese economy. The central bank's announcement came just a few days after a gloomy forecast by the Organization for Economic Cooperation and Development, which said Japan's weak economic growth and falling prices will continue for at least the next two years.
Back to basics
But all is not bleak. In addition to the relative buoyancy of some nontelecom markets, new opportunities are also appearing in optical data storage, biotechnology, remote sensing, and homeland security. In fact, in many ways, the telecom/semiconductor downturn has forced the laser industry to return to its roots, focusing once again on laser and optoelectronics technologies for scientific and defense applications and applying the lessons learned during the telecom "boom" to new products and applications.
The events of September 11th and the potential war in Iraq are also spurring increased government investment in advanced military technologies, including smart bombs, infrared guidance systems, and detectors. The U.S. Pentagon reportedly ordered more than $400 million worth of smart bombs following the September 11th attacks. And according to the Government Electronics and Information Technology Association (GEIA), the military's demand for a wide range of sensor technologies will increase over the next decade as the Pentagon boosts its spending on intelligence, surveillance, and reconnaissance technologies by 1.6% annually and the Department of Defense awaits approval of its $390 billion budget for 2003. The GEIA also says that government spending on navigation and guidance technologies for advanced global-positioning systems, smart bombs, and related devices is likely to increase 3.4% annually over the next decade.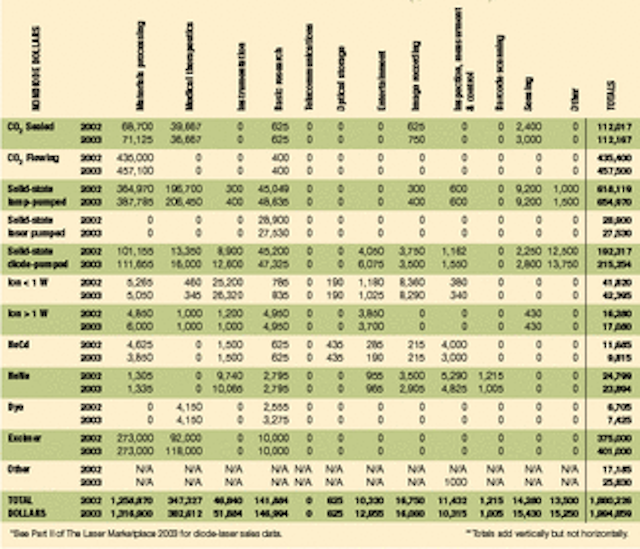 TABLE 2. Worldwide commercial nondiode-laser sales 2002-2003 ($ thousands)
Click here to enlarge image
Some of this funding is likely to trickle down into the diode-laser market, which has been extremely hard-hit by the telecom fallout. In the meantime, the market for low-power diode lasers is experiencing a boom of sorts, thanks primarily to optical-storage devices. According to Robert Steele of Strategies Unlimited, while the telecom market was even worse in 2002 than in 2001, the optical-storage market experienced huge growth in sales of low-power diode lasers for DVD players, DVD games, and DVD-ROM devices. In fact, the optical-storage market grew more than 80% in 2002, according to Steele. As a result, our numbers indicate that sales of diode lasers are expected to increase from $2.4 billion in 2002 to $2.8 billion in 2003. (Editor's note: The diode-laser market will be discussed in greater detail in Part II of the market review in the February issue.)
Materials processing
Despite optimistic projections—most based on actual billings and order figures—that the semiconductor-processing market was on the rebound, several semiconductor-equipment suppliers experienced a second downturn in the latter part of 2002. According to the trade group SEMI (Semiconductor Equipment and Materials International; San Jose, CA), worldwide equipment orders were $4.96 billion in the third quarter of 2002, up 43% from the same quarter in 2001 but down 26% from the second quarter of 2002.
"Despite the favorable sequential and year-over-year comparisons in our results in this year's third quarter and first nine months, the semiconductor industry has apparently entered the second decline of a double-dip downturn, which will have a negative impact on our fourth-quarter operating results," said Bob Akins, CEO of excimer-laser lithography system supplier Cymer (San Diego, CA).
According to Akins, in the latter part of 2002, capacity-driven lithography tool purchases were significantly pushed out or canceled because chipmakers believe their existing factory capacity is sufficient to meet projected short-term market demand. This turn of events prompted Cymer to reduce is workforce by 5% and implement stringent cost-cutting measures.
Similarly, Lambda Physik's fiscal year was characterized by a significant downturn in the semiconductor industry, with lithography sales off 51% year-on-year. In view of the continuing weakness in the semiconductor industry and in the global economy, Lambda Physik expects a continued weak but stable development of sales in FY2003.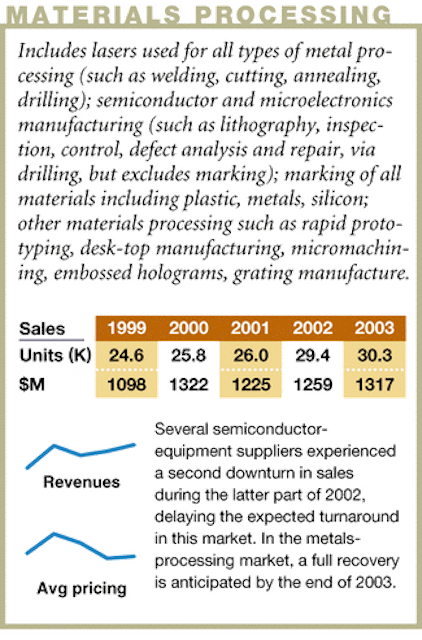 Click here to enlarge image
Even with such negative prognostications, SEMI found that worldwide semiconductor manufacturing equipment billings were $5.7 billion in the third quarter of 2002, up 1% from the same quarter in 2001 and up 22% from the second quarter of 2002. Our numbers also reflect a more optimistic view, due in some measure to replacement and maintenance of installed systems. While unit sales fell from 6200 in 2001 to 5600 in 2002 and are expected to remain flat through 2003, revenues remained fairly stable at $309 million in 2002 (compared to $313 million in 2001) and should rise slightly in 2003, to $315 million.
One interesting bright spot in semiconductor manufacturing appears to be laser-based inspection tools. With the push to move lithography into the deep ultraviolet (UV), the need for more advanced defect- and particle-inspection tools is growing. Thus the market for air-cooled argon and diode-pumped solid-state lasers for this application should continue to increase.
"People don't really talk about this market niche because, relatively speaking, it is a drop in the bucket," said Phil Crowley, president of Markettech (Scotts Valley, CA), a sales and marketing consultancy that focuses on photonics technologies companies. "But with everything moving toward the UV, the fact is that it will be more expensive to move into new wavelengths. So although UV-based inspection tools are more expensive, tool makers will have to go along with the roadmap toward UV-based lithography."
In the more traditional laser materials-processing market, while the ongoing economic recession has had a dramatic impact on sales, a full recovery is anticipated by the end of 2003, says David Belforte, editor of Industrial Laser Solutions. But while the numbers indicate growth in this market, one reason for this is the inclusion for the first time of industrial-laser installations in China.
For the years 2001 and 2002, about 1000 low-power carbon dioxide (CO2) and solid-state lasers were installed annually in China for applications in marking, welding, and other materials processing. Combine this adjustment with updated information for 2002 and the picture for 2002 looks even brighter. Unit sales for 2002 are now expected to be about 24,000, a number that reflects, among other things, an excellent sales year for the makers of low-power sealed-off CO2 lasers as well as the climate in China. The global increase in CO2 laser sales was driven by demands for low-power units that are integrated into marking/engraving and other desktop manufacturing applications, such as nonmetal cutting. Low-power solid-state laser sales (under 50 W) were buoyed by a return to strength in the consumer-driven product-marking sector.
Overall, non-semiconductor-related laser sales for materials processing in 2002 increased 5% over 2001 and, now at more than $1 billion, they represent a new high. Factoring out the China-related sales it appears that the 2002 increase would have been in the 2% to 3% range. According to Belforte, industry suppliers expect 2003 to be a repeat of 2002, with very modest growth in the high-power sector and modest growth in the low-power segment.
Basic research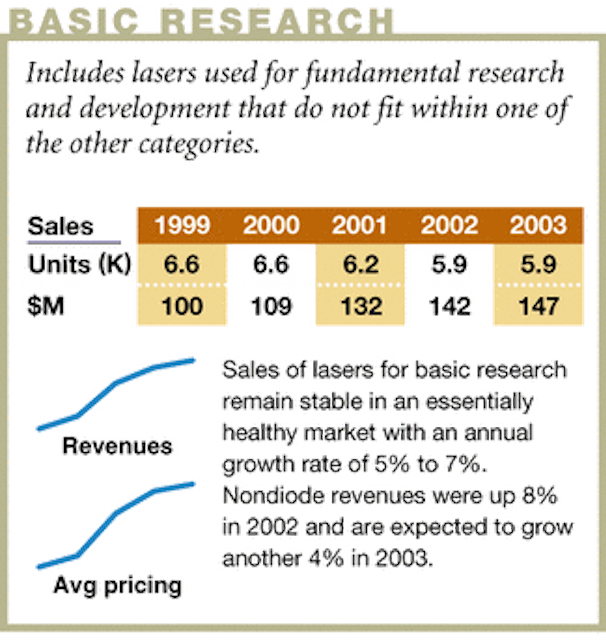 Click here to enlarge image
One of the "silent but strong" markets in 2002 was the scientific market. Sales of lasers for basic research applications have remained consistent for years, with annual growth rates around 5% to 7% but were easily overshadowed for a few years by the telecom bubble. Nonetheless, this market continues to represent one of the most stable for the "old line" laser and optoelectronics companies. In fact, several firms now see the scientific market as an area worth renewed product-development effort. "There seems to be a lot more dollars out there for R&D, especially at the university research level, which is an area many companies haven't been interested in that much in recent years," Crowley said.
Our numbers once again bear this out. While 2002 nondiode unit sales were down slightly from 2001 (5900 actual vs. 6100 estimated), revenues were higher than was projected last year—$143 million (actual) vs. $134 million (estimated), an 8% increase from 2001. In line with what many survey respondents told us, nondiode revenues in this market are expected to continue to rise in 2003, reaching $148 million (up 4%).
Medical equipment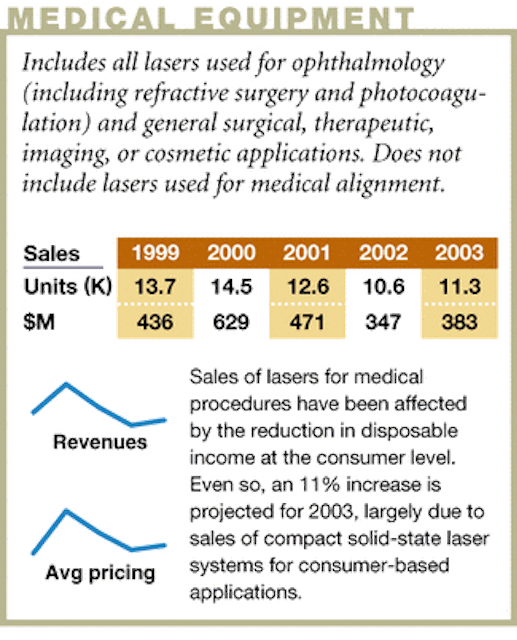 Click here to enlarge image
After several consecutive years of revenue increases, the medical-laser systems market has been hard-hit by many of the same factors as the rest of the high-tech industry. In particular, the sluggish economy continues to affect consumers' disposable income—the primary driver of medical-laser revenues. This turn of events has hurt projected growth estimates for this industry, which has been driven in large part over the past several years by outpatient applications such as vision correction, and hair and wrinkle removal that are not reimbursed by insurance.
As a result, our numbers for the medical-laser components business show a decline for the second year in a row. Actual unit sales in 2002 were 27% lower than we forecast last year and 21% lower than 2001 unit sales. Similarly, a year ago we said total revenues in this sector would reach $596 million, but the revised numbers show actual revenues were 34% lower at only $392 million. Looking ahead to 2003, we anticipate an 11% sales increase overall in the medical-laser market, due in large part to increasing sales of compact solid-state laser systems for a variety of consumer-based applications. In addition, excimer-laser sales are expected to jump 27% in ophthalmology alone, due to anticipated U.S. Food and Drug Administration approvals for custom ablation and the consequent impetus that will have on the procedure market.
In fact, according to Irving Arons, an independent consultant and contributing editor to Medical Laser Report who supplies our medical market numbers, consumer applications continue to dominate this market, and compact, lower-cost, easy-to-use laser systems continue to attract new and returning customers who are adopting these products for various outpatient applications. While revenues in the ophthalmic- and surgical-laser markets are down, system sales were up slightly in 2002, due in large part to continuing (albeit slower) growth in sales of lasers for hair removal, skin rejuvenation, tooth whitening, and other cosmetic applications.
In addition, while the market has shifted from a technology-driven model to growing revenues through new applications designed to meet existing customer and patient needs, technology innovation still plays an important role. Besides the diode-laser advances, there is a growing trend in some disciplines to combine diagnostic and laser therapy capabilities and to develop new flexible fibers that enable the endoscopic delivery of laser energy. Ultrafast solid-state lasers are also making new inroads and, in some cases, beginning to replace non-solid-state lasers for existing applications.
Readers should note that many medical-systems manufacturers do not participate in our survey. To derive the laser-source revenues reported here, we rely on Arons, who tracks medical-system end-user sales within this market sector. Revenue projections by Arons are based on medical-system sales to medical end-users—the laser is only one component of these sales. The numbers in our tables, however, are based on revenue estimates of the laser source itself. For more specific discussion of the medical market by laser type, see the January issue of Medical Laser Report.
Instrumentation
Instruments dedicated to life-science applications offer significant opportunities for growth. Many well-established instrument technologies continue to expand, according to Michael Tice, consultant with Strategic Directions International (SDi; Los Angeles, CA) and contributing editor of Instrument Business Outlook, published by SDi. For example, the market for DNA microarray scanners, most of which depend on laser imaging, is expected to grow nearly 20% in 2003.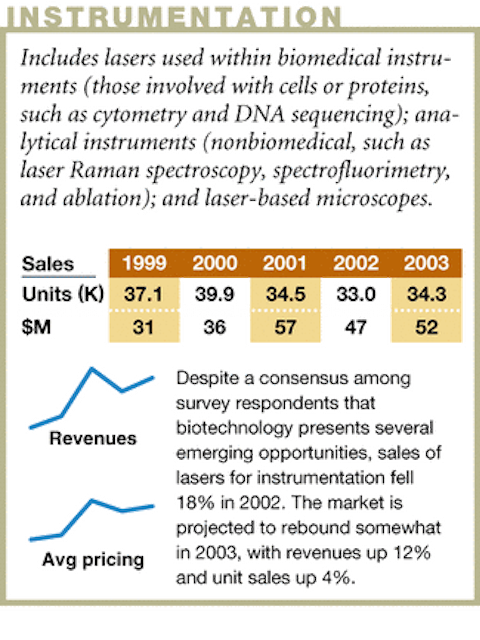 Click here to enlarge image
The prevalence of lasers in life-science instrumentation is largely due to the use of fluorescent dyes. DNA, proteins, and other biological molecules are tagged with these dyes and lasers are used to stimulate fluorescence. Instruments used with fluorophores are increasingly equipped with solid-state lasers that are both much smaller and much more energy efficient than the argon-ion lasers that were formerly commonplace. A wide variety of instruments, including microarray scanners, are based on this process.
A larger, if slower growing, laser-based technology is DNA sequencing. Sequencers have become more automated and are no longer confined to research laboratories, but are being found in hospitals for routine use in detecting HIV and other applications.
In addition to these more established methodologies, novel techniques are constantly being developed, opening up new prospects for laser systems. Advanced Research Technologies ..(Saint-Laurent, Canada) is currently beta testing a small animal imager, which uses a near-infrared laser to image, for instance, the absorption properties of a pharmaceutical molecule inside a living, anaesthetized animal.
Genomics, an area of explosive growth in the 1990s, is maturing. The next stage in understanding the full content of the human genome is to analyze the encoded proteins. Surface-enhanced laser desorption/ionization is a laser-based tool that may prove to be for proteomics what microarrays were for the genomics revolution.
In analytical instrumentation, ultraviolet Nd:YAG lasers are becoming more commonly used to ablate samples for introduction into ICP-MS (inductively coupled plasma-mass spectrometry) spectrometers. Laser-induced breakdown spectroscopy is a similar process in which nanosecond Nd:YAG laser pulses are used to heat samples to over 20,000 K to measure their emission spectra.
Notwithstanding such encouraging developments and a general consensus among our survey respondents that biotechnology presents several emerging opportunities, sales of lasers for instrumentation apparently fell 18% from $57 million in 2001 to $47 million in 2002. Unit sales also dropped, though by only 4% to 33,000 units. Even so, this market sector is projected to rebound somewhat in the coming year, with revenues gaining 12% to $53 million and unit sales increasing by 4% to 34,000.
Inspection, measurement, and control
Occasionally, our numbers require year-on-year adjustments as new or changed information emerges between surveys. This year, readers will note a huge unit increase in the number of diode lasers sold in this market segment for 2002—an increase that resulted from improved market knowledge that will be detailed in next month's diode-laser article.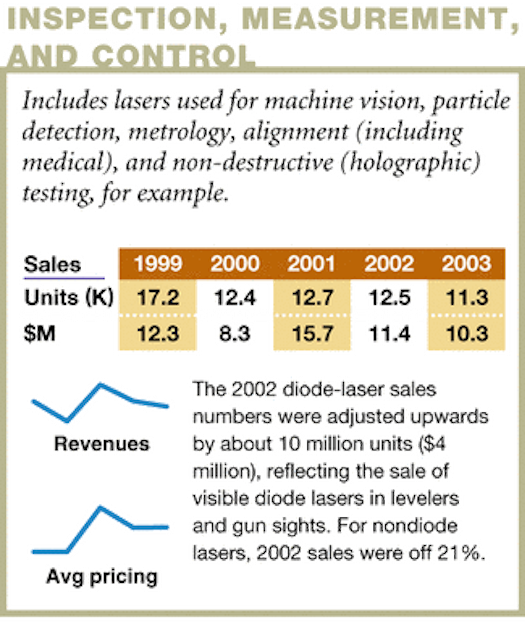 Click here to enlarge image
The 2002 diode-laser sales numbers were adjusted upwards by about 10 million units ($4 million), reflecting the sale of visible diode lasers for levelers and gunsights. For nondiode lasers, 2002 sales were off 21% ($12 million) and are expected to fall another 9% in 2003 to $11 billion. Much of this drop is fallout from the softness in the telecom and semiconductor businesses, although the long-term prospects for this segment ..should brighten, as the importance of laser metrology and inspection as well as machine vision will certainly increase.
Image recording
The graphic arts industry continues to evolve toward laser-based digital processes, which is a positive development for diode-laser manufacturers, most of which report moderate growth over the past year in this market. Outside of printing, some laser manufacturers see digital photofinishing and laser-based photoprocessing equipment as growing markets for both solid-state and gas lasers.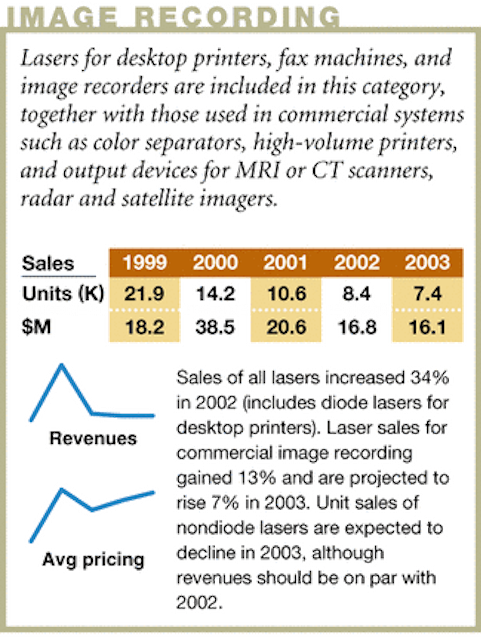 Click here to enlarge image
According to Peter Dyson, editor of The Seybold Report, at the beginning of 2002 the offset-printing market had settled on two main laser technologies: 20- to 40-W thermal arrays (almost all at 830 nm) and violet-emitting diodes. Thermal is now the preferred laser technology for large (eight-page and up) presses when long runs are the norm, because thermal plate coatings exist that are capable of 1 million impressions. Violet-diode lasers have found favor for small (two- and four-page) presses.
Looking to 2003, however, Dyson anticipates some fundamental changes. Manufacturers have developed violet-sensitive photopolymer plate coatings that, like thermal coatings, can endure for 1 million impressions, which means violet diodes can now handle larger press runs. In addition, solid-state continuous-wave UV lasers have become powerful enough (8 W and up) to expose conventional plates, which are roughly half the cost of thermal or violet plates. As the cost of these UV lasers falls, this technology could displace both violet diode lasers and thermal bars.
Our numbers reflect Dyson's analysis. While total laser sales for this sector increased 34% in 2002, this number ..includes diode lasers used for desktop printers. Laser sales for commercial image recording gained 13% to reach $49 million and are projected to rise to $52 million (7%) in 2003. We had estimated nondiode unit sales of 9290 in 2002, and although our revised numbers were slightly lower—8559—actual revenues were higher: $19.8 million vs. our estimate of $17.5 million. Unit sales of nondiode lasers are expected to decline again in 2003, to about 7600, although revenues are expected to be on par with 2002.
Military/aerospace
Given its renewed emphasis on the development of photonic devices for weapons and security, the U.S. Department of Defense is expected to spend close to $400 billion on defense programs in 2003 (pending budget approval), about 15% more than in 2002. This includes $10 billion for fighting the war on terrorism.
According to the GEIA, government spending on military research and development is also expected to rise, reaching $54 billion in 2003, about 14% of the U.S. Department of Defense budget. In addition to information technologies, Department of Defense research and development priorities are likely to include surveillance and tracking systems (including sensors) and precision-strike weapons. The Pentagon is expected to spend $22 billion on such capabilities in 2003 nearly $750 billion over the next decade on research and development and procurement for "information superiority" technologies.
"Sensors are very important to the implementation of network-centric warfare because if you can't find the enemy, you can't kill them," said Larry White of Boeing (Chicago, IL) in October during a laser conference sponsored by the GEIA.
The new U.S. Department of Homeland Security is also expected to create optoelectronics opportunities. For example, according to a report from Input (Chantilly, VA), a market research firm that tracks contract spending on technology in the federal government, homeland security is expected to have the greatest impact on near-term telecom spending by the U.S. government. The Department of Defense, the Department of Transportation, and the Department of Justice stand out as the three agencies in which security initiatives will have the greatest impact on telecom spending, according to Input.
Getting a handle on actual unit sales and revenues is very difficult in this market segment, however—the "stealth" nature of some of the applications extends equally to the availability of sales numbers. As a result, our numbers, which are included in the "other" applications category, are likely to grossly underestimate this market sector. Nonetheless, laser sales increased 13% in 2002 over 2001 and are expected to grow a further 16% in 2003.
Entertainment and display
The sluggish economy continues to have a severe affect on "disposable" products and services, and the entertainment market is no exception. According to David Lytle, editor of The Laserist, a publication produced by the International Laser Display Association (Bradenton, FL), 2002 saw a continuation of the downward spiral the laser display industry has been experiencing for the last two years. There has been some shakeout and some consolidation, with weaker companies going under or laying off employees. Other companies are trying to diversify by investing in nonlaser displays and other imaging technologies, such as high-end video.
"Last year was an extremely rough year for the laser companies," he said. "The entertainment market in general is still really hurting, and consumers and corporations both have very tight belts." He added that the European market is not in quite such dire straits, however, with most companies "treading water."
Looking ahead, Lytle said there is growing concern that high-end video might actually begin to displace laser-based systems in this market. "High-end video has gotten so much better, people are very concerned that video could kill the laser," he said. "Some companies are going from laser projectors to video projectors, and there is a sense that high-end video projectors could take over from laser projectors in graphic displays, although they can't do the beam effects at this point."
Here again, our numbers are in line with Lytle's assessment of the market. We had forecast nondiode unit sales of 2100 ($11 million) for 2002, but our revised numbers show that actual unit sales were just under 1500 units ($10 million). On the up side, our survey found that laser manufacturers anticipate a 7% increase in nondiode unit sales in 2003: revenues will also increase to $12 million (16%). Furthermore, the total 2002 laser sales for this sector were $36 million (up 17% from 2001) but will then remain flat into 2003. As we will see next month, these latter numbers include tens of millions of diode lasers for use in laser pointers.
Other markets
Two years ago the combination of its size and technological sophistication pushed the telecom marketplace into the forefront of optoelectronics applications. At the market's peak, according to our numbers, telecom laser sales exceeded $5 billion. Almost exclusively a diode laser application, this market is now a shadow of its former self: 2002 revenues are off 74% from 2001 to $665 million. And although 33% growth is projected for 2003, it is coming off a much smaller base and the total market will still remain under $1 billion.
Another exclusively diode-laser application is optical memories, which have remained remarkably robust despite the global economic problems that might have been expected to affect this primarily consumer-driven marketplace. The popularity of DVD players and of games on DVD, together with huge growth in rewriteable CDs have conspired to push this market sector in 2002 above $1 billion for the first time—an 80% increase over 2001. Another 11% revenue growth is forecast for 2003. More details on both this and the telecom sector will be available in next month's article.
According to equity research firm Robert W. Baird (Milwaukee, WI), the barcode scanner market grew about 8% through 2002. Scanners include both laser-based and imaging devices and the total global market is about $1.7 billion. Within the laser-based scanners, penetration of diode lasers continues. Overall laser sales grew at about 28% (units) in 2002, while revenues remained essentially flat. Sales of nondiode (HeNe) lasers declined again, falling 9%, with another 17% drop forecast for 2003—at this rate, sales of nondiode lasers for barcode scanning will drop below $1 million in 2004. Overall laser sales for 2003 are projected to gain about 20% to almost $19 million.
In the laser-sensing market, overall laser sales were up about 6% with diode laser gains accounting for a substantial unit sales increase (31%) from 2001 to 2002. The outlook for 2003 is for more growth as laser remote-sensing revenues reach almost $25 million, up 14% over 2002.
To obtain back copies or subscription information about Optoelectronics Report, Medical Laser Report, Industrial Laser Solutions, or WDM Solutions contact Jayne Sears Renfer, 98 Spit Brook Road, Nashua, NH 03062-5737; Tel. 603-891-9416 or Fax 603-891-9350.
For information about attending the Laser and Optoelectronics Marketplace Seminar at Photonics West (San Jose, CA) on Jan. 27, call Lisa Gowern at 603-891-9267 or visit www.marketplaceseminar.com.
Bulk reprints of all Laser Focus World articles can be ordered from Cathleen Johnson, reprints manager, at (727) 372-4801 or FAX (727) 372-5752.
---
Where the numbers come from
The Laser Focus World Annual Review and Forecast of the Laser Marketplace is based on a worldwide survey of laser producers and covers 27 types of lasers and 20 applications. Information about diode-laser markets is provided by Strategies Unlimited (Mountain View, CA). The review is the only major survey of its kind in this industry whose results are made public.
For many, both inside and outside the industry, from private-sector investors to foreign and U.S. government bodies, this report is the only objective summary of major trends in our industry that is readily available. Part I takes a look at the overall market trends with more detail on nondiode lasers. Part II will be published in February and will cover the diode-laser marketplace.
Readers interested in the detailed results of both surveys will find them in the January 1 and February 1 editions of the Optoelectronics Report newsletter, published by Laser Focus World. A more extensive review of the data, with supporting commentary from market analysts, will be available to attendees at the Laser and Optoelectronics Marketplace seminar, held in conjunction with Photonics West (San Jose, CA) on Jan. 27. For more information see www.marketplaceseminar.com or call Lisa Gowern at 603-891-9267.
Collecting the data
We conducted our research and analysis for the Review and Forecast during October and November 2002. We asked manufacturers to provide an estimate of total worldwide market size (dollars and units) for 2002, based on year-to-date actual data, and a forecast for 2003. In addition to the information provided by the manufacturers, we also used data from other more narrowly focused market surveys, and we incorporated commentary provided by industry analysts who added insight into some of the markets.
Comparison with last year's numbers
Readers who compare last year's 2002 estimates with this year's restated 2002 numbers will note differences and occasional discontinuities in the numbers reported as compared to last year. In general, no attempt has been made to explain these differences in detail. We request "bottom-up" market estimates, and the respondents to our survey do vary from year to year-both in terms of the companies involved and the individuals—so variations in the results are inevitable. In addition, changes in market visibility occur as market shares change. Differences in the overall numbers for 2002 last year and for 2002 this year may also reflect whatever degree of optimism or pessimism was inherent in last year's forecast (see Laser Focus World, January 2002, p. 81).—SGA