Muted CLEO still highlights excellence
In the not-too-distant past, the Conference on Lasers and Electro-Optics (CLEO; June 1–6, Baltimore, MD) was the premiere show for exhibitors and aficionados of optoelectronic technologies.
Jul 1st, 2003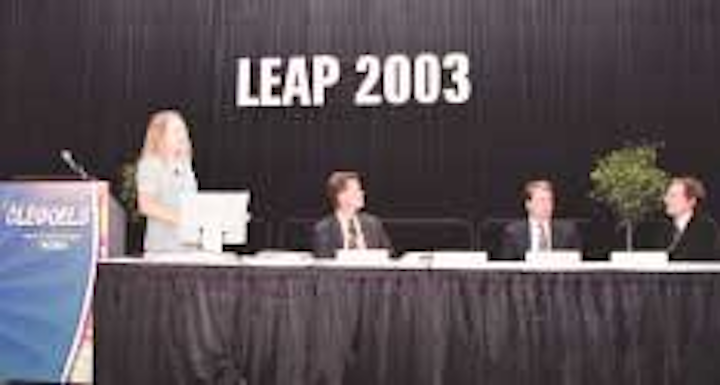 In the not-too-distant past, the Conference on Lasers and Electro-Optics (CLEO; June 1–6, Baltimore, MD) was the premiere show for exhibitors and aficionados of optoelectronic technologies. Sometime between the telecom bubble and the current economic slump, the attraction of its exhibit hall fell behind that of SPIE's Photonics West; however, the technical program managed to retain its audience. The result is something akin to a grouping of first-class OSA topical meetings, a few enhanced general-interest programs such as the Lasers and Electro-Optics Applications Program (LEAP), and a show floor with modest traffic that still contained genuine customers.
The number of exhibitors was down to about 291 from just over 300 the previous year, attributable in part to competition in late June from Laser Munich, mergers, the global economic slowdown, and SARS. Attendees numbered about 5500 this year, roughly on par with the 5800 in 2002. Of these, the number of technical attendees actually rose from 2376 to 2436 this year. A record 1800 technical papers were submitted—a 17% increase—with 1226 actually presented.
As a now-established part of the exhibit space, LEAP attracted a steady stream of listeners, often overfilling the allotted space. Discussions of trends in government spending, especially by the Defense Advanced Research Projects Agency (DARPA), drew a large crowd, as did Milton Chang's forum on business and management topics, which addressed the questions of obtaining research grants for product development and venture capital funding.
From show floor to sessions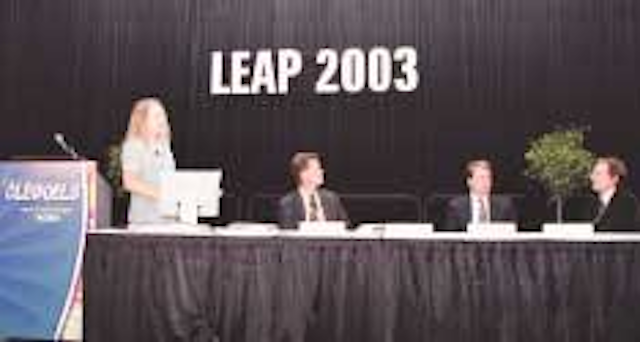 The panel for the LEAP session "Optics in Biology and Medicine" included, left to right, Mary Pastel,deputy associate director for Extramural Science Programs, NIH, DHHS; Marwood Ediger of InLight Solutions; David Hattery of the Laboratory of Integrative and Medical Biophysics, NIH; and Frederick Koehler of Spectral Dimensions.
Click here to enlarge image
Few new products were introduced at CLEO 2003, but it was interesting to observe some trends. For example, several companies are seeking to replace the venerable argon ion laser with a solid-state laser. Although not new, Novalux (Sunnyvale, CA) showed its electrically pumped frequency-doubled vertical-cavity surface-emitting laser (VCSEL), and Coherent (Santa Clara, CA) showed its optically pumped frequency-doubled VCSEL. In addition, Blue Sky Research (Milpitas, CA) introduced a small frequency-doubled solid-state laser. All three companies are aiming at new and existing 488-nm medical applications. Newport (Irvine, CA) attracted a steady stream of graduate students with a demonstration by Georgia Institute of Technology researchers of making supercontinuum light from an ultrafast laser.
Fiber lasers drew packed attendance at the technical sessions and post-deadline papers. In the post-deadline session, researchers from IPG Photonics (Oxford, MA) revealed a new record of 400-W continuous-wave (CW) output power from a fiber laser, while Friedrich Schiller of University Jena (Jena, Germany) described a high-power air-clad large-mode-area photonic-crystal fiber laser generating up to 80 W of output power. A team from Northrop Grumman (Redondo Beach, CA) reported a CW single-mode polarization-maintaining fiber amplifier with more than 150 W of output power as part of a program to produce multikilowatt beam-combining arrays for military applications.
CLEO 2004 will be held in San Francisco, May 16–21, 2004, and CLEO 2005 will return Baltimore.