China's optoelectronics industry grows in multiple markets
China's laser and optoelectronics industry began in the 1960s, at about the same time optoelectronics industries started in other countries around the world.
Jul 1st, 2003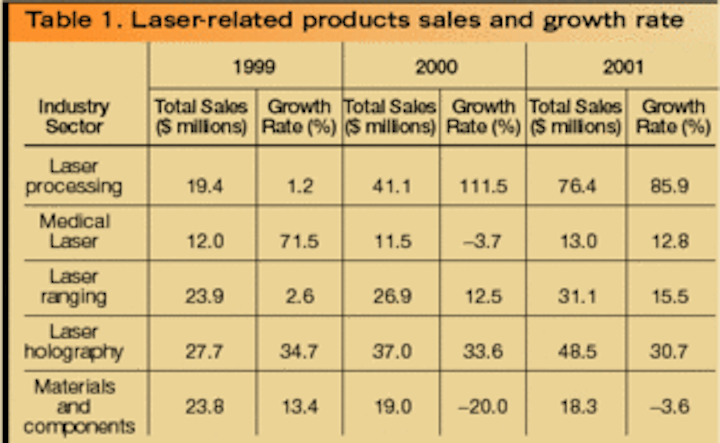 China's laser and optoelectronics industry began in the 1960s, at about the same time optoelectronics industries started in other countries around the world. It has been 42 years since the first ruby laser was developed in China in 1961. As part of its modernization effort, China has invested heavily in laser and optoelectronics over the last 20 years.
Six major optoelectronics enterprise development bases are now located in the cities of Beijing, Wuhan, Shanghai, Shijiazhuang, Shenzhen, and Changchun. Several Optoelectronics Industry Development Science & Technology Zones have been established since 2000, along with several National Engineering Research Centers. In addition, there are eleven important national optoelectronics laboratories and five laboratories within the Education Ministry.
The Chinese government plans to invest heavily in optoelectronics according to its tenth five-year plan (2001–2005). The large market potential, abundance of well-educated engineers, and low labor cost are attracting significant investment by foreign optoelectronics companies and venture-capital companies. We will focus on the technology and market trends of China's nontelecom optoelectronics industry.
Laser-related markets
Preliminary analysis indicates that there are approximately 400 companies in R&D for lasers and laser-related products. Laser video and entertainment companies are not included. Approximately 200 of the 400 companies have fairly mature products and steady revenue, and employ about 20,000 people.
Based on survey and analysis by the China Optoelectronics Manufacturers Association (COEMA), the total value of laser-related optoelectronics products sold in 2001 was approximately 3.24 billion Yuan (US$392 million). This figure does not include laser video and entertainment equipment and telecom products. The 2002 figure is not final, but we expect it to be around 3.7 billion Yuan (US$447.4 million).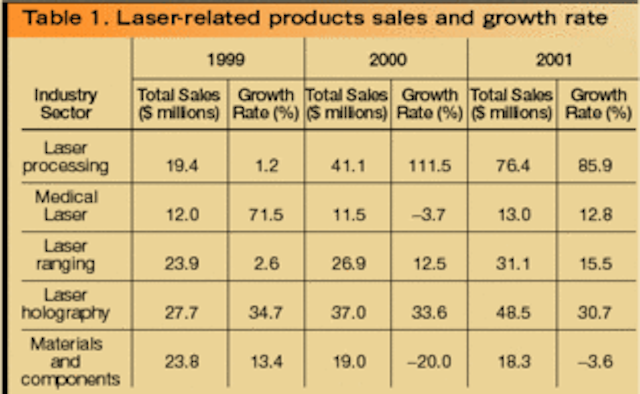 Click here to enlarge image
One of the fastest growth areas in 2000 and 2001 was laser processing (such as materials processing and cutting; see Table 1). The growth rate of medical laser products has been very uneven. The growth rate in 1999 was very high at 71.5%, but the market contracted 3.7% in 2000, probably due to market overheating in 1999 and the telecom bubble, which caused spending to shift to telecom. The growth rate recovered in 2001 to 12.8%.
Display material and devices
China is rapidly becoming one of the major producers of display materials and devices. Liquid-crystal-display (LCD) production is estimated to be approximately 25% of the world's total output. About 60 companies currently develop and produce LCDs in China. They employ approximately 17,000 workers. Management and technical personnel accounts for 22% of the total. Most employees are in production. In the past few years, Japanese, Korean, and Taiwan companies have been investing heavily in new super-twisted nematic (STN) LCD and thin-film transistor LCD production lines in China. In 2001 alone, 14 new production lines were completed.
Annual LCD material production in China reached more than 40 tons in 2002. There are four major LCD material production companies: Beijing Tsinghua Yawang LCD Material, Xian Modern Chemistry Research Institute, Shijiazhuang Slichem, and Yantai Valinat Fine Chemical. Currently, TN LCD material and STN LCD material production in China is enough to meet domestic requirements. China's thin-film-transister (TFT) LCD material is still in the research stage; most TFT LCD material is still imported.
The light-emitting-diode (LED) market has also received considerable attention in the last few years in China. Research and development of vacuum flourescent displays, organic LEDs, and field-emission displays are very active.
Optoelectronics materials market
The optoelectronics materials industry in China has moved from research to production and application in the last few years. Based on a survey by China's Electronics Material Association in 2002, the country's annual gallium arsenide (GaAs) wafer production reached 600 kg. In recent years, Nd:YAG and Nd:YVO4 (vanadate) crystals for solid-state lasers produced in China have gained market share rapidly, reaching about 30% share of the total worldwide market by 2002.
Leading companies include North China Research Institute of Electro-Optics, which has the ability to produce 75-mm-diameter by 240-mm-long Nd:YAG crystal. Huabo Technology has the ability to produce 3000 YAG crystal rods annually. China is also becoming a major supplier of YVO4 crystals. Fujian Institute of Research on the Structure of Material of Chinese Academy of Science has produced 42-mm-diameter by 42-mm-long YVO4 crystals. Beijing Shuoguangte Crystal Technology has the ability to produce 200-kg of YVO4 per year. Nonlinear crystals such as beta barium borate (BBO) and lithium triborate (LBO) were first invented by Chinese companies.
Infrared products market
There are about 30 medium to large companies and research institutes in infrared products research and development. Sales of infrared cameras for industrial inspection and diagnostics are increasing rapidly (see Table 2).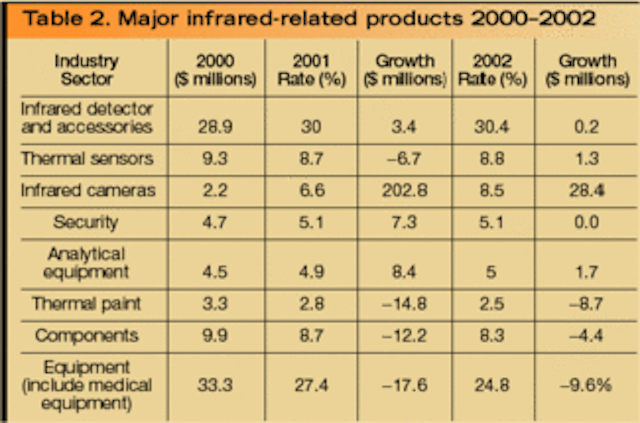 Click here to enlarge image
Noteworthy companies include Shanghai Nicera Sensor, Beijing Zhoulin Bio-Spectrum Technology, Beijing Raytek, and Shanxi Huaxing Infrared Devices Factory. Shanghai Nicera Sensor is a joint venture established in 1986 by the Tech-phys Optoelectronics, an affiliate of the Shanghai institute of Technical Physics of the Chinese Academy of Sciences, and Nippon Ceramic of Japan. Its 2001 sales were more than 207 million Yuan ($25 million). Note that Table 2 does not include infrared products for military and defense. Military infared products are generally developed by institutes owned by the government.
REFERENCES
"Review of China Optics & Optoelectronic Industry," Yearbook of China Electronic Industry Development in 2001, 300 (2002).
The Optoelectronics Enterprises and Market in China (2002–2003), special issue edited by COEMA.
S. Mei, Laser Technology & Application, 12, 18 (December 2003).
F. Gan, Optic & Electronic Engineer.8, 10 (August 2002).
G. Jie and M. Chen, Optic & Electronic Engineer.11, 14 (November 2001).
M. Chen, Optic & Electronic Engineer. 7. 84, (July 2001); 8, 73 (August 2001); 9, 72 (September 2001); 10, 72 (October 2001).
"National Optoelectronic Technology Development Special Program Plan," China Electronics News, 26 (February 2002); 25 (June 2002).
MIAOHAI CHEN is senior information analyst, North China Research Institute of Electro-Optics, No. 2 JiuXianQiao Rd., Chaoyang District, Beijing 100015, China; and JINXUE WANG is principal at Photon Associates, 7751 Jenna Dr., Goleta, CA 93117; e-mail: jinxuew@spie.org.