Scotlands investment in optoelectronics pays off
The Scots call it "Silicon Glen": a 40- by 60-mile stretch of green hills and farmland in the heart of Scotland that is home to a thriving computer industry--and, along with it, a growing optoelectronics industry. According to the Scottish Collaborative Initiative in Optoelectronics Sciences (SCIOS), Scotland`s optoelectronics industry will increase 20% by the turn of the century, from 𧴜 million to 𧶲 million ($167 million to $417 million). The bulk of this growth is expected to com
Mar 1st, 1995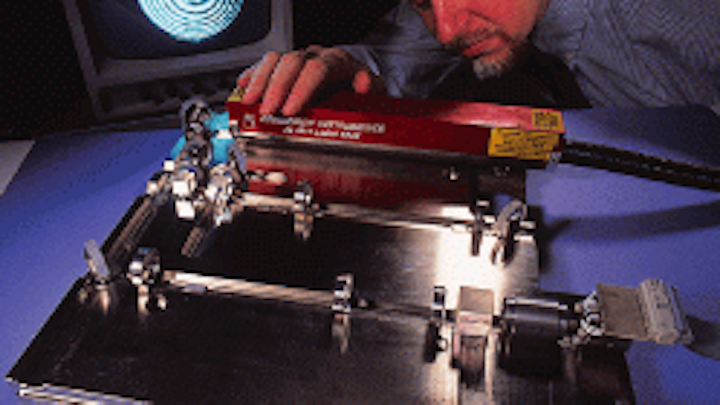 Scotland`s investment in optoelectronics pays off
K. K.
The Scots call it "Silicon Glen": a 40- by 60-mile stretch of green hills and farmland in the heart of Scotland that is home to a thriving computer industry--and, along with it, a growing optoelectronics industry. According to the Scottish Collaborative Initiative in Optoelectronics Sciences (SCIOS), Scotland`s optoelectronics industry will increase 20% by the turn of the century, from 𧴜 million to 𧶲 million ($167 million to $417 million). The bulk of this growth is expected to come from advances in flat-panel displays and electronic imaging, two areas that cater to the computer industry`s needs. Lesser growth is anticipated for the sensor, fiberoptic-communication, and medical-laser markets.
SCIOS, established in 1991 by the UK Science and Engineering Research Council to encourage collaborative research efforts among the country`s leading universities, "defines optoelectronics as any useful equipment containing both optics and electronics that has prospects of wealth creation," says Des Smith, professor of physics at Heriot-Watt University (Edinburgh) and founder of Edinburgh Instruments, which manufactures CO2 lasers. Smith, a key figure in the development of SCIOS, says, "Optoelectronics is an enabling technology leading to more lucrative systems work in a variety of markets."
Government support
Scotland`s optoelectronics history actually dates back to the turn of the century, when a company called Barr and Stroud was founded to manufacture optical rangefinders for the military. The company then began manufacturing submarine periscopes and other optical devices and, eventually, electro-optic systems. Ferranti (Edinburgh) was also an early pioneer in the development of lasers for military and civilian applications.
Today, some 20 manufacturers comprise Scotland`s optoelectronics industry, including GE Marconi, Hiltington O/E, Edinburgh Instruments, OCLI Optical Coatings, Microlase, Medical Laser Technologies, Laser Ecosse, IBM, VG Semiconductor, Boeing, British Aerospace, and GEC. These companies produce a variety of optoelectronics-based products, including CO2 and diode-pumped solid-state lasers, sensors, optical components and films, fiberoptic components, liquid-crystal displays (LCDs), medical equipment, and electronic imaging devices .
However, Scotland is better known around the world for its optoelectronics research than for its commercial ventures in this industry, though this perception may soon begin to change. For the past several years, the Scottish government has invested a great deal of effort in stimulating the commercial sector, particularly through attracting large foreign companies to which smaller Scottish companies can become suppliers. A government entity known as Scottish Enterprise has been very successful in its efforts to promote the country`s business advantages--such as progressive Enterprise Zone incentives (in cluding, in some areas, no property taxes until 2003), and a direct rail link (Eurocentral Scotland) to the Channel Tunnel--to foreign businesses, particularly in the electronics field.
Several leading US and Japanese computer and microelectronics companies now have facilities in Silicon Glen, including Motorola, Sun Microsystems, Mitsubishi, NEC, AT&T, Tandem, Compaq, IBM, JVC, Honeywell, Digital, and Matsushita. In addition, last year Scottish Enterprise formed the Scottish Optoelectronics Association to work with "all those involved in the industry in Scotland to ensure the country shares in the spectacular growth of optoelectronics."
Emphasis on research
R&D is still at the core of Scotland`s reputation in the optoelectronics industry, however. Much of this research is centralized in five of the country`s to¥universities--Heriot-Watt University, University of Glasgow, University of Edinburgh, University of St. Andrews, and University of Strathclyde--each of which are members of SCIOS and together receive about 50% of UK government funding for optoelectronics and laser research. The schools currently have an annual budget of 㾸.1 million ($20.1 million), with ٧.1 million ($15.1 million) coming from government and industry and the other ١ million ($5 million) from the universities.
Each of the schools specializes in a different aspect of optoelectronics technology, though there is some overla¥(see photo). At Heriot-Watt, for example, the emphasis is on II-VI devices, III-V devices, optical interconnects, sorters, and other optical-computing technology. At Glasgow, the emphasis is on III-V devices and refractive optics, while at St. Andrews the focus is on diode-pumped solid-state lasers and laser-diode arrays. Meanwhile, researchers at the University of Edinburgh are studying spatial light modulators for LCDs, while much of the work at Strathclyde is focused on compact solid-state lasers.
Numerous European funding programs support these research projects, including ESPRIT, Brite/Euram, BIOTECH, COST, EUREKA (including EUROLASER), and SPRINT. In many cases, these programs require collaboration between academia and industry. Thus, the technology developed at Scotland`s universities often becomes the impetus for commercial spin-offs. Edinburgh Instruments, for example, was founded to market and manufacture CO2 lasers based on technology developed at Heriot-Watt. Likewise, Microlase, a spin-off of Strathclyde University, is involved in commercializing that school`s solid-state laser technology for medical applications. n
Click here to enlarge image
Andy Walker, SCIOS coordinator, checks an optical base plate that is used for testing a range of components developed in conjunction with Scottish universities, such as a compact Nd:YLF laser, an optical assembly, and an InGaAs S-SEED now being interfaced with a CMOS backplane.
Laser research supports optical computing
Lasers play a fairly small, but important, role in Scotland`s optoelectronics industry, primarily as part of one of the country`s largest optoelectronics projects--the optical computer. Researchers at Heriot -Watt University are working to develo¥a series of two-dimensional, free-space optical-computing demonstrators, including a novel optical-cellular-logic image processor. The goal is to devise a working optical computer capable of massive parallel processing and of providing 1000 times the data-processing capability of conventional computers. This work was begun in the early 1980s and has resulted in several prototypes, including a version measuring only 12 ¥ 12 in.; however, commercial realization is still considered to be several years away.
Compact solid-state lasers are being developed to serve as the power supplies for the optical computer. "What is needed are low-power lasers at wavelengths around 1047 nm," says Andy Walker, a professor at Heriot-Watt who is involved with the project. Thus, researchers at St. Andrews have developed compact (200-mm-long) diode-pumped Nd:YLF lasers in the 2-3-W range and are now working to frequency double these lasers to provide 1 W or more of green light. (This technology is available commercially through Edinburgh Instruments for such applications as pumping Ti:sapphire lasers; according to Walker, the 850-nm Nd:YLF laser is a better pum¥source than the 1064-nm Nd:YAG laser.) Meanwhile, researchers at Glasgow University are working in conjunction with Heriot-Watt to develo¥high-power laser diodes that can function reliably as optical power supplies. "They are interested in producing 1-2 W of 850-nm energy directly from laser diodes," says Walker.