Mobile computer uses head-mounted display
Heralding the arrival of a new paradigm in mobile computing dubbed hands-free computing, CPSI (Computer Products & Service, Fairfax, VA) has begun shipping its Mobile Assistant System. It features a compact 486 computer that is worn on a user`s belt, a miniature head-mounted display, and a spoken user interface (see photo). "This is the next wave in mobile computing," claims president Ed Newman, and many industry observers seem to agree. Obvious applications are in maintenance, repair, and inspe
Oct 1st, 1995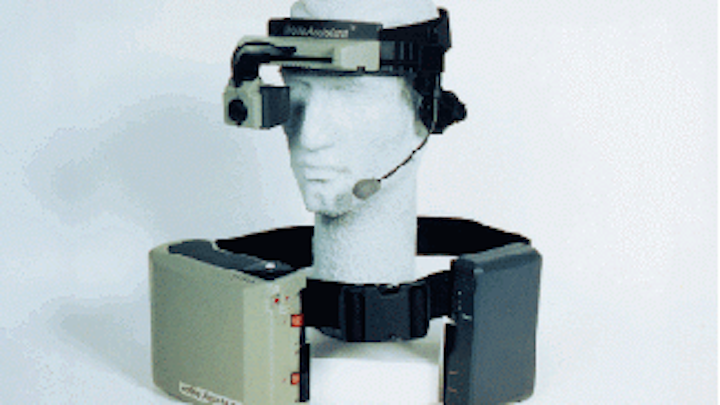 Mobile computer uses head-mounted display
Chris Chinnock
Heralding the arrival of a new paradigm in mobile computing dubbed hands-free computing, CPSI (Computer Products & Service, Fairfax, VA) has begun shipping its Mobile Assistant System. It features a compact 486 computer that is worn on a user`s belt, a miniature head-mounted display, and a spoken user interface (see photo). "This is the next wave in mobile computing," claims president Ed Newman, and many industry observers seem to agree. Obvious applications are in maintenance, repair, and inspection operations in which there is a need to access computer-generated data, while leaving the hands free to perform other functions.
The patented Mobile Assistant is innovative. Developers have shrunk the features of a laptop PC into a box the size of a canteen. This, along with a lithium-ion battery pack, constitutes the body-worn computer.
The head-mounted display is not the occlusive type associated with virtual-reality applications, but a single monocular display that allows users to see both the computer image and the outside world. Physically, the eyepiece fills only a small part of the user`s field of view, but the optics allow it to project a virtual image comparable to one seen on a desktop monitor. The headset, manufactured by Kopin (Taunton, MA), uses a monochrome VGA display, so its visual quality is equivalent to most desktop or laptop screens.
The Mobile Assistant`s spoken user interface is also innovative. It eliminates the need for a keyboard or mouse, although a mouse is built into the computer and a plug is available for a miniature, wrist-worn keyboard. Voice recognition hardware/software is now rapidly maturing and is expected to become a mainstream technology over the next few years.
While the body-worn computer has all of the standard features of a desktop or laptop computer, its functionality can be greatly expanded through the use of plug-in cards. For example, the two PCMCIA slots can be used to add Global Positioning Satellite cards, RF or cellular communications cards, 1553 bus interface cards, or even video-conferencing capabilities that include a miniature head-mounted camera.
"We see the Mobile Assistant replacing laptops in many applications today," says Newman. "For example, a lot of complex equipment diagnosis and repair is now done with computerized manuals, but technicians have to stop what they are doing, move to the computer, and type into a keyboard to get the information they want. Wouldn`t it be better if they just could ask for a schematic or video clip and have it displayed in front of their eyes while they continue to work?" Aircraft, heavy-equipment, utilities, medical, computer, transportation, and many other industries could benefit.
Inspection is another area in which CPSI is working, and it just introduced a new software-development kit that allows nonprogrammers to quickly assemble a complete application package. For example, if inspectors need to input data about the status of equipment, perform what-if analyses, and transmit this information to a remote site, they can now do it in a hands-free environment. Warehousing, incoming inspection, and plant or equipment inspections are some applications.
The company is also working on a set of functional tool kits designed to optimize development of solution software for a broad range of industries and applications. Five tool kits are planned: data conversion, expert systems, presentation management, spoken user interface, and audio/visual communications.
The next-generation Mobile Assistant will be available in about a year. It is expected to dramatically increase computational performance and battery life, while simultaneously reducing the base unit to about one-half the size and weight of the current model. A full-color VGA head-mounted display is also planned.
CHRIS CHINNOCK is a technical writer based in Norwalk, CT 06850.
Click here to enlarge image
Mobile Assistant combines a body-worn computer, head-mounted display, and spoken user interface to provide hands-free mobile computing.