PHOTONICS WEST 2010: Moscone here we come!
Hailed as North America's largest international photonics conference, SPIE's Photonics West 2010 is so big, it had to be moved from San Jose to San Francisco's Moscone Convention Center.
Dec 1st, 2009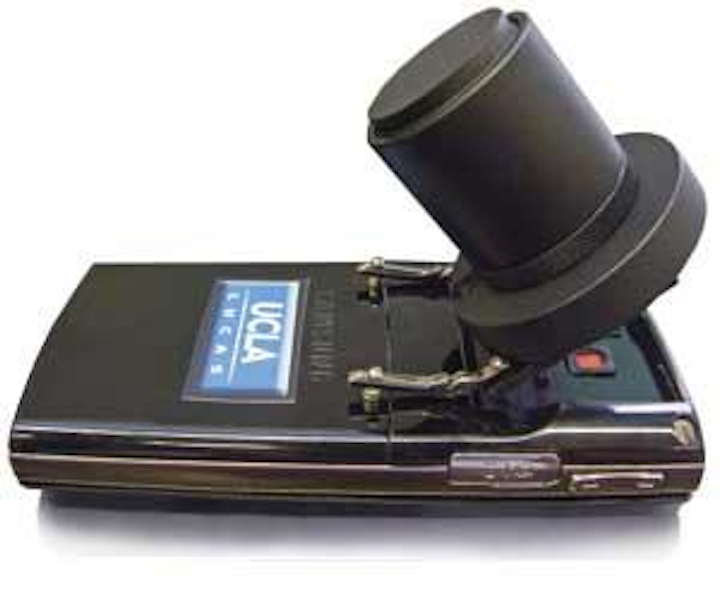 Hailed as North America's largest international photonics conference, SPIE's Photonics West 2010 is so big, it had to be moved from San Jose to San Francisco's Moscone Convention Center.
Gail Overton, senior editor
Although the photonics industry has suffered financially in 2009, Photonics West 2010 conference organizer SPIE expects attendance at the new San Francisco, CA, location to match or surpass the nearly 18,000 attendees at the 2009 event in San Jose, CA. Running from Jan. 23 to 28, Photonics West 2010 (wspie.org/photonics-west.xml)—including the weekend Biomedical Optics exhibition–features 1000 exhibiting companies, which exceeds last year's numbers. Its location at San Francisco's Moscone Convention Center enables more than just expanded exhibitor space: according to SPIE more than 3600 technical papers have been submitted, also topping last year's tally.
"It is smart business to attend Photonics West because you can meet so many people in one place, understand technical possibilities and market requirements, and learn where to place your bets as the economy regains strength," said Peter Hallett, manager, industry relations, exhibitions, and sales at SPIE (Bellingham, WA). "The move to San Francisco is part of the excitement, with a first-class facility and more networking opportunities after hours. People continually tell us that if they can make it to only one event, this is the one to attend because of the new information available at the conferences, the training opportunities, and the ability to see–and show–new products. And in between, people are building important professional relationships. Everyone leaves smarter, better connected, and ready for the year ahead."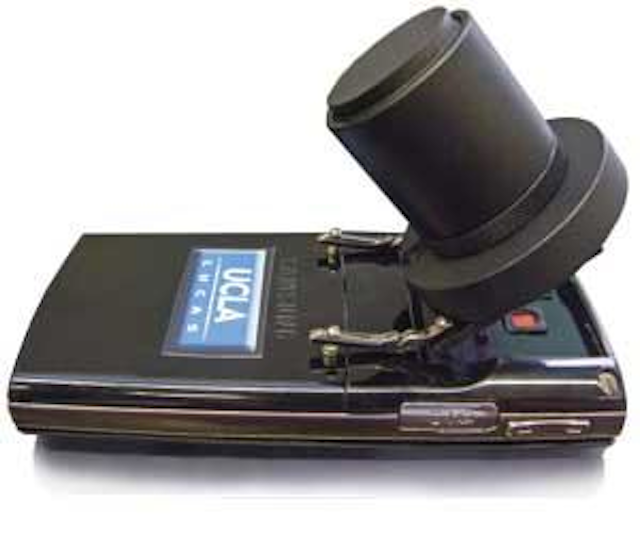 FIGURE 1. Among the breakthrough technologies to be presented at Photonics West 2010, a new imaging platform developed at UCLA identifies microparticles toward disease diagnosis and monitoring, as well as water-quality testing, and sends the information wirelessly for real-time monitoring. (Courtesy of UCLA)
Click here to enlarge image
As in previous years, attendees can expect no shortage of new-product announcements at Photonics West 2010. In fact, 175 exhibiting companies are expected to launch new products. And because 2010 marks the official year-long celebration of the 50th anniversary of the laser, known as LaserFest (www.laserfest.org), an expert panel on "The Making of an Industry: 50 Years of the Laser and Beyond" will be held on Wednesday afternoon at 3:30 p.m., and look for displays of archival photographs and laser equipment, videos illustrating past achievements and future possibilities, a best-paper prize, laser entertainment, and many other LaserFest events (see also spie.org/advancingthelaser). The community-wide LaserFest celebration is a collaboration of the American Physical Society (APS; College Park, MD), the Optical Society (OSA; Washington, DC), and SPIE.
As in previous years, technical conferences at Photonics West 2010 are organized into four symposia: Biomedical Optics (BiOS), Lasers and Applications (LASE), Micro- and Nanofabricated Optical/Electromechanical Systems (MOEMS-MEMS), and Optoelectronic Materials, Devices, and Applications (OPTO).
BiOS
Responding to exhibitor feedback, SPIE extended the hours for the BiOS exhibition (Jan. 23–24), which will now run Saturday from noon to 5 p.m. and Sunday from 10 a.m. to 5 p.m. About 150 exhibiting companies will benefit from Moscone's larger exhibition venue with added demonstration space for showcasing new product technology on the exhibit floor.
With more than 1600 paper presentations (representing close to half of all presentations) and 36 conferences in five program tracks, BiOS will feature a Saturday evening Hot Topics Plenary Session (7–9 p.m.), with at least ten presentations on topics such as cancer therapy, retinal imaging, optical coherence tomography (OCT), molecular imaging, and various forms of spectroscopy and microscopy.
Technologies presented in the BiOS Symposium technical papers are often breakthroughs in biophotonics. In paper 7568-86, Aydogan Ozcan, professor of electrical engineering at the University of California at Los Angeles (UCLA), presents an imaging platform he calls Lensless Ultra-wide-field Cell monitoring Array platform based on Shadow imaging (LUCAS; see Fig. 1). It uses a short-wavelength blue light to illuminate a blood, saliva, or other fluid sample, and then uses a sensor array to capture an image of the microparticles in the solution. Because red blood cells and other microparticles have a distinct diffraction pattern or shadow image, they can be identified and counted almost instantaneously by LUCAS with the use of a "decision algorithm" that compares the captured shadow images to a library of training images. Data collected by LUCAS can then be sent to a hospital via a cell phone or a computer USB connection for analysis and diagnosis. The wireless or wired device can monitor the condition of HIV and malaria patients, as well as test water quality in undeveloped areas or disaster sites.
LASE
With around 600 papers, the LASE Symposium will cover laser source engineering, nonlinear optics, semiconductor lasers and LEDs, laser micro- and nanoengineering, and laser applications.
Holger Lubatschowski from the Medizinische Hochschule Hannover (Hannover, Germany) will present a LASE Plenary talk on the future for ultrafast lasers in ophthalmology. Lubatschowski's expertise ranges far and wide in the photonics community. He helped to author multiple papers to be presented at the LASE Symposium and in other Photonics West 2010 symposia, including "OCT guidance for [femtosecond] laser treatment of presbyopia" (paper 7589-12), "Adaptive optics for the correction of eye aberrations" (paper 7550-38), and "Laser hearing aids" (paper 7548C-100).
MOEMS-MEMS
The eight Symposium technical conferences, totaling 226 papers, are split into two program tracks on Micro/Nanofabrication, and Devices/Applications/Reliability. MOEMS-MEMS Symposium Chair Thomas J. Suleski from UNC Charlotte (Charlotte, NC) says 50% of the talks are from U.S. institutions and companies, and 50% are international.
The Monday Plenary session includes talks on emerging areas of microsystems research for health care and environmental sensing by Yogesh Gianchandani of the University of Michigan (Ann Arbor, MI) and the National Science Foundation, MEMS technologies for artificial retinas by Wilfried Mokwa of RWTH Aachen University in Germany (see Fig. 2), and MOEMS deformable mirrors for microscopes and telescopes by Thomas Bifano of Boston University and Boston Micromachines (Cambridge, MA).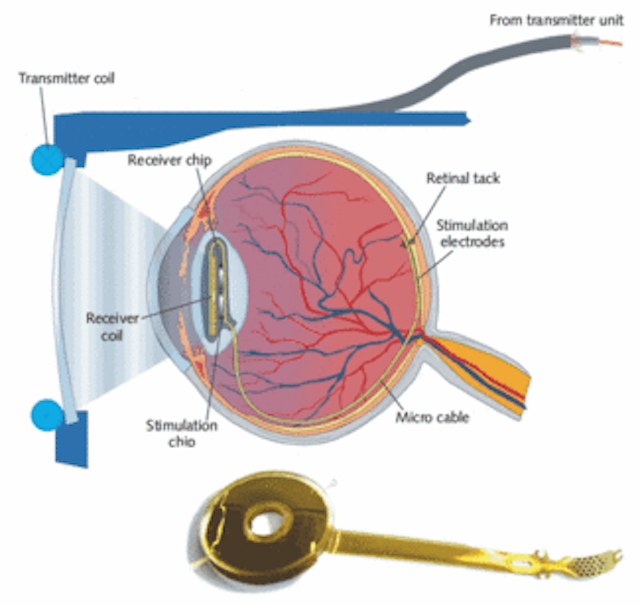 FIGURE 2. A schematic shows how a retinal implant called EPIRET3 works in the human ocular system. The actual EPIRET3 implant (bottom) consists of a silicone lens with integrated electronic components, along with stimulation electrodes. (Courtesy RWTH Aachen University)
Click here to enlarge image
Technical papers of interest include "Pixtronix digital micro shutter display technology: a MEMS display for low-power mobile multimedia displays" (paper 7594-6). In this invited paper, Timothy Brosnihan of Pixtronics (Wilmington, MA) will discuss a novel approach to replace liquid-crystal displays (LCDs) with digital MEMS micro-shutter arrays that enable a 170° viewing angle and 60% light efficiency in contrast to 6% for LCDs. In paper 7596-9, "High-precision laser-beam shaping using binary-amplitude Digital Light Processing (DLP) spatial light modulators," researchers at The University of Texas at Austin describe extremely precise flattop and tilted laser beams at 633 and 1064 nm with less than 1% deviation from the target beam profile using binary-amplitude DLP spatial light modulators (see Fig. 3). And in paper 7596-11, "Enabling technology for next-generation data storage of high-fidelity recordings in volumetric crystal media," researchers from Access Optical Networks (Manalapan, NJ) will discuss recent advances in MEMS technology, combined with small-form-factor lasers, for improvements in holographic data storage systems that may enable an order of magnitude improvement in performance beyond electronic nonvolatile storage.
OPTO
"The OPTO conference now includes a stronger emphasis on optical communications, particularly optoelectronic components for optical communications," said OPTO Symposium Chair E. Fred Schubert of Rensselaer Polytechnic Institute (Troy, NY). This topic had been represented at the SPIE Annual Meeting but is now receiving a stronger emphasis at Photonics West."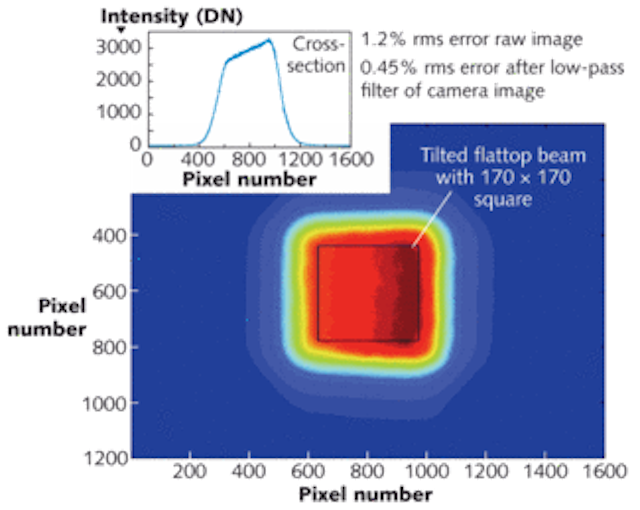 FIGURE 3. A tilted flattop laser beam can be created from binary-amplitude Digital Light Processing (DLP) spatial light modulators. (Courtesy University of Texas at Austin)
Click here to enlarge image
Tuesday morning OPTO Plenary talks will be given by Jeff Tsao of Sandia National Laboratories (Albuquerque, NM) and Shuji Nakamura of the University of California, Santa Barbara. The speakers will address different aspects of the solid-state lighting revolution, with Nakamura emphasizing the very timely activities in gallium nitride (GaN)-based devices such as blue and green laser diodes and LEDs.
Among the more than 1250 papers in the OPTO Symposium, paper 7604-11 in the OPTO Symposium (Integrated Optics: Devices, Materials, and Technologies XIV session) entitled "Low threshold Er3+/Yb3+ co-doped microcavity laser" describes the work of professor Andrea Armani's group at the University of Southern California (USC; Los Angles, CA). By using a combination of sol-gel processing and lithographical fabrication, the ultra-low-threshold (>10 µW) microlaser based on an erbium:ytterbium (Er3+:Yb3+) co-doped resonant cavity represents the first integrated, submilliwatt (Er3+:Yb3+) microlaser fabricated on a silicon platform (see Fig. 4). It paves the way for future integration with other silicon-based components and will find numerous applications in satellite communications, biochemical detection, and optical computing.
Special events
A highlight of Photonics West is the many industry panels and hot-topic presentations that take advantage of the congregation of industry experts at this international event. Peter Hallett will again moderate the "Silicon Photonics and Optical Interconnects" panel, which should provide an interesting perspective on the rapid pace of this important technology area, and discuss whether the current economy has had an impact on silicon photonics research and development activities.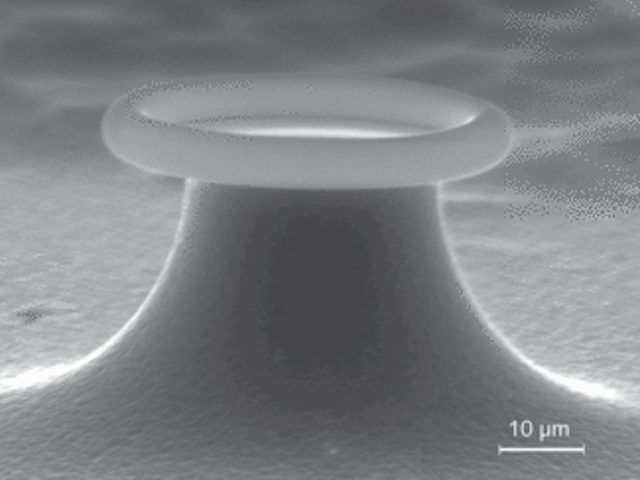 FIGURE 4. Researchers at USC have demonstrated the first integrated, submilliwatt erbium:ytterbium microlaser fabricated on a silicon platform–amenable to integration with other silicon components to address applications in communications and chemical-agent detection. A scanning electron micrograph shows the microlaser fabricated on a silicon wafer. (Courtesy of USC)
Click here to enlarge image
Join the Laser Focus World staff at the All-Symposium Welcome Reception on Sunday from 7 to 8:30 p.m., and don't forget to register now at www.marketplaceseminar.com for the Lasers & Photonics Marketplace Seminar 2010, to be held in conjunction with Photonics West on Monday, Jan. 25, at the Hilton San Francisco Union Square. Featuring a keynote presentation on the National Ignition Facility from former astronaut Jeff Wisoff, who is NIF deputy principal associate director (see www.laserfocusworld.com/articles/369629) and a special Technology Forum on "Green-Emitting Lasers and their Applications," the full-day Lasers & Photonics Marketplace Seminar is the only event that focuses solely on the laser marketplace and the applications that drive it forward.
---
Tell us what you think about this article. Send an e-mail to LFWFeedback@pennwell.com.