Applications meet technologies at Photonics West 98
Symposia on optoelectronics, biomedical optics, high-power lasers, and electronic imaging systems make up program slate for Photonics West `98.
Dec 1st, 1997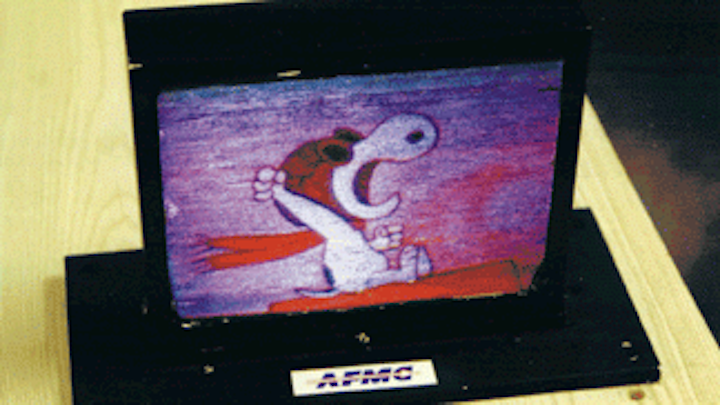 Applications meet technologies at Photonics West `98
Symposia on optoelectronics, biomedical optics, high-power lasers, and electronic imaging systems make up program slate for Photonics West `98.
Michael Brownell
Combining four technical symposia with a trade show and an education program, Photonics West (January 24-30, 1998; San Jose, CA) aims to integrate emerging technologies with contemporary applications. The meeting includes Optoelectronics `98, covering the latest on integrated devices and applications; LASE `98, focusing on high-power lasers and applications; BiOS `98, the International Biomedical Optics Symposium; and Electronic Imaging `98, a partnership with the International Society for Imaging Science and Technology. Each conference track represents a unique technical community, but there is considerable overlap of topical areas among the conferences. Last year, Photonics West drew more than 10,000 attendees and 420 companies. The expectations for Photonics West `98 exceed those figures.
Diode lasers and optoelectronics
Growth of diode laser technology is important to a wide range of industries. The development of a practical blue-emitting diode laser, for example, offers the data-storage industry the opportunity to significantly increase device storage capacity. Accordingly, the conference will open with a plenary presentation by Shuji Nakamura (Nichia Chemical Industries; Anan Tokushima, Japan) describing his latest results in blue-emitting diode lasers (paper #3283-200).
Exciting developments in the physics and the applications of diode lasers incorporating vertical-cavity and microcavity configurations will be given considerable attention. A plenary presentation by Hyatt Gibbs (University of Arizona; Tucson, AZ; paper #3283-201) and invited talks by Kent Choquette and coworkers (Sandia National Laboratories; Albuquerque, NM) and Jack Jewell (Picolight; Boulder, CO) on vertical-cavity structures (paper #3283-29) and by Mackillo Kira and coworkers (Philipps University; Marburg, Germany) on microcavity effects (paper #3283-43) are particularly interesting. A series of invited talks will focus on ultrafast phenomena and devices for terahertz switching, to be followed by a panel discussion on Ultrafast Optoelectronics led by Larry Goldberg (NSF; Arlington, VA).
Laser Diode Applications IV, chaired by Kurt Linden (Spire Corp.; Bedford, MA), incorporates sessions on diode lasers for display applications and spectroscopy, high-power diode lasers for print and illumination, and diode lasers for fiber applications. The sessions on diode-laser-based displays complement the display conferences that are part of the Electronic Imaging symposium. An invited paper by Jim Veligdan (Brookhaven National Laboratory; Upton, NY) on polyplanar polymer displays describes a flat-panel technology that incorporates diode lasers to yield a projection display only inches thick (paper #3285B-22; see Fig. 1). In a second invited paper, David Hargis and coworkers (Laser Power Research; San Diego, CA) describe compact, multiwatt microlaser modules and their use as light engines in high-brightness projection displays (paper #3285B-23).
In the session Ultrafast Phenomena in Semiconductors, H. M. van Driel and his research group (University of Toronto; Mississauga, Ontario, Canada) demonstrate coherent control of photo-injected current in bulk and nanostructure semiconductors (paper #3277-7). Coherent control involves choosing a process reaction channel by adjusting the relative phase of coherent light beams. This work has significant potential applications in optoelectronics.
Electron-phonon interactions are the major energy-loss mechanism for electrons in semiconductors. Using subpicosecond, time-resolved Raman spectroscopy, K. T. Tsen and colleagues (University of Arizona; Tucson, AZ) have directly measured the electron-longitudinal optical phonon scattering rates in the important, wide-bandgap semiconductor gallium nitride (GaN) (paper #3277-39). The scattering rate has been found to be almost an order of magnitude larger in wide-bandgap GaN than in gallium arsenide.
Bloch oscillations in superlattices have been demonstrated in intraband and interband optical transitions. In the conference Dynamics of Bloch Oscillations in Semiconductor Superlattices, a research group led by K. Leo (Technical University of Dresden; Dresden, Germany) presents results on directly determining the displacement of the Bloch oscillating wave packet as a function of time, with a spatial resolution of a few angstroms (paper #3277-11). The displacement has been found to show the expected sinusoidal behavior with total amplitudes close to the semiclassical prediction. This study has provided much better insight into Bloch oscillations in semiconductors.
Laser microfabrication
The conference Laser Applications in Microelectronic and Optoelectronic Manufacturing (LAMOM) provides a forum for current developments ranging from the fundamental aspects of laser-surface interaction to practical laser applications offering cost-effective solutions. The half-day LAMOM sessions Pulsed Laser Deposition (PLD) and Novel Methods of PLD will include new developments in PLD (T. Okada; Kyushu Univ., Japan; paper #3274-49), matrix-assisted pulsed-laser evaporation (R. A. McGill; Naval Research Laboratory (NRL); Washington, DC; paper #3274-50), growth of diamond and GaN films (R. Xiao; Hong Kong Univ., Hong Kong, China; paper #3274-51), and liquid-crystal thin films (J. A. Gonzalo, Univ. Hull, UK; paper #3274-52).
For more than two decades, optical projection lithography has been the primary technology for microelectronic device fabrication. Current semiconductor production facilities use optical lithography with 248-nm excimer lasers to fabricate state-of-the-art devices. For future generations of chips, manufacturers will have to turn to optical lithography at 193 nm, or possibly even 157 nm, but the technical issues to be addressed are extensive. Industry roadmaps call for deep-ultraviolet (DUV) lithography to be implemented by the turn of the century. At the Laser Projection and Ablation Lithography session, M. Rothschild (MIT Lincoln Laboratory; Lexington, MA) will review status of and challenges facing lithography at sub-200-nm wavelengths (paper #3274-44). Rothschild is part of an extensive DUV lithography development program at MIT.
The papers featured in Innovative Approaches Toward Cost-Effective Solutions in Microfabrication, and Photon-Induced Modification and Etching discuss fabrication of devices and systems at costs competitive with those of conventional technologies. J. S. Im (Columbia Univ.; New York, NY) will address the issues relevant to excimer laser annealing of amorphous silicon for thin-film transistors used in the fabrication of integrated active-matrix liquid-crystal displays and static random-access memory-- (SRAM) devices (paper #3274-22). He will discuss how location-controlled single-crystal silicon regions can be routinely obtained on glass or plastic substrates.
The Laser Cleaning and Defect Correction session highlights lasers as the tool of choice for specialty applications. G. Chapman (Simon Fraser Univ., Burnaby, BC, Canada), for example, will discuss the post-fabrication laser processing of integrated circuits (paper #3274-18). He has used an argon-ion laser on defective memory chips to produce repaired devices with defective cell distributions nearly invisible to the user.
Polymer photonic devices
The conference Polymer Photonic Devices demonstrates the potential--and growing acceptance--of plastics in optoelectronics applications. The first day of the conference will focus on passive polymeric waveguides, optical fibers, and active polymeric electro-optic devices. Recent advances to be presented include the development of cross-linked polymers with waveguide losses as low as 0.3 dB/cm at 1.5 µm. These waveguides were used to fabricate 1 ¥ 16 power splitters with low insertion loss and good uniformity.
Plastic optical fiber has matured over recent years. Researchers from Keio University (Yokohama, Japan; paper #3281-7) will report on a 3-GHz data transmission experiment in which the 650-nm signal was sent across 100 m of graded-index polymer fiber with good fidelity. The fiber shows high thermal stability and good moisture resistance.
The second day of the polymer photonics conference will focus on the fast-growing field of organic light-emitting devices (OLEDs) for displays (see Fig. 2). A new approach to OLED structures will be presented in which the hole-transport, emissive, and electron-transport layers are assembled onto robust films by using self-assembly techniques (paper #3281-31). Laser emission from conjugated polymers and monolithic organic single crystals will be reported (paper #3281-26). Several new integrated-cavity designs based on polymers including whispering-gallery-mode lasers will be presented (paper #3281-27). In addition, an entire session will be devoted to the transport properties of amorphous organic molecules and polymers; the last day of the conference will present advances in the development of photorefractive polymers for storage applications and sensors.
High-power lasers
The Solid State Lasers VII conference features papers highlighting laser developments for visible, near-, and mid-infrared wavelengths. This year, the conference will host a session on fiber lasers; the conference will also include sessions on recent developments in solid-state dye lasers.
In an invited paper in the diode-pumped laser session, D. Sumida (Hughes Research Laboratory; Malibu, CA; paper #3265-14) reports on a ytterbium-doped yttrium aluminum garnet (Yb:YAG) laser capable of producing several hundred watts of continuous-wave output. C. Orth and colleagues (Lawrence Livermore National Laboratory; Livermore, CA) will discuss the design and performance of a diode-pumped 100-J ytterbium-doped strontium fluoroapatite laser (papers #3625-16 and #3625-31).
A highlight of the Laser Resonators conference is the report of a two-crystal Nd:YAG laser capable of producing
80 W of single-mode output (paper #3267-25). This session also includes papers discussing the efficiency and applications of resonators with phase-conjugating elements. Prof. Eichler and collaborators (Technische University; Berlin, Germany) have explored this problem from different viewpoints (papers #3267-19 and #3267-35). In the special session Active Intracavity Laser Beam Control, an international group of scientists will present papers demonstrating the increasing role of active optics in building novel lasers and in the methods of laser beam formation.
Jeff Kimble and David Vernooy (California Institute of Technology; Pasadena, CA) will present a paper entitled "Cavity QED with Whispering Gallery Modes of Quartz Microspheres," which demonstrates the strong bond between laser technique and the problems of quantum optics (paper #3267-28). This paper is part of special session Low-power Microsphere Resonators.
Biomedical Optics, Electronic Imaging
The International Biomedical Optics Symposium (BiOS) addresses six topics: Clinical Applications, Human Error in Laser Medicine, Minimally Invasive Instrumentation, Least-Invasive diagnostics, Tissue Science and Engineering, and Biological Spectroscopy and Microscopy. The BiOS meeting is the leading forum for both medical practitioners, who focus on procedural and applied developments, and technology developers, who transform optical technologies into more-effective tools for the medical community.
The Electronic Imaging Science and Technology symposium covers 12 topics: 2-D Displays, 3-D Displays, CCD Imagers, Electronic Imaging Systems, Visualization and Vision, Color and Document Imaging, Image Processing methods, Machine Vision, Visual Communications and Image Processing (VCIP), Multimedia Processing and Applications, Digital Photography, and Data Security. These conference titles demonstrate the variety of application fields that imaging technologies are impacting.
More than 450 companies will exhibit at the Photonics West trade show. The three exhibits will be focused around imaging, photonics, and biomedical optics. As in previous years, the show will include technology and product forums to educate attendees on optical products and technology. With a strong technical program and broad-based exhibition, Photonics West provides useful information, products, and contacts for attendees of all backgrounds. o
Click here to enlarge image
FIGURE 1. Flat, high-brightness, polyplanar laser display consists of a
horizontal stack of polymer sheets, each fractionally taller than the last. Light from a diode laser is reflected by a computer-driven spatial light modulator into the bottom edge of the stack. The edges of the polymer sheets provide vertical resolution, and diffraction-limited beams relayed by the spatial light modulator provide horizontal resolution. A prototype system has been delivered to the US Air Force.
Click here to enlarge image
FIGURE 2. Arrays of organic light-emitting diode pixels form high- definition displays. The pixels in this SEM photo are 50 ¥ 50 µm.