Japanese scientific-research spending set to double
While US lawmakers have been debating whether to increase government spending on scientific re search, the Japanese government is well on its way toward a stated goal of doubling its own spending on research--including several areas related to lasers and optoelectronics--by 2000 (see figure). A new report by the US National Science Foundation (NSF) concludes that Japanese spending on science and technology is on track to hit $18 billion by 2000, about twice the government`s 1992 budget after inf
Sep 1st, 1997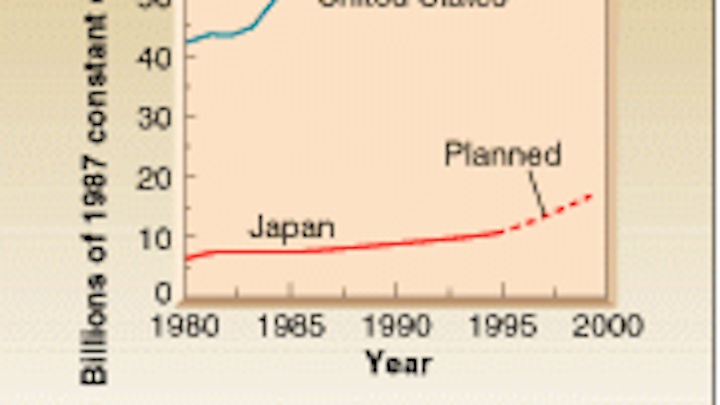 Japanese scientific-research spending set to double
Vincent Kiernan, Washington Editor
While US lawmakers have been debating whether to increase government spending on scientific re search, the Japanese government is well on its way toward a stated goal of doubling its own spending on research--including several areas related to lasers and optoelectronics--by 2000 (see figure). A new report by the US National Science Foundation (NSF) concludes that Japanese spending on science and technology is on track to hit $18 billion by 2000, about twice the government`s 1992 budget after inflation is taken into account--even as the Tokyo government pares its overall budget to reduce its national debt.*
Doubling the Japanese science budget by 2000 would require 10% increases each year, concludes the NSF report. Past budget increases have been about 3.9% annually, far below that level. But the 1996 Japanese budget included a 12.5% increase, and the 1997 budget added 6.8% more, putting the budget on the needed pace to double it, says the NSF report. [In August 1997, $1 = 𨓾--Ed.]
Funding for industry
Although universities are a major beneficiary of the increased spending, industry is far from ignored, according to detailed analyses of the 1997 Japanese budget, compiled by the NSF Tokyo office. One area of growth is the Agency of Industrial Science and Technology, part of the Ministry of International Trade and Industry (MITI). The agency`s budget increased by 䂈 billion in 1997 to 𨔪 billion, an increase of 14%, according to the NSF.
Of particular interest is its Industrial Science and Technology Frontier program, which attempts to promote research and development projects that could be useful for industry in both Japan and other nations. The overall budget for this program, considered one of the government`s high-priority programs in science and technology, rose to 䂐.1 billion in 1997 from 䂎.4 billion in 1996, and it includes a new project in advanced photon processing and measurement technology. The photon project aims at developing technologies for in situ multidimensional measurement, laser processing, and photon production and transmission.
The Frontier program`s budget also includes 𨙎 million for the development of nonlinear optoelectronic materials. In addition, it includes funds for initial feasibility studies on two optics-related projects. One, for which 䂒 million was allocated, aims at the development of conjugational materials, or advanced glass that includes organic materials regularly spaced throughout the glass material. The second project, for which 䂋 million is being spent, is to examine the feasibility of liquid-crystal photonic polymers that would be used as optoelectronic materials in high-speed parallel computers.
MITI also received ٸ.08 billion for its Real World Computing project, which aims at the development of new technologies and designs for computers. That budget was up from ٸ.01 billion in 1996.
Even the Japanese space agency, NASDA, has some involvement with optics technologies. Its 1997 budget includes ٵ.4 billion in 1997, up from ٴ.6 billion in 1996, for the development of experimental satellites to test laser communications in space. The satellites are scheduled to be launched in 2000.
Spending in related areas
Of course, the Japanese government also spends heavily in areas that are not specifically tied to lasers and optoelectronics but that nevertheless could add to the nation`s competitiveness in those areas. For example, the 1997 budget includes 𨘡 million for the Ministry of Education, Science, Sports and Culture (popularly known as Monbusho) to hire researchers to work for government laboratories for fixed terms at an increased salary. The goal is to encourage more job mobility among Japanese scientists, who typically work at one laboratory for their entire careers, in the hopes that new scientific ideas would percolate along with the scientists as they change jobs.
And the Japanese government is spending heavily to promote greater collaboration among its agencies, Japanese universities, and private industry. For example, the government is encouraging private companies to commission university scientists to conduct research in cutting-edge areas of interest to the companies, and government agencies frequently help underwrite such contract research. Monbusho estimates that Japanese university scientists will conduct 䂝.9 billion worth of such research this year, up from 䂐.8 billion of contract research in 1996.
US spending slows
Meanwhile, Washington`s spending on science and technology continues to be sluggish. The House Appropriations Committee, for example, in June recommended a 6.6% increase for the NSF in 1997; annual 7% increases would be necessary to double its budget over 10 years.
The Senate would dictate an even slower pace of growth. Its version of the 1997 Appropriations Bill for the NSF, approved in late July, would increase that agency`s budget by 3.3% over 1996. Because the final version of any appropriations bill is a compromise between versions produced by the House and the Senate, the final budget increase for NSF probably will be midway between the Senate`s 3.3% and the House`s 6.6%.
Senator Phil Gramm (R-TX), who has introduced other legislation to double the US government`s spending on civilian research and development, told his colleagues during Senate debate on the bill that doubling the science budget should be a high priority. Gramm explained that, in 1965, the federal government spent $0.057 of every dollar in its budget on science and technology. "We were able to develop new technology and new products that have made us the envy of the world and have allowed us to maintain the highest living standards on Earth," he said.
But today, Gramm said, Washington spends only abut $0.019 of every budget dollar on science and technology. "We have dramatically reduced the investment we are making in the future," he said. Lawmakers have "succumbed to the siren song of investing more and more money in the next election, in programs that yield a return before the voter goes to vote," he said.
"Since 1965, we have systematically reduced the investment that we are making in the future," Gramm said. Meanwhile, the Japanese are increasing theirs. o
Click here to enlarge image
While Japan is increasing its spending on science and technology, the US House of Representatives and Senate are voting to reduce funding to the National Science Foundation.