Amplitude-squeezed light promises quiet devices
Researchers at the University of Can berra in Australia have developed a novel class of photon-coupled "quiet-light" optoelectronic devices. The invention makes use of amplitude-squeezed light, in which the photon-number fluctuations are suppressed below normal shot-noise levels--this overcomes the noise and limited-information-capacity drawbacks of natural light. Applications for these devices are likely to include optical computing, telecommunications, optical interconnection, and instrumentat
Nov 1st, 1997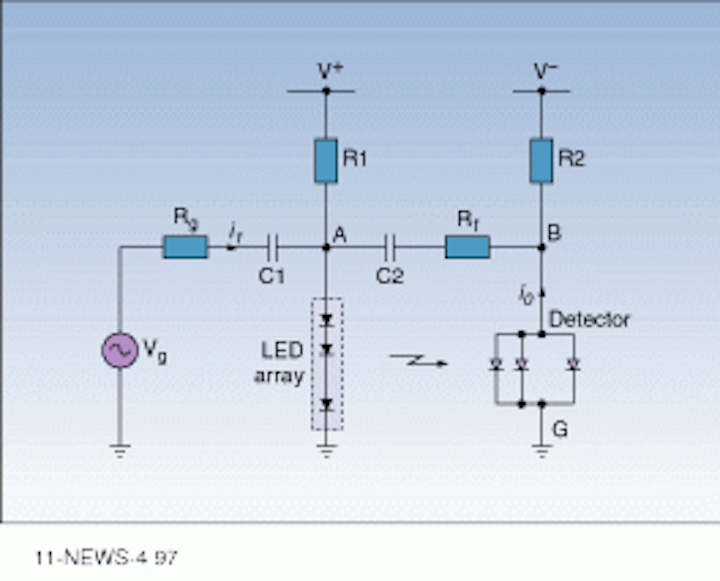 Amplitude-squeezed light promises quiet devices
Paul Mortensen
Researchers at the University of Can berra in Australia have developed a novel class of photon-coupled "quiet-light" optoelectronic devices. The invention makes use of amplitude-squeezed light, in which the photon-number fluctuations are suppressed below normal shot-noise levels--this overcomes the noise and limited-information-capacity drawbacks of natural light. Applications for these devices are likely to include optical computing, telecommunications, optical interconnection, and instrumentation systems.
The research grou¥was reportedly the first in Australia to demonstrate generation of photon-number-squeezed light and the first in the world to generate quantum-correlated multiple light beams using high-quantum-efficiency light-emitting diodes and laser diodes. The sub-shot-noise-amplifier concept arose out of the group`s fundamental studies of quantum-correlated light.
The new class of optoelectronic devices is based on the concept of an optocoupler. It comprises arrays of light-emitting and light-detecting semiconductor junctions electrically and optically coupled to provide both positive and negative feedback paths. In operation, the light-emitting junctions are forward-biased, and the light-detecting junctions are reversed-biased. A high-impedance input port working together with high internal quantum transfer efficiency acts to suppress photonic shot noise (see figure on p. 34).
The researchers have modeled the quantum-noise-suppressed circuits both theoretically and experimentally. The potential advantages--as compared to electron-transport devices--include high speed, low power, and low-noise operation and can be realized in monolithic optoelectronic integrated circuits. Re searchers Paul Edwards and William Cheung of the university`s School of Electronic Engineering and Applied Physics have applied for patents relating to such devices, and Hamamatsu Photonics KK (Hamamatsu City, Japan) has acquired the sole rights to develo¥a class of photon-coupled quiet-light optoelectronic devices.
The University of Canberra quantum electronics grou¥is currently working with the Australian National University, Department of Electronic Materials Engineering, Hamamatsu Photonics, and Stanford University (Palo Alto, CA) to develo¥low-noise laser diodes specifically for quiet-light applications. The ultimate aim of the work is the encoding and transfer of information on single electrons and photons--applications that demand minimum shot noise and thermal noise. Stanford University`s Yoshi Yamamoto, the originator of laser diode noise squeezing, has defined this goal as the realization of a quantum optical repeater in which single electrons and photons are controlled by "electron-photon turnstiles."
During the past three years this research has been supported by the Australian Department of Employment Education Training and Youth Affairs, which has a Targeted Institutional Links program, and the Australian Research Council`s Large Grant program. Despite such support, there has been a reluctance in Australia to accept the relevance of quantum-noise-suppression techniques to new technologies.
"Even our own university was advised that the invention was of no commercial significance," says Paul Edwards. "The problem with applied research in Australia is that we usually have to go off-shore for recognition and commercial development." Never theless, the relationshi¥between the Canberra re searchers, Stanford Uni versity, and Hamamatsu is giving Australians access to the latest devices. Such special knowledge is the key ingredient to any high-technology startup.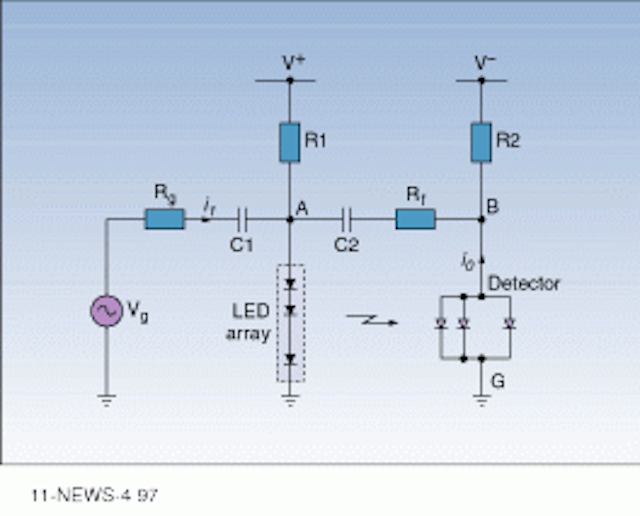 Click here to enlarge image
Monolithic optoelectronic device based on amplitude-squeezed light uses arrays of light-emitting and light-detecting semiconductor junctions electrically and optically coupled to provide both positive and negative feedback paths. The device is designed to suppress photonic shot noise.