PDT and optical diagnostics improve lung-cancer statistics
As with most life-threatening diseases, early detection of lung cancer is critical to patient survival. More than 500,000 people worldwide die each year from carcinomas of the lung, and once a patient is diagnosed and even undergoes treatment, the five-year survival rate is only 14%. One reason for this high mortality rate is that the most telling symptoms of lung cancer--persistent cough, sputum streaked with blood, chest pain, and recurring pneumonia or bronchitis--often do not occur until the
Jan 1st, 1999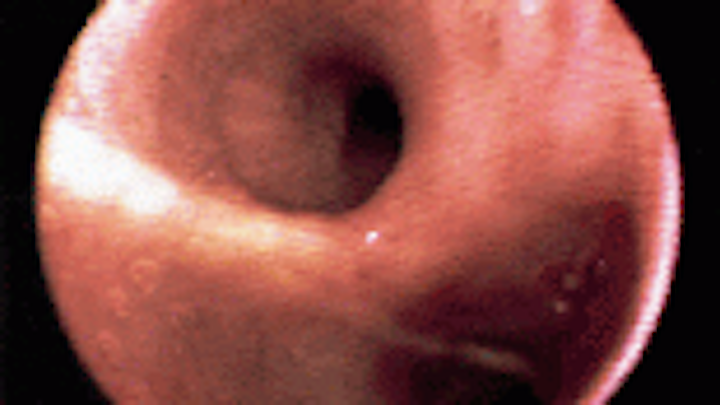 PDT and optical diagnostics improve lung-cancer statistics
Kathy Kincade Contributing Editor
As with most life-threatening diseases, early detection of lung cancer is critical to patient survival. More than 500,000 people worldwide die each year from carcinomas of the lung, and once a patient is diagnosed and even undergoes treatment, the five-year survival rate is only 14%. One reason for this high mortality rate is that the most telling symptoms of lung cancer--persistent cough, sputum streaked with blood, chest pain, and recurring pneumonia or bronchitis--often do not occur until the disease is advanced and has begun to metastasize (spread to other parts of the body).
Lung cancer can spread to almost any area of the body, including the brain, bone, bone marrow, and liver. Even if a patient is examined with conventional white-light bronchoscopy, early bronchogenic carcinoma and moderate or severe dysplasia may go untreated because they exhibit little visual difference from normal tissue when this technique is used. Early detection and diagnosis are also important in determining what type of treatment will be used.
Most lung cancers fall into one of two categories: small-cell and nonsmall-cell. Because most small-cell cancers have spread by the time of diagnosis, they are most commonly treated with chemotherapy and/or radiation therapy. Because most nonsmall-cell cancers may not have yet spread at the time of diagnosis, surgical resection is possible; thus, the most common treatment for nonsmall-cell cancers is open-chest surgery, a traumatic and costly procedure. Because of the need for earlier and more-accurate diagnoses and more-effective therapies, lasers and fiberoptics have begun to play a significant role in the diagnosis and treatment of lung and esophageal cancers.
One of the first commercial products is the LIFE (laser-induced fluorescence emission) Lung fluorescence endoscopy system, developed and manufactured by Xillix Technologies (Richmond, British Columbia, Canada). Using a 20-mW, 442-nm helium-cadmium laser in conjunction with a bronchoscope, the Xillix system captures the difference in the fluorescence signals between normal and abnormal tissue (cancerous tissue fluoresces slightly less than normal tissue) and displays real-time video and digital still images on an attached monitor (see figure).
As an adjunct to white-light bronchoscopy, the LIFE-Lung system has been shown to significantly improve a physician`s ability to identify and locate suspicious tissue. In clinical trials, detection of moderate-to-severe dysplasia (or worse) improved from 37% to 75% on a per-patient basis and 25% to 67% on a per-lesion basis; overall, the LIFE system is clinically proven to improve detection and localization of lung cancer by 171% over conventional endoscopy.
The system gained US Food and Drug Administration (FDA) clearance in 1996 and is approved for sale in Canada and Europe. The company is also working with Miravant Medical Technologies (Santa Barbara, CA), a developer of photodynamic-therapy (PDT) drugs and processes, to create a three-pronged approach to early-stage cancer: diagnosis, localization, and treatment. The two companies signed a collaborative R&D agreement last June to develop proprietary systems that will combine Xillix`s diagnostic capabilities with Miravant`s PDT drugs and devices and enable abnormal lesions detected and localized with the LIFE system to be destroyed using Miravant`s PhotoPoint technology, which is already in preclinical studies for early-stage lung cancer using the company`s PDT drug Purlytin.
Miravant has a similar relationship with Chiron Diagnostics (E. Walpole, MA) that should result in the development of an early-screening method for lung and other cancers. Chiron is working toward an assay to screen high-risk patients, such as smokers, for abnormal cellular changes suggestive of early-stage lung cancer. Thus, under Miravant`s clinical development strategy, patients who test positive with the Chiron screening assay may be referred to undergo a LIFE-Lung imaging procedure to detect and localize abnormal lesions; then, certain of these patients will be treated with the minimally invasive PhotoPoint therapy.
A clinical trial now underway at Roswell Park Cancer Institute (Buffalo, NY) involves using sputum cytology and the LIFE system in patients previously treated for lung or head and neck cancer; patients discovered to have new lung cancers will be treated with PDT or other modalities, depending on what is most appropriate.
PDT progresses
Miravant is one of several companies developing PDT drugs and devices for the treatment of lung and other cancers and noncancerous conditions. PDT combines a tissue-specific photoreactive agent such as Photofrin or Purlytin with low doses of laser energy to selectively destroy cancer cells while causing minimal damage to surrounding healthy cells. The drug, which is injected intravenously, concentrates in tumor cells while clearing from other cells (based on cell-division rates). Two to four days later, 630-695-nm energy (most often from a dye or diode laser) is applied via a fiberoptic delivery system to activate the drug, which then produces free radicals that kill unwanted cells. A few days later, a bronchoscope is inserted to remove the destroyed tissue. Side effects of PDT can include localized inflammation that may cause a cough or shortness of breath and light sensitivity that can last four to six weeks.
PDT has been under development for more than 25 years for the treatment of lung and other cancers; in addition to demonstrating significant clinical efficacy and improved quality of life, studies worldwide have shown that PDT is often more cost-effective than surgery for early-stage lung cancer, in some cases reducing treatment costs by nearly 50%. Photofrin, developed and patented at Roswell Park and manufactured by QLT Phototherapeutics (Toronto, Canada), is currently the only PDT drug with FDA clearance; it was initially cleared in 1996 for palliative treatment of certain advanced esophageal cancers and last January gained additional clearance for potentially curative treatment of certain early-stage lung cancers. These approvals also cover certain laser systems that function as photo-initiators, including products from Coherent, Laserscope, Diomed, and Physical Sciences.
More-advanced lung-cancer patients may soon benefit from PDT also. In September 1998, the FDA`s Oncologic Drugs Advisory Committee unanimously recommended approval of Photofrin for PDT treatment of late-state lung cancer; a final decision is expected in March. In addition to being approved in the USA, Photofrin has been approved for use in treating a variety of cancers in Germany, France, Italy, The Netherlands, Canada, and Japan; approvals are pending in England, Ireland, Spain, Portugal, Belgium, Denmark, Sweden, Finland, and Greece.
In addition to Photofrin and Purlytin, several next-generation PDT drugs are in various stages of clinical evaluation, including Foscan (Scotia Pharmaceuticals), Levulan (DUSA Pharmaceuticals), ALAFine (FineTech), and LuTex (Pharmacyclics). Many of these agents require slightly different wavelengths than the traditional 630 nm that activates Photofrin.
Nontraditional approaches
Two of the more exciting advances in PDT involve nontraditional approaches. Researchers at the Weizmann Institute of Science (Rehovot, Israel) are looking at chlorophyll (the pigment that enables plants to capture and synthesize sunlight) as a less light-sensitive alternative to Photofrin and other nonorganic PDT drugs. In early studies, the "green" material has eradicated relatively large malignant melanoma tumors in mice and destroyed cancer cells in the breast and colon. Clinical trials will be conducted worldwide by the Dutch company Steba Beheer NV.
Meanwhile, researchers at Optical Ventures (Norwalk, CT) are working with a portfolio of patents from Baylor Research Institute (Houston, TX) that combine photosensitive dyes with a light source outside the body to activate the mixture prior to administration. The company is expected to be able to administer the preactivated drugs systematically for all diseases for which PDT has already shown effectiveness in treatment, including cancers, viruses, bacterial infections, restenosis, and diseases of the eye and central nervous system. Preliminary data have found that this new class of drugs works by targeting topoisomerase II, one of the enzymes responsible for regulating essential processes of DNA replication, transcription, recombination, and repair.
The first drug Optical Ventures plans to test is preactivated Photofrin administered separately prior to Tomoxafin to enhance sensitivity to estrogen-receptor-negative breast carcinoma. Other products in the pipeline include a preactivated yellow dye for AIDS treatment, gene-based cancer-prevention drugs, antibacterial treatments, and biochip drug-delivery products. o
PDT drugs and devices are also being studied for use in treating several non- cancerous conditions, including age-related macular degeneration, psoriasis, and athero sclerosis. These and other applications will be discussed in future Medicalwatch columns.--Ed.
Click here to enlarge image
Click here to enlarge image
Conventional white-light examination of the lung typically shows tissue with slight reddening but no significant characteristics (left), while bronchoscopically positive lesions--those likely to be cancerous or precancerous--appear as focal or delineated reddish brown when illuminated by the Xillix LIFE system (right).