Photonics West mixes theory and practice
Technical sessions highlight what is to come in biomedical optics, lasers, integrated optoelectronics, and electronic imaging, while exhibits present related products.
Jan 1st, 1999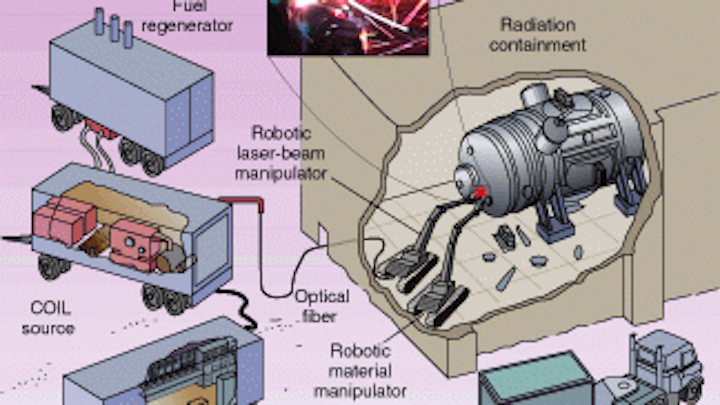 Photonics West mixes
theory and practice
Technical sessions highlight what is to come in biomedical optics, lasers, integrated optoelectronics, and electronic imaging, while exhibits present related products.
John Wallace and Paula Noaker, Senior Editors
With its forward-looking perspective, Photonics West (San Jose, CA) is an event well suited to opening the new year. Not only do the symposium`s technical sessions highlight the fruits of research done at commercial, academic, and government laboratories, they also point the way to future optoelectronics products. As the subjects of the sessions indicate, we are becoming a society increasingly reliant on the photon for sensing, information transfer, computing, and the diagnosis and healing of disease. Technologies to be discussed at Photonics West range from those of great force (chemical lasers) to those of the utmost precision (near-field scanning optical microscopes). It is a task of the sessions and exhibits to illustrate how best to put this myriad of light-based tools to use.
The symposium is divided into four technical programs: BiOS `99 (Biomedical Optics), LASE `99 (High-Power Lasers and Applications), Optoelectronics `99 (Integrated Optoelectronic Devices), and Electronic Imaging `99 (Science and Technology). More than 11,000 people are expected to attend the show, while 500 companies will participate in the exhibit.
Biomedical optics
The most useful optical instrument yet in existence--the human eye--is also an ideal subject for biomedical optics. The Ophthalmic Technologies IX conference covers the characterization of the eye, diagnosis of eye diseases, and ophthalmic surgery. An area of special interest, according to conference chair Fabrice Manns, is topography-assisted customized ultraviolet (UV) photoablation for surgical correction of vision. Researchers at Eberhard-Karls-University Tubingen (Tubingen, Germany; paper #3591-12) determine the desired alteration to the eye lens not through the standard eye exam, but by measuring corneal shape directly with optical techniques. Manns also mentions noncontact measurement of intraocular pressure using a Michelson interferometer, done at KreCo GmbH (Munich, Germany; paper #3591-19), as a greatly needed advance in the area of glaucoma diagnosis.
Fiberoptics for medical use offers ever-higher damage thresholds and an expanding material selection. "Hollow waveguides are excellent for power transmission," says James Harrington, chair of the Specialty Fibers for Medical Applications conference. Hollow-fiber delivery of argon fluoride and krypton fluoride excimer light for surgery will be described by researchers from Tohoku University (Sendai, Japan; paper
#3596-01). Other medical uses for fiberoptics will also be discussed. Harrington notes that fabrication of a 10-m-long infrared imaging bundle from arsenic trisulfide glass fibers, done at Amorphous Materials Inc. (Garland, TX) and Advantek Engineering (Sturbridge, MA; paper #3596-09), is "quite an accomplishment."
The early detection of dental decay by optical methods is a hot topic this year, according to John Featherstone, chair of Lasers in Dentistry V. Noting that decay may be curable if found just after it starts, Featherstone mentions two rapidly maturing methods for early detection. One, light- and laser-induced fluorescence spectroscopy, has already reached the stage of clinical trials at Indiana University (Indianapolis, IN; papers #3593-26 and #3953-27). Another, optical coherence tomography, promises a three-dimensional map of enamel properties, pinpointing decay. Featherstone also points to the use of a sealed TEA CO2 laser by researchers at the University of California (San Francisco, CA) and the Argus Photonics Group (Jupiter, FL) as a replacement for the dental drill (paper #3593-33).
High-power lasers and applications
Ernest Dorko, chair of Gas and Chemical Lasers and Intense Beam Applications II, notes that advances in the performance and use of chemical oxygen iodine lasers (COILs) are of special interest. By injecting atomic rather than molecular iodine into a COIL, scientists at Tokai University (Tokai, Japan) and Kawasaki Heavy Industries Ltd. (Kobe, Japan) increase the laser`s power and efficiency (paper #3612-10). In a system being developed at Rocketdyne Propulsion & Power (Canoga Park, CA) and Schafer Corp. (Albuquerque, NM), researchers will pipe optical power from a COIL through optical fiber to aid in the dismantlement of nuclear facilities, a process that includes cutting, welding, and surface decontamination (paper #3612-18; see Fig. 1). Dorko also calls attention to an out-of-this-world application for the high-power CO2 laser, in which scientists at the High-Energy-Density Research Center (Moscow, Russia; paper #3612-03) bounce laser light off asteroids as far as 107 km away to determine their size and range.
The free-electron laser (FEL) is the only laser in which the gain medium is intrinsically free of flaws and thermal lensing. Harold Bennett, chair of Free-Electron Laser Challenges II, explains that scientists at Lawrence Berkeley National Laboratory (Berkeley, CA; paper #3614-14) are now able to dispense with another source of flaws, the cavity mirrors, by feeding FEL light back into its undulator to bunch its electron pulses. Researchers at the Thomas Jefferson National Accelerator (Newport News, VA) have generated more than 300 W of 5-µm light from their FEL (paper #3614-10). Potential applications of the FEL are multiplying; one example is a program to power geosynchronous satellites by 0.84-µm light beamed from a ground-based FEL being developed by Bennett Optical Research (Ridgecrest, CA; paper #3614-28) and Lawrence Berkeley National Laboratory. A group at the Colorado School of Mines (Golden, CO; paper #3614-32) is hoping someday to drill oil wells with a FEL.
The intent of Laser Applications in Microelectronic and Optoelectronic Manufacturing IV is to "bring people together who use lasers as tools," says Henry Helvajian, conference chair. Of special interest, he notes, is an invited paper given by researchers from the University of New Mexico (Albuquerque, NM; paper #3618-02) that covers the use of interference lithography for creating nanoscale features on silicon (see Fig. 2). A group from Laser Institut Mittelsachsen e.V. (Mittelsachsen, Germany; paper #3618-26) will present results on laser welding of ceramics for microelectronics. Several papers will cover pulsed-laser deposition, including one on nanocrystallite formation for semiconductor light-emitting devices by researchers at Matsushita Research Institute Tokyo Inc. (Tokyo, Japan).
Integrated optoelectronic devices
Optoelectronics `99 will include conferences on optoelectronics materials and devices, semiconductor lasers and photo detectors, hybrid and monolithic optoelectronic integrated circuits, and diffractive and holographic devices. According to Waguih Ishak of Hewlett-Packard Laboratory (Palo Alto, CA), chair of the Integrated Optoelectronics Devices symposium, a major theme weaving through many of the presentations will explore technologies necessary to meet the coming demands of terabit-per-second communications networks, teraflop computers, terahertz instrumentation, and terabyte storage systems.
The Session on Devices for Optical Telecommunications and Wavelength Division Multiplexing (WDM) will feature a keynote address by Ari Tervonen of Nokia Research Center (Helsinki, Finland; paper #3620-01). He will review expected applications for integrated optics devices in the areas of WDM, optical modulation, optical switching, and wavelength conversion. Included will be a status report on integrated-optics technologies and exploration of the roadmap leading to their commercial role in new telecommunication systems. Following the keynote address, David Brooks and Schlomo Ruschin of Tel Aviv University (Tel Aviv, Israel; paper #3620-02) will discuss an electro-optic add-drop tunable filter based on an asymmetric directional coupler. According to Brooks, the multiple-electrode structure of the device produces an alternating delta-beta effect that provides a conversion efficiency of unity within the entire tuning range (750-900 nm), which is essential for many WDM network architectures.
The conference on light-emitting diodes (LEDs) will include a keynote address on indium gallium nitride (InGaN) based ultraviolet/blue/green/
amber LEDs by Shuji Nakamura of Nichia Chemical Industries Ltd. (Kaminaka, Japan; paper #3621-01). Also of note will be the conference on holographic technologies and spatial light modulators, which will include a presentation on multiplexed microholograms for optical data storage by researchers from the Technische University of Berlin (Berlin, Germany; paper #3621-02).
Photonics and imaging
Also part of Photonics West is what is reportedly the largest photonics and imaging exhibit in North America, called Electronic Imaging `99. Running concurrent with the exhibits will be 27 conferences on related subjects, which will be grouped in seven program tracks. The two-dimensional (2-D) display program will cover projection displays, liquid-crystal materials, flat-panel displays, and display metrology. Another track will examine holographic materials, stereoscopic displays, virtual reality, and 3-D image capture and applications.
For example, Nicholas Phillips and colleagues at the Center for Modern Optics at De Montfort University (Leicester, England) and the Defence Evaluation and Research Agency (Malvern, England) will discuss developments in practical holography (paper #3637-04). This will include discussion of a new laser-plotter technique that, in principle, enables efficient plotting of an unlimited size of pixel array with a rigorous estimate of duration of the plot run time. Pixelated holographic structures formed will have high precision with an accompanying high pixel count (1 million pixels per side on a square array, for example). Phillips notes that the case of absorption holograms offered an easy route to a quality result. Based on this, the researchers were able to exploit the many tricks of amplitude holography borrowed from lithographic and holographic experience using ultrafine-grain silver-halide materials.
Other topics covered at Electronic Imaging `99 will include visual data exploration, human vision and electronic imaging, nonlinear image processing, and artificial neural networks. Presenters will explore technology related to color imaging, digital photography, document recognition and retrieval, and machine-vision techniques for industrial inspection. o
Click here to enlarge image
FIGURE 1. A 30-kW chemical oxygen iodine laser is used to dismantle a nuclear power plant. The laser, which uses chemical regeneration to reduce fuel costs, will cut steel up to 12 in. thick. Its 1.3-µm emission wavelength is ideal for transmission via optical fiber, allowing the dismantling to be done by a remotely controlled robot. A 9-kW prototype laser cuts 1-in.-thick stainless steel at a speed of 9 in./min (inset).
Click here to enlarge image
Click here to enlarge image
FIGURE 2. Interference lithography, in which two or more coherent wavefronts interfere to produce a high-resolution periodic pattern suitable for exposure in photoresist, can be used to create features with pitch of a wavelength or less. Silicon quantum walls (left) are 40 nm wide on a 380-nm pitch. Quantum wires (right), also of silicon, are 20 nm in diameter.