Fiber makes rainbow from laser light
By sending low-power ultrashort laser pulses down a microstructured optical fiber with unusual dispersion characteristics, researchers at Lucent Technologies` Bell Labs (Murray Hill, NJ) have produced single-transverse-mode continuum radiation in a silica fiber that spans a wavelength range from 400 to 1400 nm (see photo at left). The fiber contains a microscopic triangular array of air holes and a missing central hole that defines an index-guided core. With a diameter of less than 2 ?m, the cor
Jul 1st, 1999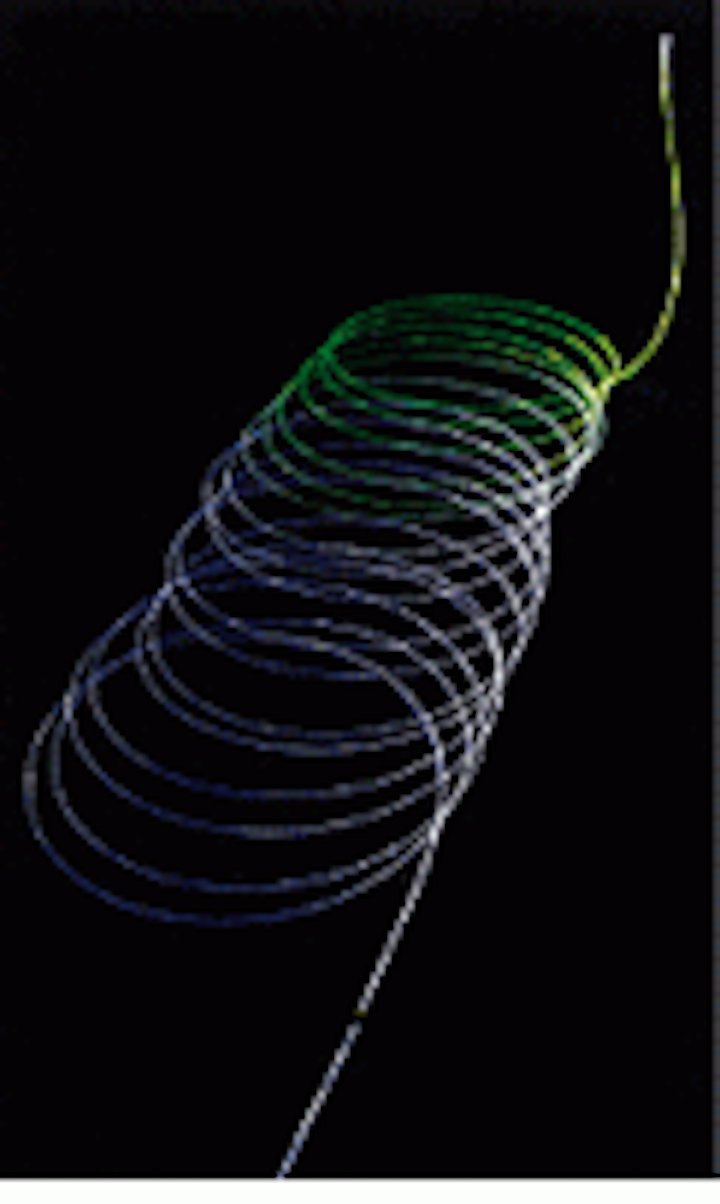 FIBEROPTICS
By sending low-power ultrashort laser pulses down a microstructured optical fiber with unusual dispersion characteristics, researchers at Lucent Technologies` Bell Labs (Murray Hill, NJ) have produced single-transverse-mode continuum radiation in a silica fiber that spans a wavelength range from 400 to 1400 nm (see photo at left). The fiber contains a microscopic triangular array of air holes and a missing central hole that defines an index-guided core. With a diameter of less than 2 ?m, the core has an extremely small effective area, resulting in GW/cm2 peak light intensities inside the fiber even at picojoule pulse energies. In addition, because of a large waveguide contribution, the fiber`s structure causes the group-velocity dispersion to be zero at 760 nm,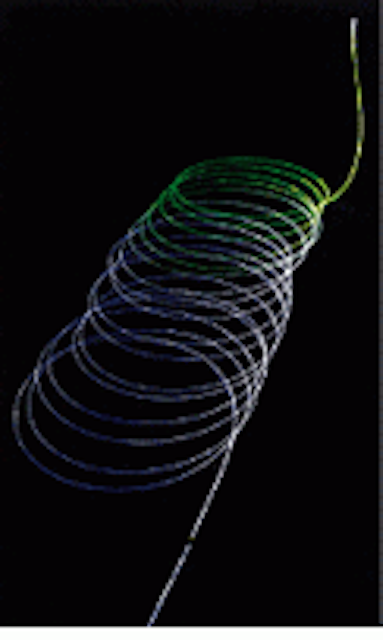 Click here to enlarge image
providing fertile ground for nonlinear optical effects such as self-phase modulation-which, along with Raman scattering, is the source of the continuum. The researchers launched pulses of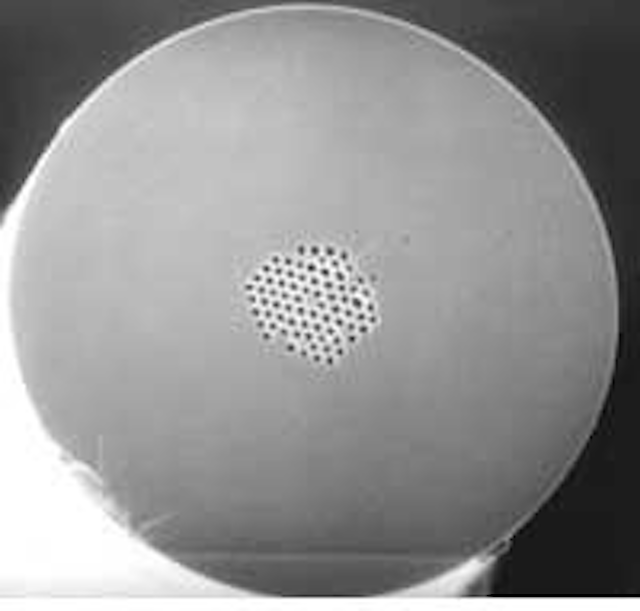 Click here to enlarge image
100-fs duration, 200-800-pJ energy, and 800-nm wavelength to produce a host of other nonlinear effects, including pulse compression, soliton propagation, and efficient four-wave mixing.
Versions of the fiber`s microstructure include a core defined by only three air holes placed in a triangle and a core defined by six holes placed in a hexagonal ring, as well as the triangular array (top right). Both the ring of six holes and the large array provide adequate light confinement for continuum generation, according to Jinendra Ranka, one of the researchers. As a light pulse propagates down the fiber, he explains, the spectral band of the resulting continuum expands, encompassing first red, then orange, and so on. By the time the pulse has traveled 75 cm down the fiber, the continuum has expanded fully to include violet light. The trailing edge of the pulse steepens as it travels, producing an "optical shock" that enhances short-wavelength output.
Click here to enlarge image
The fiber is birefringent and, thus, singly polarized. According to Robert Windeler, another Bell researcher, this is due to the core taking an oval shape in fabrication. The period of the microstructure array itself is approximately 2 ?m. Ranka notes that the fiber is experimentally single-mode at 633 nm. An ideal application for the Bell Labs fiber is in optical coherence tomography, says Ranka.