CONFERENCE PREVIEW: Breadth distinguishes Photonics West 2000
More than 500 research papers and 100 short courses at Photonics West next month (San Jose, CA; Jan. 22-28) will stand out in international breadth and depth of coverage.
Dec 1st, 1999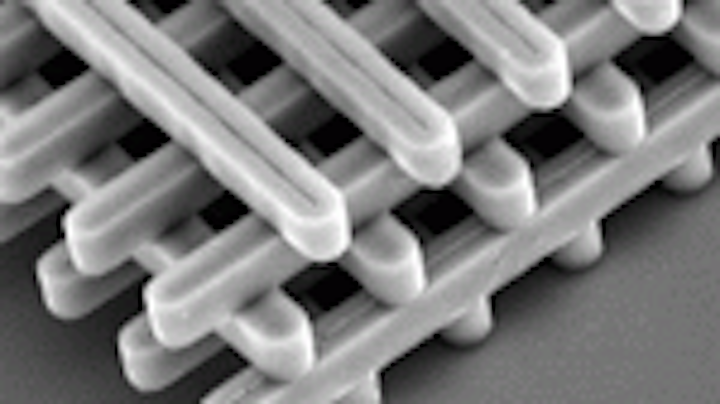 More than 500 research papers and 100 short courses at Photonics West next month (San Jose, CA; Jan. 22-28) will stand out in international breadth and depth of coverage. Photonics West 2000 will also demonstrate its unique breadth and depth on the exhibit floor, with an international exhibit by more than 500 companies. "The exhibit continues to grow and to represent the most comprehensive showcase for optics, photonics, and imaging technologies," said Scott Walker, director of corporate services at SPIE—International Society for Optical Engineering (Bellingham, WA), which sponsors Photonics West. "This is where our industry shows itself off to other industries."
Click here to enlarge image
FIGURE 1. Photonic lattice created at Sandia National Laboratories acts like a crystal in guiding light because of its tiny, regularly placed silicon "logs." The logs are 1.2 µm wide. Control of different wavelengths is achieved by changing the lattice dimensions (left). Researcher Shawn-Yu Lin holds an early prototype of the photonic lattice as light passes through it.

In the scientific sessions, key papers on solid-state lasers will come from the United Kingdom, Germany, Russia, Japan, and the Czech Republic. Particularly notable presentations on nonlinear materials, devices, and applications will hail from Sweden, Germany, and the United States. And a global view of laser technologies for manufacturing of advanced materials and devices will be presented during a session on laser applications in microelectronic and optoelectronic manufacturing led by session cochair Jan Dubowski from the National Research Council Canada (Ottawa, Ontario, Canada).
Click here to enlarge image
RIGHT. Sandia National Laboratories/Randy Montoya.

The star-studded international cast also will include Shuji Nakamura (Nichia Chemical Industries; Anan, Japan), who, in a conference on physics and simulation of optoelectronic devices, will give an update on blue- and violet-emitting laser diodes (plenary paper). Maximino San Miguel (Instituto Mediterraneo de Estudios Avanzados; Spain) will give an update on his two-level semiconductor model of the vertical-cavity surface-emitting laser (paper 3944-26). And Shawn-Yu Lin (Sandia National Laboratories; Albuquerque, NM) will discuss a photonic crystal fabricated from multiple layers of orthogonally ridged crystal-lattice material, intended for applications in communications, sensors, and waveguides (paper 3944-77; see Fig. 1).
"Normally, if you go to conferences in Asia or in Europe, you get predominantly papers from the general [geographical] area," said Richard Scheps of the Space and Naval Warfare Systems Center (San Diego, CA), who has chaired the session on solid-state lasers for several years. "But the solid-state lasers conference specifically, as well as all of the conferences on the high-power lasers and applications, tends to attract researchers from virtually all over the world. We have a number of papers from Asian researchers. We have quite a few papers from European researchers, as well as from researchers from countries that were in the former Soviet Union and the former Eastern European block."
Solid-state laser highlights include two papers from the Defence Evaluation and Research Agency (Farnborough, England). One paper describes research that has led to the development of practical flashlamp-pumped, solid-state dye lasers (paper 3929-19), and the other describes mid-IR, all-solid-state laser technology for medical and defense applications (paper 3929-02). Researchers from Laser Analytical System GmbH (Stahnsdorf Germany) will describe a diode-pumped, fourth-harmonic, 266-nm continuous-wave laser (paper 3929-11). A team from the Polyus Research and Development Institute (Moscow, Russia) will present a 1.5-µm, Nd:KGW laser that uses solid-state, Raman-shifting KGW [KGd(WO4)2] crystals both to produce the 1.3-µm transition in neodymium and to shift the wavelength to the eye-safe, first Stokes wavelength of 1.54 µm (paper 3929-15).
Researchers from Physical Sciences Inc. (Andover, MA) will describe their work with Russian collaborators on polymer-filled microporous glass hosts for solid-state dye lasers (paper 3929-17; see Fig. 2). Japanese researchers will describe recent advances with color-center lasers based on tunable mid-IR sources that have evolved to the point of producing high energies at room temperatures (papers 3929-34 and -38). Work on alexandrite lasers for dental applications based on collaboration between researchers from Japan and the Czech Republic also will be presented.
Click here to enlarge image
FIGURE 2. As a host material for laser dyes, polymer-filled microporous glass (PFMPG) combines the advantages of an organic environment for the dye (which yields efficient laser performance) with the superior thermo-optical and mechanical properties of an inorganic glass.

In nonlinear materials and devices, researchers from the Royal Institute of Technology (Stockholm, Sweden) and Laser Zentrum Hannover eV (Hannover, Germany) will discuss methods for lowering oscillation thresholds of optical parametric oscillators based on periodically poled KTP (paper 3928-01). Researchers from Bowling Green State University (Bowling Green, OH) will describe the use of cerium dopants for high KTP conversion efficiency from 1.32 to 0.44 µm while minimizing laser heating of the crystal (paper 3298-26).
During the conference on commercial and biomedical applications of ultrafast lasers, a research team from the Universities of Michigan (Ann Arbor, MI) and Manchester (Manchester, England), IntraLaser Corp. (Ann Arbor, MI), and two institutions in Hungary will describe a commercial workstation for ophthalmology based on subpicosecond laser pulses (paper 3934-16). A special Saturday-night session of the Biomedical Optics program will highlight hot biomedical topics such as biomedical and fluorescence spectroscopy, bioMEMS, surgical-assist systems, diagnostics of biological fluids, lasers in dentistry, coherence domain optical methods, photodynamic therapy, and dermatology.
The international laser symposium at Photonics West will also stray into the extraterrestrial during a conference on free-space laser communication (paper 3932). An invited paper will give an overview of the Teledesic program, particularly on the laser crosslinks between satellites. It will also present results of a three-month Teledesic study scheduled for completion at the end of this year. The program will come back to Earth, however, with presentations of terrestrial communications technology from Lucent, fSONA, AstroTerra, and others. "The terrestrial free-space market is going to be expanding rapidly," says program chair Stephen Mecherle (Laser Diode Systems Corp.; Hawthorne, CA). "It actually started out being more space-systems oriented, but as time has gone on it has gotten to be half and half space and terrestrial."
The overall sensitivity to and focus on applications at SPIE leads to many papers that probably would not show up at other meetings with a more purely scientific bent, Scheps said. But the broad spectrum has, no doubt, played a major role in the growing attendance and wide appeal of Photonics West. "Even people who do research for a living need to justify what they are doing based on some sort of application," he said. "So this is a perfect conference for people in virtually every stripe of laser development."
Hassaun Jones-Bey