FIBEROPTIC CONNECTORS - Connector pace accelerates to meet telecomm demand
Small-form-factor optical transceivers aid cost-effective fiber replacement of copper communication lines.
Sep 1st, 1999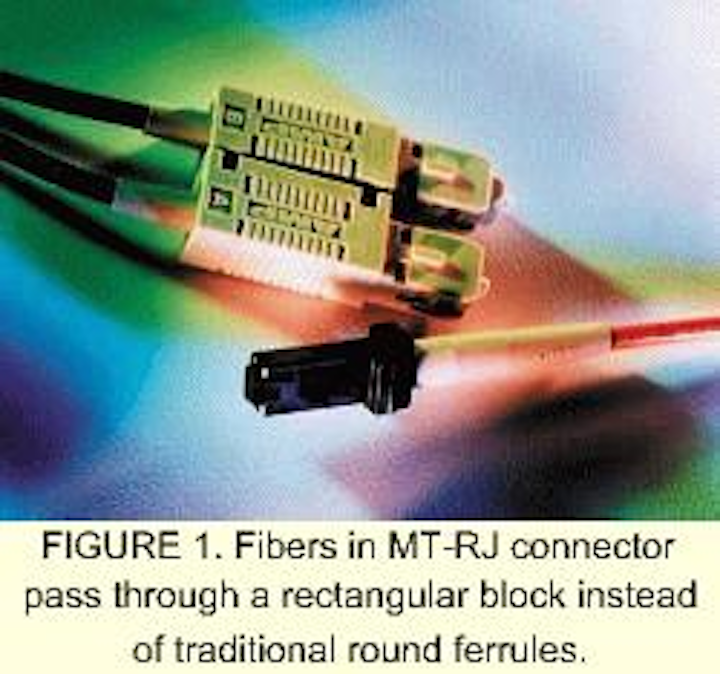 Depending upon your intended application, a journey through places where optical-fiber connectors are assembled into systems can either land you in a traditional world of machine shops and artisans or in a new world of spreadsheet analysis by data-communications executives. In the traditional world, fiberoptic connectors often terminate custom-designed fiber bundles. The bundles may transfer laser energy, for instance, to medical or scientific targets. Traditional connector discussions focus on activities such as drilling, polishing, and grinding. Even over the telephone, you can hear the machines in the background.
"We've stayed away from the telecommunications industry and have mostly done research bundles, medical bundles, and laser-delivery stuff," said Jon Sherman in an interview from the Caldwell, ID, machine shop of Fiberguide Industries (Stirling, NJ). "We work with the customer, who usually knows what he wants. We have to develop around what the customer says he wants, however, because a lot of times the customer wants something that won't work. We have to make sure we can assemble what they want." The SMA and conical connector types that Sherman mentions sound like the stuff of telecommunications history.
"All of them have a grinding spec. So you grind them within that spec and then they are interchangeable among different machines," he said. "Then, if you use them for laser delivery, the guy who sets up the laser always knows that his fiber is going to be in a certain position. In grinding and polishing for laser delivery, you have to have an extremely good polish, no damage to the surface at all, or the laser will burn it up."
Sherman also explained some of the reasons why those connectors have become telecommunications history. The SMA had a very close grind tolerance that was difficult to maintain consistently in the field and led to lossy air gaps between fibers. The cones tended to fit tightly in the conical connector, but there were still air gaps, and diligent care was required for accurate grinding of a tapered shape. The advent of keyed and spring-loaded ST connectors solved many of these problems by assuring contact between fiber interfaces. Ceramic ferrule materials in the ST as well as the FC provided accurate alignment for standard sizes. Stainless-steel ferrule materials allowed drilling for size adjustment in custom applications.
Bell Labs, the research arm of Lucent Technologies (Holmdel, NJ), invented the simplex ST in1985, in time for the advent of 10-Mbit Ethernet fiber, which created a tremendous demand. Growing demand in telecommunications also created the need for duplex connectors that would allow simultaneous insertion of transmit and receive fibers. These came into being with devices such as the media-interface connector (MIC; AMP; Harrisburg, PA), with a precise and durable zirconium ferrule. They evolved into simplex and duplex SC connectors, which are smaller than the MIC but still about twice as large as their electrical counterparts. Further growth in data and telecommunications has brought a need for optical connectors that can be placed with similar density and techniques as electrical ones.
The new world
In the burgeoning new world of spreadsheets and data-communications executives, connectors are miniaturized and designed into optical transceivers with small form factors, intended to cost-effectively replace old copper communications lines with new optical ones. Discussions focus on concepts such as "fiber to the desk," gigabit Ethernet, local-area networks, OC12, and driving market acceptance. Product-design plans are inextricably intertwined with projections of market demand. Now, over-the-telephone machine sounds have given way to hurried conference calls interspersed with waiting appointments, because in the new world, time and space come at a constantly increasing premium.
"Generally speaking, there's a trend toward small-form-factor connectors," said John Kamino, manager on the private-network side of the fiberoptic-communication business at Lucent. "The economics on the enterprise side or on the private-network side drive it that way, because of the cost issues involved in the electronics and also because there's a large degree of comfort in a plug that looks like a copper-type RJ45."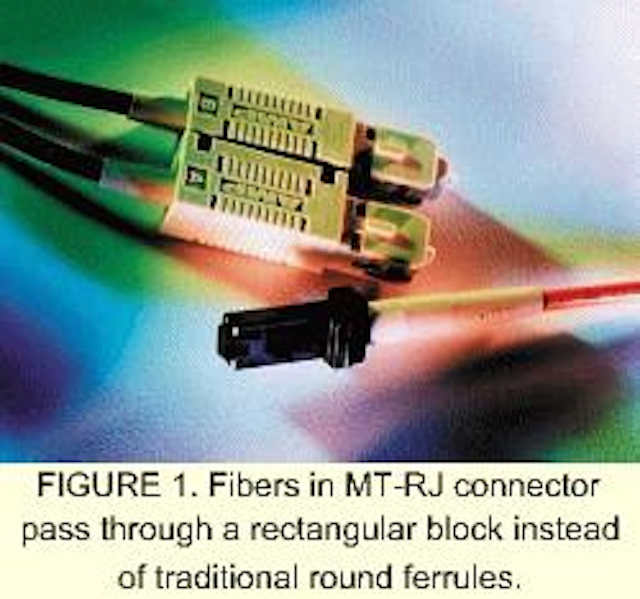 FIGURE 1. Fibers in MT-RJ connector pass through a rectangular block instead of traditional round ferrules.
Click here to enlarge image
Because it provides a 0.1-dB average insertion loss and standard deviation, the Lucent LC connector currently holds the lead in terms of purely optical characteristics in the competition among small-form-factor optical connectors. But a combination of factors convinced Hewlett-Packard (HP; Palo Alto, CA) to build its current transceiver product plans around the MT-RJ (mechanical transfer-registered jack)-fabricated by an alliance of AMP, Siecor (Hickory, NC), Fujikura (Atlanta, GA), and US Conec (Hickory, NC), according to Francis Wu at HP (see Fig. 1). In addition to optical performance, the HP decision was based on small size, both multi- and single-mode capability, and the ability to accommodate multiple fibers. The latter factor tipped the HP decision toward the MT-RJ connector.
"We think the MT-RJ has a better chance of accommodating multiple fibers-up to 12," Wu said. "Whereas in the same space, we don't see the LC as capable of doing that. Having said that, [accommodating multiple fibers] is not something that customers care about today. But as a transceiver company, we are basically making a choice for up to the next five years." As it happens, the duplex LC connector, which is a miniaturization of the duplex SC, derives its optical performance edge from the same design feature that Wu said might limit its flexibility for multiple fibers (see Fig. 2).
FIGURE 2. LC connector is one-half the size of SC and is converted from simplex to duplex by clipping two of them together.
Click here to enlarge image
"The LC uses independently spring-loaded ferrules for each channel (transmit and receive in the duplex application), whereas the other [small-form-factor connectors] use either single-ferrule technology or a springless technology," says Bob Scharf of Methode Communication Modules (Melbourne, FL), a business unit of Methode Electronics (Chicago, IL) that makes both LC and MT-RJ connectors. Both devices are small enough for stacking on 0.550-in. centers, but Scharf favors the low optical insertion loss of the LC.
Methode Electronics is planning a transceiver product line based on the LC for multimode and single-mode data communication at data rates from 19.2 Kbit/s to 10 Gbit/s and distances up to 40 km. Scharf expects that the progression of transceivers will allow users to upgrade their technology through several protocols without changing board layouts or device footprints.
The MT-RJ, which Wu described as a refinement of the MPO (multipath push on) connector with a custom-designed RJ45 latch, does not use two circular ferrules, like the LC or SC. Instead it has one rectangular block, which, Wu said, "makes it suitable for multiple fibers if you can drill the holes small enough."
A third small-form-factor connector, the VF-45 (3M; Austin, TX) Volition system, uses a V-groove system for fiber alignment instead of ferrules. Other small-form-factor connectors include the Opti-Jack (Panduit; Orland Park, IL); LX.5 (ADC Telecommunications; Minneapolis, MN); and the SCDC/QC from Siecor, Siemens (Berlin, Germany), and IBM (Poughkeepsie, NY). Industrial alliances have been formed to support several of these connectors in an effort to drive acceptance in a competitive and fast-moving market, in lieu of an industry standard, Wu said.
"The standards committee did not want to standardize a [gigabit Ethernet] connector for fear of taking more time to get a protocol standard out by adding a connector issue to it," he said. "The committee decided to let the marketplace decide, and, as a transceiver manufacturer, we can't afford to invest in all of the various connectors. We have to pick one or maybe two. The flip side is that to drive the market acceptance we need OEMs to use this type of transceiver. We need cable installers to put it on patch cords, interface it to patch panels, and so forth."
So the traditional interface between designer and user has expanded into a hectic and winding road from connector manufacturer, through transceiver manufacturers and Cisco, Nortel, and 3COM, who will actually place the transceiver on a board, Wu said. "Once the transceivers are on the board, we have to wait for their customers to give us a thumbs up and say they're good."