Inkjet printer yields electroluminescent logos
By combining traditional polymer spin casting with an experimental inkjet-printing process, researchers at the University of California (UCLA; Los Angeles, CA) have successfully demonstrated efficient fabrication of large-area light-emitting designs. Yang Yang, a professor in the department of materials science and engineering who presented his group`s work at the April meeting of the Materials Research Society in San Francisco, CA, expects the technique to have an enabling effect on the develop
Jun 1st, 1998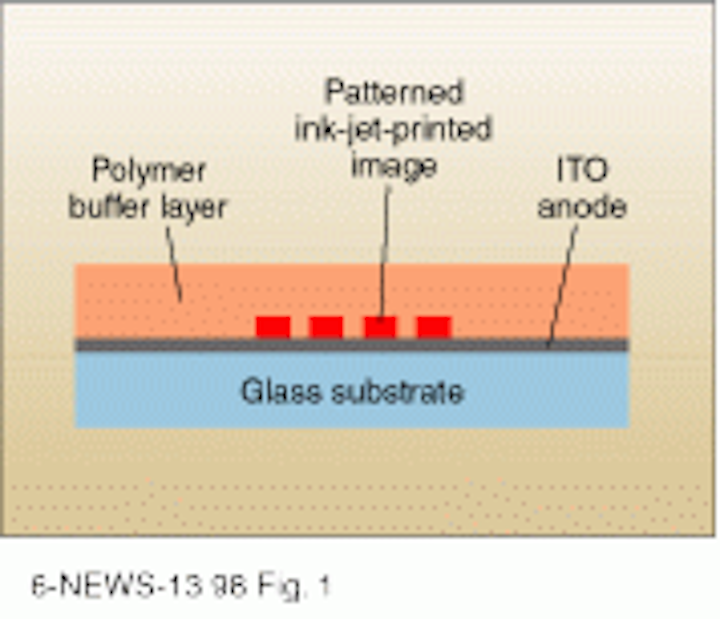 Inkjet printer yields electroluminescent logos
Hassaun Jones-Bey
By combining traditional polymer spin casting with an experimental inkjet-printing process, researchers at the University of California (UCLA; Los Angeles, CA) have successfully demonstrated efficient fabrication of large-area light-emitting designs. Yang Yang, a professor in the department of materials science and engineering who presented his group`s work at the April meeting of the Materials Research Society in San Francisco, CA, expects the technique to have an enabling effect on the development of high-quality, polymer-based electroluminescent devices. "Our successful demonstration is a milestone in polymer electronic device manufacturing, since it shows how easily device structures can be designed and fabricated," he said. "This new technology opens the door for polymer electronic devices with lateral patterning and polymer-based multicolor displays."
Currently, almost all polymer thin films are fabricated using spin-casting technology in which a polymer solution is placed on top of a substrate and spread out evenly by spinning the substrate at a high rotational speed. The spin-casting method creates a thin, uniform polymer layer but has no lateral patterning capability, which would be needed for the eventual fabrication of complex devices such as polymer multicolor displays, according to Yang.
Inkjet printing of polymers has been demonstrated previously, according to Jayesh Bharathan, lead author of an Applied Physics Letters article on the new technique, with Yang as coauthor.1 Previous efforts with inkjet printers required a low concentration of the polymer solution, however. A poor film-forming capability resulted, he wrote, that rendered the inkjet technique "impractical for making high-quality devices."
The UCLA team has resolved these problems with a hybrid structure that combines an inkjet-printed layer with a uniform, spin-cast polymer layer (see Fig. 1 on p. 38). The uniform layer (a luminescent conjugated polymer) served as a buffer layer to seal the pin holes in the inkjet layer (a charge-injection polymer) that formed the desired pattern.
In the UCLA experiment, the substrate was made of glass covered with an indium tin oxide anode, the conducting polymer at the inkjet layer consisted of an aqueous solution of 3,4-polyethylenedioxythiopene-polystyrenesulfonate (PEDOT), and the uniform buffer layer consisted of poly[2-methoxy-5-2`-ethyl-hexyloxy)-1,4-phenylene vinylene] (MEH-PPV). The materials were fabricated into 30 ¥ 30-mm sandwich structures, each beneath a calcium cathode and aluminum protective layer.
The UCLA team has used the new devices to print computer-generated light-emitting logos and has measured a contrast ratio of 800:1 between bright and dark regions (see Fig. 2). The researchers argue that the procedure for light-emitting logos should be easily extended to light-emitting images because of the ability to achieve a high-quality computer-generated gray scale.
Dot sizes achieved by the UCLA researchers ranged from 180 to 400 µm, depending on the amount of conducting polymer ink sprayed from the nozzle.
REFERENCE
1. J. Bharathan and Y. Yang, Appl. Phys. Lett. 72(21), 25 May (1998).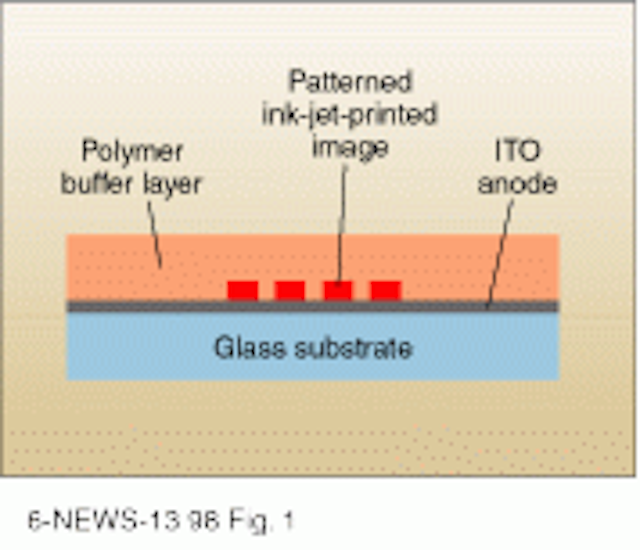 Click here to enlarge image
FIGURE 1. Spin-cast polymer buffer layer on glass substrate (typically 1000 Å thick) facilitates electron injection and prevents electrical shorts by sealing pin holes. Anode coating on substrate is indium tin oxide (ITO).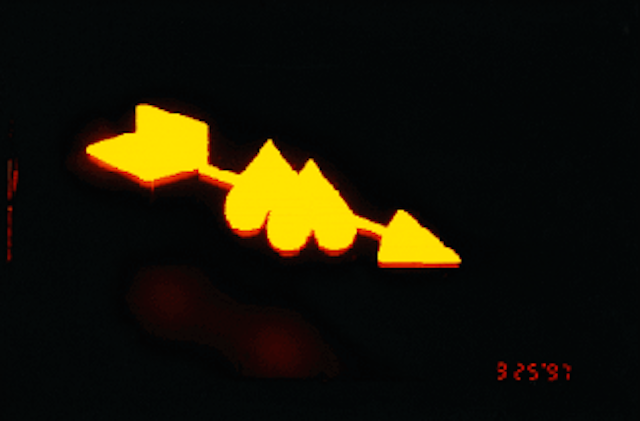 Click here to enlarge image
FIGURE 2. Computer-generated Valentine heart logo was printed on glass substrate using inkjet printer. Photo was taken with device operated at 5 V and an exposure time of about 1/60 s.