CONFERENCE REVIEW: Photonics Europe shows growth
STRASBOURG, FRANCE-For those of us familiar with the vagaries of Europe, the term "pan-European" might seem like an oxymoron.
May 1st, 2006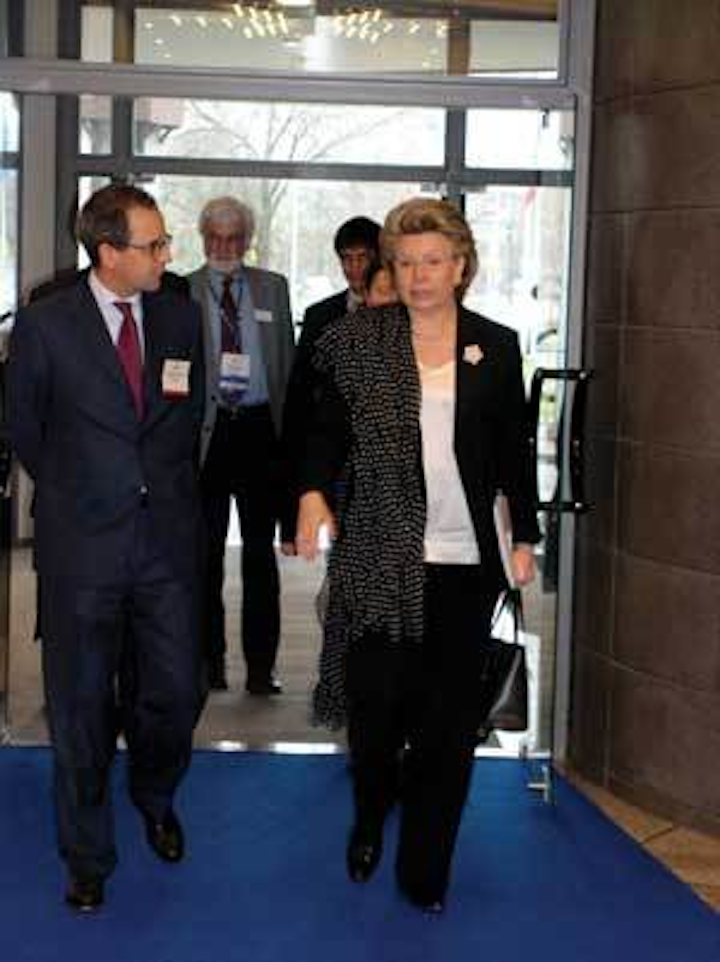 STRASBOURG, FRANCE-For those of us familiar with the vagaries of Europe, the term "pan-European" might seem like an oxymoron. Nonetheless, ongoing efforts by SPIE (Bellingham, WA) to create a pan-European photonics conference took an important step forward in early April at the Photonics Europe meeting in Strasbourg (which is also the seat of the European parliament). Despite transportation problems caused by a day of unrest and strikes in France and a shortage of hotel rooms early in the week due to a European Union (E.U.) event, this year's Photonics Europe boosted total attendance by 10% over the first time it was held in 2004-mostly due to increases in technical attendance and exhibit walk-ins.
There were 147 exhibitors on two floors in the relatively small conference center, and most exhibitors seemed pleased with the turnout ("much better than last time" was a consistent comment); plus, the show floor was certainly buzzing at times. Based on interviews with attendees and several conversations overheard in an airport bus, the technical attendees were also happy with the way things turned out.
The technical program was strong and well-attended, with several papers attracting standing-room-only crowds. In putting the program together, SPIE collaborated with outside groups such as the U.K. Photonics Cluster and the E.U.; thus, although much of the content was research oriented, there was a greater emphasis on applications-oriented conferences and an "Industry Programme" that included, for instance, a forum on micro-optics and a session on photonics in the automobile. In fact, these industry/applications sessions were among the best attended, suggesting there is a real need for information and collaboration in these areas, according to Janice Walker, director of the events department at SPIE.
"We believe SPIE Europe is providing a real service to the community looking to commercialize technology to meet business and European political targets," she said.
Photonics Europe does seem to have gained substantial visibility within the European Union and Commission. The event was used by the E.U. as a platform for reporting on the status and future plans for photonics in Europe (see www.laserfocusworld/articles/252070). More than 200 of the papers presented in Strasbourg were funded by the E.U., while others addressed E.U. photonics issues-and a number of workshops wrapped up the last day, allowing E.U. photonics initiatives and networks to further their work and progress.
"We believe that Photonics Europe is the pan-European photonics event, in contrast with events organized (primarily) on a national basis," Walker said.
An eye on the future
One of the highlights of the meeting was the presence of European Commissioner Viviane Reding, who accepted the first draft of the Strategic Research Agenda in Photonics from Alexander von Witzleben, president of Photonics21 and CEO and chairman of Jenoptik (Photonics21 is an industry-focused initiative promoting the need for a far more aggressive and rapid commercialization of optics- and photonics-based technologies over the next five years in Europe). Reding, who is responsible for technology funding recommendations to the European Commission, told a plenary audience of Photonics Europe attendees that Europe must link research to the delivery of innovation, economic growth, and jobs in the E.U..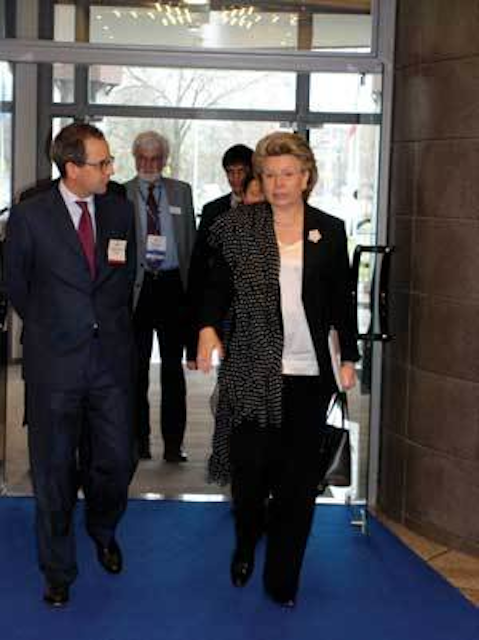 European Commissioner Viviane Reding arrives at Photonics Europe. She noted that funding for photonics research will target applications with the most commercial potential.
Click here to enlarge image
"It is very clear we must gear up research to remain competitive," she said.
Reding further noted that while Europe already directly and indirectly employs more than two million people in the photonics industry, the potential for photonics-enabled advancements in the areas of health care, lighting, security, and other applications offers unlimited potential for job creation and economic development in Europe. However, she warned that the photonics community must be realistic in its expectation; E.U. resources must be used strategically to realize those opportunities with the greatest potential to deliver a return on investment.
Reding also noted that public funding for research will continue to be more closely linked to applications with commercial potential.
"We must concentrate our efforts on those areas that show great promise, that are of strategic importance, and where we can expect a greater return on investment. Photonics is one of those areas," she said. She also discussed existing markets that are being driven by photonics technologies, like those involving display and CD/DVD technology; however the European Commission expects that the strategic importance of photonics technology will create new markets of which we are currently unaware.
More information about Photonics Europe is available from SPIE at http://spie.org/conferences/programs/06/epe/updates.
Stephen G. Anderson