BIOMEDICAL OPTOELECTRONICS: Handheld scanner sees signs of heart disease and stroke
Engineers from Loughborough University (Loughborough, England) are developing a small handheld optical body scanner that can detect early signs of heart disease and stroke.
Feb 1st, 2006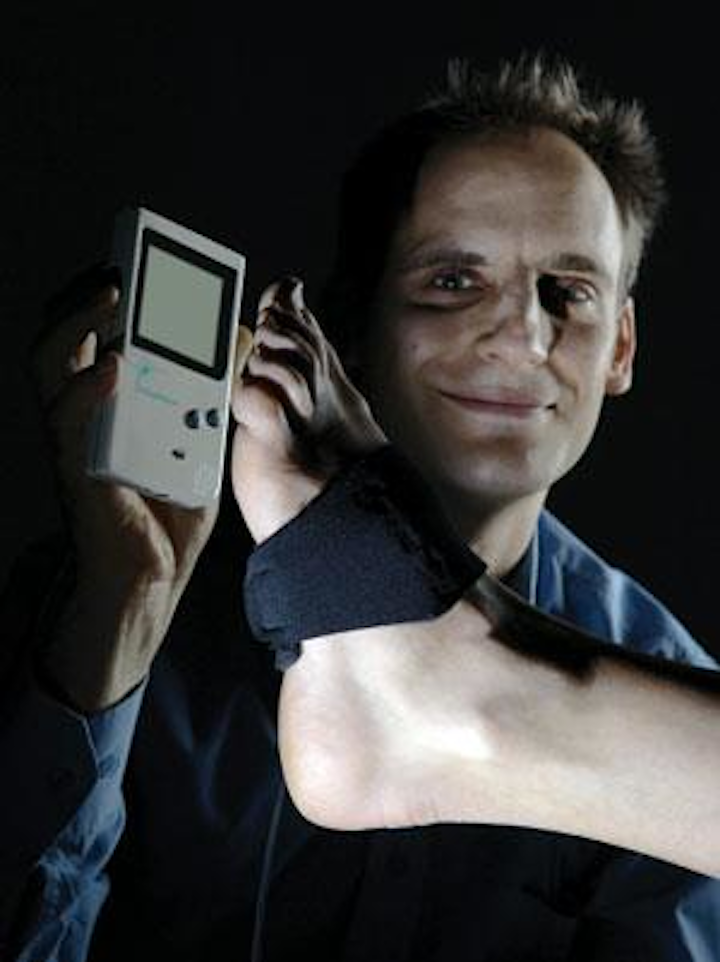 Engineers from Loughborough University (Loughborough, England) are developing a small handheld optical body scanner that can detect early signs of heart disease and stroke. The team says the device could be on the market within a year and half.
The technology used by the Loughborough team is based on photoplethysmography, in which diffuse radiation from light-emitting diodes is scattered from tissue and picked up by photosensors. The level of light depends on the volume of blood in the tissue; the light at 850 nm is absorbed and scattered by blood, which makes it an effective technique to assess blood-volume changes in tissue.
Peripheral artery disease (PAD) is a condition that affects more than 90 million people worldwide. In PAD, fatty deposits build up in the inner linings of the artery walls. These blockages restrict blood circulation, mainly in arteries leading to the kidneys, stomach, arms, legs, and feet, which can lead to cramping or fatigue in the muscles, especially of the legs, during activity. People with PAD often have fatty buildup in the arteries of the heart and brain as well. Most people with PAD have a higher risk of death from heart attack and stroke. Medical experts believe that one in three people die within five years of diagnosis of PAD.
Earlier diagnosis would improve the prognosis for many patients. Most can be treated with lifestyle changes, medications, or both. In a minority of patients, angioplasty or surgery may also be necessary.
Current assessment is carried out by ankle brachial-pressure index (ABPI), angiography, or Doppler ultrasound. These methods are relatively costly in terms of the need for skilled technicians and the cost of operating the associated facilities. In addition, ABPI-the standard screening technology-is apparently unreliable for diabetics, one of the most important patient groups. And yet 40% of hospital admissions for diabetics are related to disorders of the feet.
Automated and noninvasive
The Loughborough team claims that its new PAD-diagnostic (PADD) system will be the first fully automated, operator-independent, noninvasive technology for the assessment of blood supply to the lower leg and foot.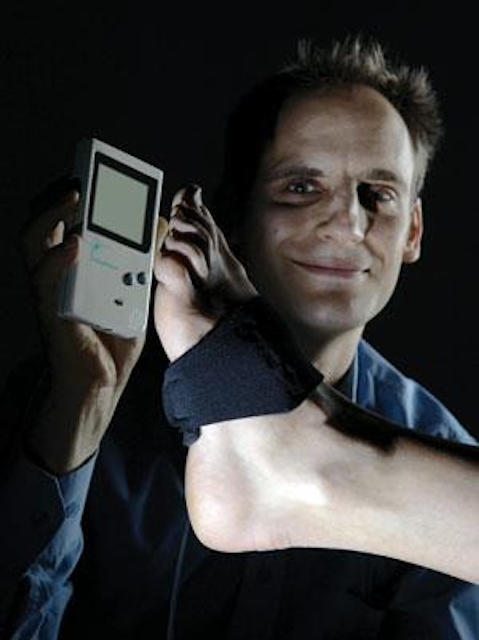 Optical engineer Vincent Crabtree holds a prototype PADD system.
Click here to enlarge image
The cardiovascular system is continuously adapting to the demands of the tissues and the mechanical forces acting upon the system. Gravity makes changing demands on the cardiovascular system during changes of posture. Large changes in pressure take place in the feet, for example, when an individual stands up after lying down. The PADD technology tests the extent to which the cardiovascular system responds to postural demand. If there is a cariovascular weakness, PADD will detect that weakness before it becomes serious enough to cause clinical symptoms.
A functional test involving changes in posture of the leg and foot cause redistribution of arterial and venous blood. Comparison of these changes from known "normals" (people free from arterial disease) and known arterial-disease sufferers allows the team to calibrate the device. The functional test is used to perform self-calibration for skin tone and other intersubject variables, which also allows a simple index to be derived for cross-patient comparison. A comparative feasibility study is under way at the Royal Free hospital in London.
"The painless test takes no more than five minutes to detect PAD," says lead optical engineer Vincent Crabtree. "We are currently undertaking a large-scale clinical study and will develop a handheld device to satisfy CE marking (European Conformity) and FDA requirements. The device will be available for use in general-practitioner surgeries and other primary care settings within 18 months; PADD does not require any specialist training; it's easy and safe to use and will be ideal for busy vascular clinics and general-practice surgeries. In the long term we aim to introduce products for use by health-conscious consumers."
Dialog Devices, also of Loughborough, is a spin-off company launched to commercialize PADD. "The technology is attracting a lot of interest," notes the company's chief executive officer, Jody Brown. "We have raised £250,000 (US$439,900) in venture capital and awards and started discussions with major medical-device distributors."
Bridget Marx