A Turnkey Solution to Combining Multiple Laser Wavelengths
Fluorescence microscopy increasingly uses multiple laser wavelengths. Watch this video to see how the OBIS product line provides a plug and play solution to combine up to eight lasers.
Oct 2nd, 2018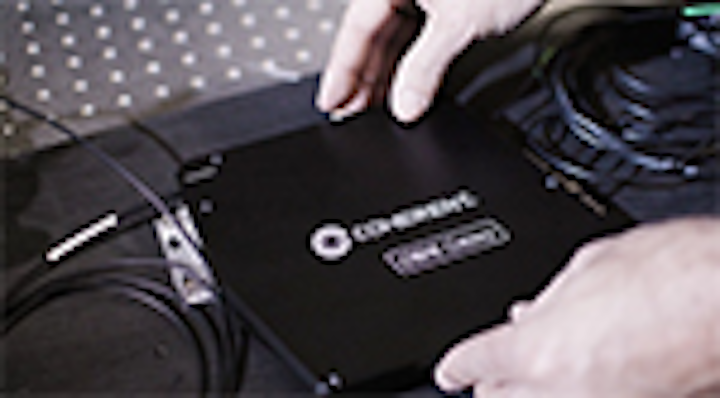 Fluorescence microscopy experiments are becoming increasingly sophisticated and complex and often require exciting multiple probes in a single combined image. Selectively exciting multiple probes means combining multiple laser wavelengths into a microscope, which can be a major optomechanical challenge for OEMs and end users, potentially requiring hours and even days with a skilled technician. The OBIS product line has been designed to completely eliminate this challenge and to bring plug and play simplicity, so lasers can be added or swapped in minutes, with no user alignment.
OBIS lasers are smart self-contained lasers packaged in a common format, with identical electronic and optical interfaces regardless of wavelength. The easiest way to combine multiple lasers into a microscope is to use OBIS FP series lasers which are fiber-pigtailed with single mode polarization maintaining fiber output.
These can then be combined into a single fiber in the OBIS Galaxy patented beam combiner. This unique rugged module (U.S. patent number 8599487) accepts up to 8 fiber inputs at wavelengths chosen by the customer: options include 405, 445, 458, 488, 514, 532, 552, 561, 588, 594, and 640 nm. Lasers are connected into Galaxy using standard (FC/UFC) inputs. The performance of this device is both stable and repeatable; instead of hours or painstaking alignment adjustment, lasers now can be effortlessly replaced in minutes.
The output of Galaxy is a standard FC/APC with extended life interface for superior reliability. Also available is a new FC/PC8 output fiber connector compatible with "Spinning Disk" type microscopy. Throughput is typically 75% for each laser.
End users will appreciate the further convenience of optionally mounting the lasers together in the OBIS Laser Box. This offers all the features from the laser in a convenient CDRH-compliant interface with convection cooling for five lasers, acting as a smart, integrated multi-wavelength laser.
View the OBIS Galaxy Integrated System datasheet to learn more.