CKM computational imaging improves microscopy depth of field 10-fold
University of Glasgow researchers developed complementary kernel matching (CKM) to extend microscopy DOF.
Mar 30th, 2017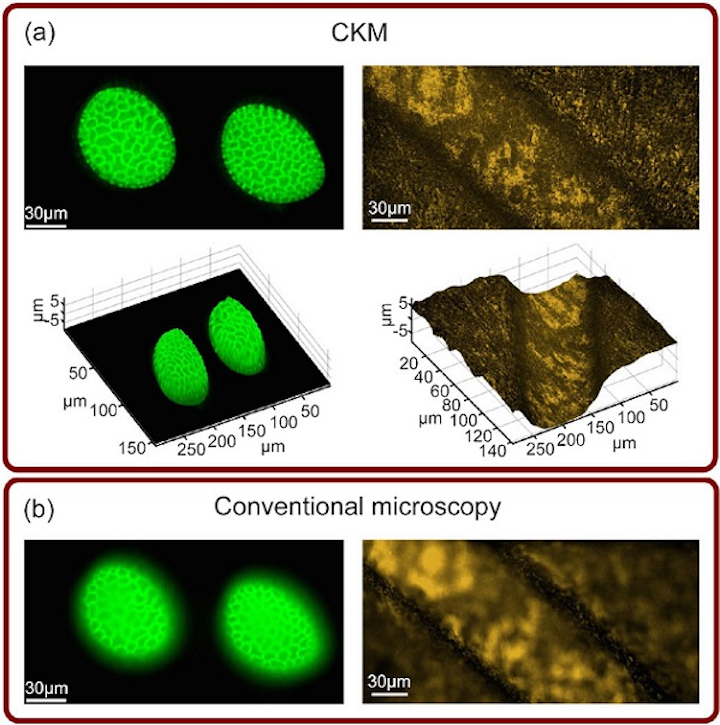 IMAGE: Single-snapshot images of lily flower pollen grains (left) and an irregular brass surface (right) are obtained using the computational complementary kernel matching (CKM) technique (a) and conventional microscopy (b). Both CKM images exceed the depth of field (DOF) of a conventional microscope.(Image credit: University of Glasgow)
In typical microscopy approaches, a 'Z-stack' of up to 100 images are recorded and combined computationally into a single sharp image with an extended depth of field (DOF). Other more sophisticated techniques have been developed for high-resolution 3D microscopy, such as light-sheet fluorescence microscopy, confocal/multiphoton microscopy, and localization super-resolution microscopy (although the latter two are not strictly 3D techniques in themselves). Due to their scanning nature, however, none of these techniques can be used for snapshot or video-rate imaging.
Researchers at the University of Glasgow (Glasgow, Scotland) have developed a new approach, called complementary kernel matching (CKM) that can be used to extend the DOF by a factor of 10 in a single snapshot, thus enabling its use for time-resolved or video-rate microscopy. Furthermore, 3D ranging of the sample is achieved simultaneously in the technique.
RELATED ARTICLE: Super-resolution microscopy of large fields in living cells possible with sCMOS
CKM--a computational imaging technique--involves optical encoding of the captured image, as well as digital decoding that is used to reconstruct a sharp output image. To achieve optical encoding, the researchers use a phase plate at the aperture of the microscope objective and capture two distinct images with complementary information. In one such implementation of CKM, a microscope is equipped with the CKM-encoding element (a phase plate) and a CKM-splitting element (consisting of a beam splitter, and mirrors to replicate the desired image) that separates the two encoded images onto a single camera to realize snapshot operation.
SOURCE: SPIE Newsroom; http://spie.org/newsroom/6749-computational-imaging-for-3d-micrographs-with-10-fold-depth-of-field-enhancement?highlight=x2416