Bio-inspired algorithm helps UAVs track moving targets
Researchers at RIT and Scientific Systems Company are using software algorithms to help UAVs track moving targets.
Nov 30th, 2016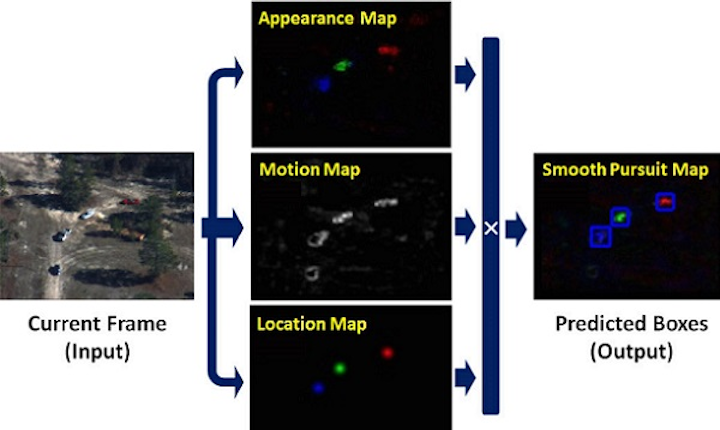 IMAGE: In anoverview of the smooth pursuit tracking (SPT) algorithm, the input to the algorithm is the output of convolutional feature maps produced by a pre-trained convolutional neural network whereby appearance, motion, and location saliency maps are produced and then multiplicatively combined to create the final smooth pursuit map, in which the targets are identified. (Image credit: SPIE)
Researchers at the Rochester Institute of Technology (RIT; Rochester, NY) and Scientific Systems Company (Woburn, MA) have developed a biologically inspired tracking algorithm that helps unmanned aerial vehicles (UAVs) identify and track moving targets from their imaging data.
RELATED ARTICLE: Specialised Imaging trajectory tracking offers motorized 3-axis remote control
Tracking of targets within aerial footage is becoming increasingly important, for example, as the applications of UAVs continue to expand in applications such as film production, mining, news media, and agriculture. Moreover, the world's security agencies are gathering enormous amounts of UAV video data, from which they are looking for events of interest, including suspicious vehicles. When such vehicles of interest are found in the data, the users would often like to use a UAV to follow the vehicle over time. Online visual tracking is therefore required for these endeavors, and the videos of the events can then be studied by a human analyst. Tracking ground vehicles in UAV video streams is especially difficult, however, because there is usually only a relatively small number of pixels on the target (compared with other tracking problems), and because the targets can change drastically in appearance (due to changes in lighting conditions, UAV altitude, and perspective).
To tackle these challenges, the researchers, motivated by the neural circuits that underlie smooth pursuit, created the smooth pursuit tracking (SPT) algorithm to track problems in aerial video data. In this method, they combine the object appearance with motion and predicted location information to improve tracking. Although primates using smooth pursuit are limited to the tracking of one object at a time, their SPT algorithm we can easily track multiple objects simultaneously (with little computational overhead).
To learn more about how the algorithm works, go to: http://spie.org/newsroom/6696-bio-inspired-algorithm-for-online-visual-tracking?highlight=x2420.
The research reported in this article was supported in part by the US Naval Air Systems Command, under contract N68335-14-C-033. The content is solely the responsibility of the authors and does not necessarily represent the official views of the sponsoring agencies.
SOURCE: SPIE; http://spie.org/newsroom/6696-bio-inspired-algorithm-for-online-visual-tracking?highlight=x2420