Iris-recognition technology goes to Heathrow
London's Heathrow Airport is hosting a five-month trial of a new passenger-processing service based on iris recognition.
May 1st, 2002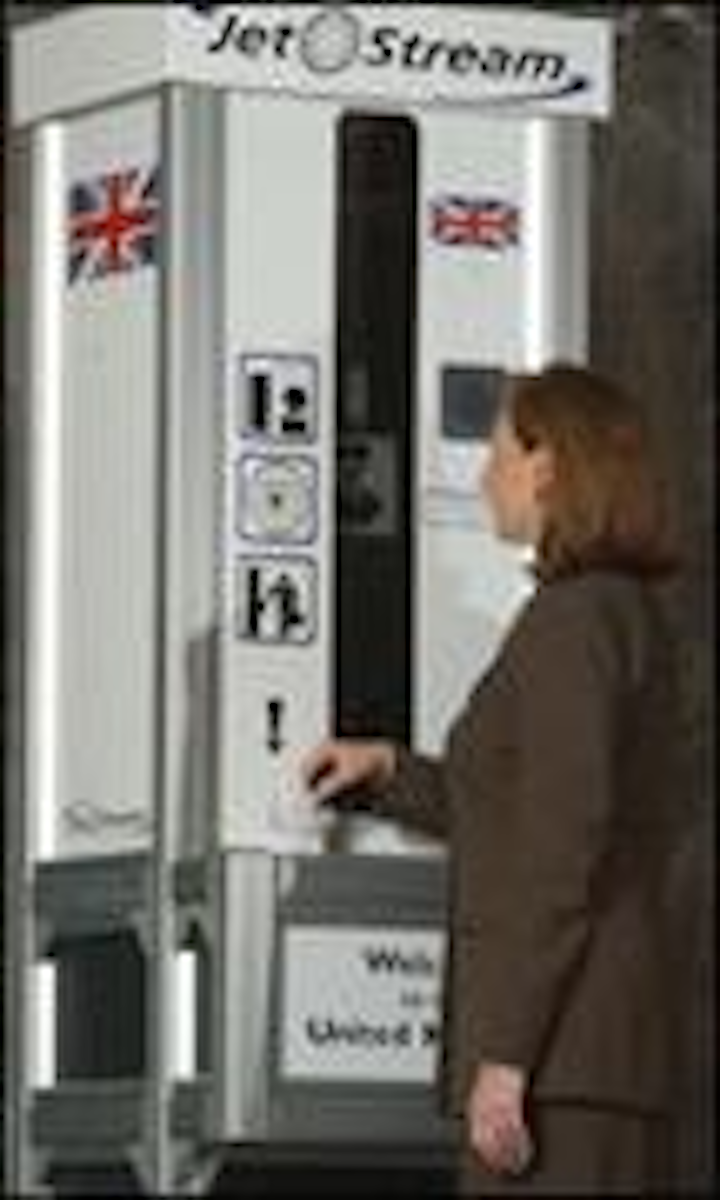 by Bridget Marx
London's Heathrow Airport is hosting a five-month trial of a new passenger-processing service based on iris recognition. The JetStream Travel Manager system, supplied by EyeTicket Corp. (McLean, VA), allows a passenger to be identified in seconds. The Heathrow trial will use up to 2000 invited passengers who travel frequently from the United States to England and is designed as a check-through passport control. To enroll, the passenger looks into a video camera that takes a close-up image of the iris.
Iris recognition involves four elements: iris-image acquisition, the implementation of software that develops a specific code for each iris, a computational platform that can execute the software, and a means of displaying information relative to enrollment and recognition. The software that generates the unique code for each iris acquires an image of the eye, defines the boundaries of the iris, establishes a coordinate system over the iris, defines the zones for analysis within the coordinate system, analyzes image data, generates a 512-byte code, and encrypts and stores the code. The code is then ready to be compared with a new real-time image.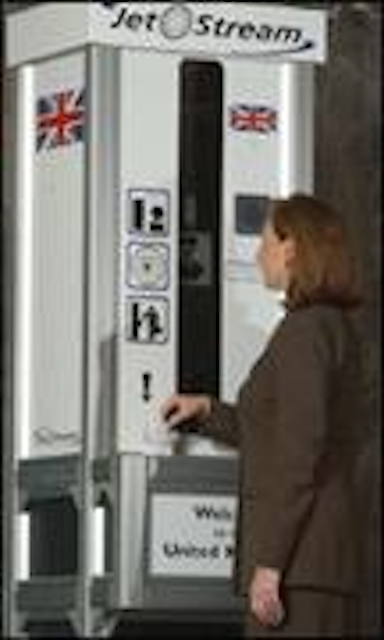 A woman is scanned by an iris-recognition system installed at Heathrow Airport in London. The result of the scan is a 512-byte code that is stored for future use.
Click here to enlarge image
EyeTicket holds patents on its solutions and products, and licenses its core iris recognition technology from Iridian Technologies (Moorestown, NJ), which holds worldwide patents on iris recognition. The patents include the original concept invented by Leonard Flom and Aran Safir, and the software and process technology developed by John Daugman of Cambridge University (Cambridge, England).
Passengers in the trial will undergo an initial enrollment process, including identity checks by an immigration officer, before being able to use the equipment. Enrollment stations are at Heathrow and are planned for New York's JFK and Washington's Dulles airports. Enrolled passengers will still need to carry their passports on each trip to England.
Once enrolled, passengers simply glance into a camera to have their identity verified. The iris pattern is compared with the stored digital code and if the details match, a ticket is printed and a barrier opens, allowing them to pass. The procedure is considered the highest accuracy single-factor identification method in the world. Mick Temple, Heathrow's managing director, said that, while this trial is about simplifying a traveler's progress through the airport, it's possible this sort of technology could have wider security benefits.