Digital data acquisition bolsters laser-based traffic enforcement
In Europe, the use of unmanned photoradar systems to catch speeders is relatively common. Political and technological concerns have stalled this technology in the USA, however, where Americans tend to associate such surveillance with the Big Brother character in George Orwell`s 1984. Two US firms are hoping an unmanned traffic-enforcement system that combines laser rangefinding with data-acquisition and analysis technology will answer many of the technical concerns about photoradar and also make
Nov 1st, 1997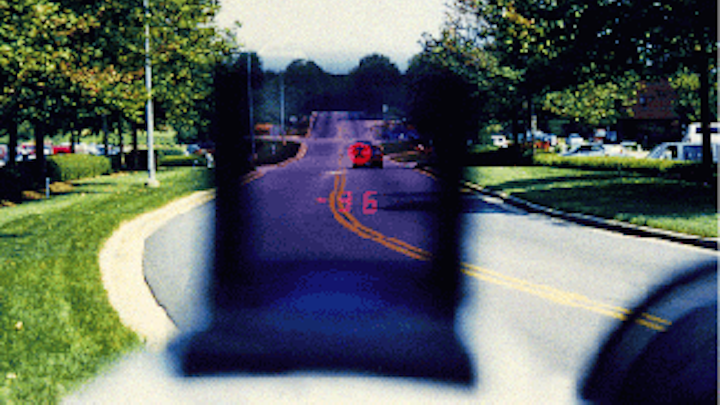 Digital data acquisition bolsters laser-based traffic enforcement
Hassaun Jones-Bey
Senior Editor, Technology
In Europe, the use of unmanned photoradar systems to catch speeders is relatively common. Political and technological concerns have stalled this technology in the USA, however, where Americans tend to associate such surveillance with the Big Brother character in George Orwell`s 1984. Two US firms are hoping an unmanned traffic-enforcement system that combines laser rangefinding with data-acquisition and analysis technology will answer many of the technical concerns about photoradar and also make some inroads on the political ones.
The laser-based system, called Digital LaVideo (Kustom Signals; Lenexa, KS, and LaserCraft; Norcross, GA), is composed of a laser speed gun, a charge-coupled-device (CCD) camera for image acquisition, and a Pentium-based computer platform for image processing. The interface between imaging and computational sides of the system is provided by a DT 3152 frame-grabber card (Data Translation; Marlboro, MA). Laser speed guns are not new, but the gun on the front end of Digital LaVideo sports a fighter-pilot`s head-up display that superimposes a set of crosshairs and a speed reading over the target vehicle (see Fig. 1).
The portion of the system that addresses the primarily foreign photo radar market begins with a progressive-scan CCD camera that provides a fast, high-resolution, digital image at distances up to 600 ft (see Fig. 2). One of the technological complaints against photoradar is the lack of specificity in targeting. While the relatively broad beam and short range provided by radar can present an advantage in a manned system where a police officer scans traffic before pursuing and apprehending violators, those same characteristics present obvious disadvantages in an unmanned, roadside system that simply trips a camera shutter.
Instead of tripping a shutter, as a photoradar system would do to take a photograph of a speeding vehicle, the laser gun in the Digital LaVideo signals a video camera that is already monitoring the scene in real time to snap a full-frame, digital image. A progressive-scan camera is used because conventional video cameras, which take two fields in each 60-s frame, would not work in this high-speed application.
"In a sixtieth of a second on a car going 80 miles an hour, if you took both of those fields, the image would be tremendously blurred," said Scott Patterson, president of LaserCraft. "So we have a digital camera that will snap the entire frame, and all 640 pixels are used in the frame."
The long-range resolution of the progressive-scan camera also effectively minimizes the "cosine factor" that can lead to erroneous speed measurements when the target is close to the measuring device and has an axis of motion that is not collinear with the axis of observation. A history-tracking feature in the speed gun also measures target speed three times a second. The process compares sequential speed measurements to eliminate speed fluctuations due to abrupt device movement.
The speed-gun and CCD-camera data are funneled into the image-processing system through a frame grabber, specifically de signed to handle the nonstandard video signals that come from progressive-scan and variable-scan cameras. Extension libraries in the software-development kit for the board allow it to be programmed to accept nonstandard signals, said Ron Curtis, a senior applications engineer at Data Translation who worked with Laser Craft software engineer Lane Mitcham on the Digital LaVideo design.
Mitcham has given the name "Capture" to the software, which combines the speed-gun and CCD-camera data into displayable, storable, and printable units in the Digital LaVideo processor (see Fig. 3). The actual display and printing functions, which include overlaying speed-gun data onto the target image are included in a separate software routine.
At the time that Digital LaVideo was originally designed in the summer of 1996, the Direct Draw Interface specification (Microsoft; Redmond, WA), which has since been built into Data Translation`s software-development kit, had not yet been developed. So Curtis suggested that Mitcham use general Window functions from the software extension library to create a nondestructive image-overlay system. The overlay system allows an operator to move the speed-gun data to a different spot on the CCD video image (or to remove portions of the crosshairs) to avoid blocking out critical image data on the display or printout, such as the vehicle license-plate number.
"We created a pop-up transparent window such that the window itself was not visible, but any text written on that area was now visible on top of the image," Curtis said. "It was not part of the image but was superimposed on it so that the final printed copy would allow drivers to see their license plate or even themselves behind the wheel. The overlay also included the time of day, the date, how fast they were going, the posted speed limit and the [police] officer`s name."
In addition to being displayed from movable windows on the video image, the speed-gun data are also encrypted into the digital image to prevent tampering, Mitcham said.
Keeping costs down
A key design factor in developing Digital LaVideo was keeping the hardware size and cost within a reasonable range for a portable, outdoor system, Mitcham said. For instance, the history-tracking feature on the speed gun is written in assembler language on an Intel microprocessor within the gun. "The trick is to be able to perform history tracking with a processor that is not going to cost you a fortune," Patterson said.
In at least one case, the simplicity of the system actually contributed to more efficient operation. The lack of on-board memory on the frame grabber allowed the designers to use an acquire-to-device software function that provided real-time transfer of image and overlay data into allocated PC memory for rapid display or printing.
"You only have one transfer of data rather than a two-step transfer process, Curtis said. "And with the data resident in PC memory, you can use either a standard Windows function or other graphical software to manipulate the data."
Even though Digital LaVideo was designed to overcome most of the technological concerns about unmanned traffic enforcement in the USA, the political objections are not likely to be addressed by a couple of microprocessors and software-development kits. "With conventional radar, the officer is the one who goes into court if there is a case that`s contested and says, `Yes, that was the vehicle. Here are the circumstances.` That would be entirely different as far as the Digital LaVideo is concerned," said Jim Maxton, vice president for international sales with Kustom Signals, which sells both conventional radar and laser devices for traffic control and enforcement.
Most areas in the USA where photo radar is in use and where a device like Digital LaVideo might find acceptance have had to make significant changes in traffic law to get the devices accepted. "Normally, cities in which photoradar is being used pass an ordinance that allows a speeding citation to be treated more or less like a parking citation," Maxton said. There are no [moving violation] points given to the driver, because most of our courts basically say that the device you are using merely backs up the arresting officer`s observation of the violation taking place."
The fear of Big Brother may lose some of its bite in situations where safety is the primary concern, however, such as construction zones where speeding violation becomes more critical because of the potential for harming someone near the roadway. "From a domestic standpoint, I think we may see Digital LaVideo as more acceptable in those terms," Maxton said. o
Click here to enlarge image
FIGURE 1. Head-up display in Digital LaVideo laser gun is generated using a proprietary telephoto optical system and a high-brightness, light-emitting-diode source. High-brightness LED source is required to provide readable display in ambient conditions of up to 10,000 fL such as might be expected during a sunny day with snow on the ground.
Click here to enlarge image
FIGURE 2. Progressive-scan CCD video camera provides a full-frame 640-pixel image that is also overlaid with a set of crosshairs and identifying information.
Click here to enlarge image
FIGURE 3. Digital LaVideo processor includes a display screen for the video image and controls for shifting overlay position.