This fast 'milliDelta' piezoelectric actuator from Harvard looks useful for optics and photonics labs (watch the video)
The piezo-actuated device has large programmable 3D range; carrying capacity is three times its own mass.
Jan 18th, 2018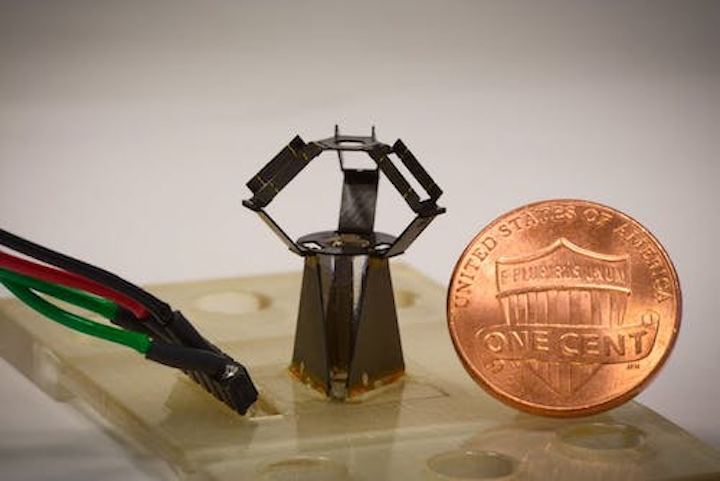 Completely unfolded, the milliDelta, with 15x 15 x 20 mm size, roughly compares to a one-cent piece; it uses piezoelectric actuators and flexural joints in its three arms to produce and control high-frequency movements of its top-mounted stage. (Image: Wyss Institute at Harvard University)
The so-called "delta" robot, which has three individually controlled and lightweight arms that guide a platform to move fast and accurately in 3D, is often used in industrial processes, including pick-and-place assemblies, machining, welding and food packaging. Now, Robert Wood's group at Harvard University's Wyss Institute (Cambridge, MA) hav come up with a miniature version, called the "milliDelta," which looks to be quite handy for laboratory use, including in photonics and biophotonics labs.1
In 2011, inspired by pop-up books and origami, Wood's team developed a microfabrication approach that enables the assembly of robots from flat sheets of composite materials. Pop-up microelectromechanical systems (MEMS) manufacturing has since been used for the construction of dynamic centimeter-scale machines that can walk, or, as in the case of the RoboBee, can fly. In their new study, the researchers applied their approach to develop a delta robot measuring a mere 15 x 15 x 20 mm.
Embedded flexural joints
The milliDelta design incorporates a composite laminate structure with embedded flexural joints that approximate the more complicated joints found in large scale delta robots. The precision of the prototype is down to 5 μm at frequencies up to 75 Hz (with max. frequency depending on the mass of what's being moved), with accelerations possible up to 22 g.
"With the help of an assembly jig, this laminate can be precisely folded into a millimeter-scale delta robot. The milliDelta also utilizes piezoelectric actuators, which allow it to perform movements at frequencies 15 to 20 times higher than those of other currently available delta robots," says Hayley McClintock, a Wyss Institute staff researcher on Wood's team.
Take a look at this explanatory video, which shows a milliDelta moving an LED in programmed paths at high speed.
(Video: Wyss Institute at Harvard University)
The researchers believe that specialized milliDelta robots could either be added on to existing robotic devices, or be developed as standalone devices such as, for example, platforms for the manipulation of biological cells in research and clinical laboratories.
Source: https://wyss.harvard.edu/small-but-fast-a-miniaturized-origami-inspired-robot-combines-micrometer-precision-with-high-speed/
REFERENCE
1. Hayley McClintock et al., Science Robotics (2018); doi: 10.1126/scirobotics.aar3018.