ILDA meeting honors creativity
The entertainment and display market continues to suffer from the worldwide recession, although some of the larger companies are doing better than they were a year ago...
Feb 1st, 2004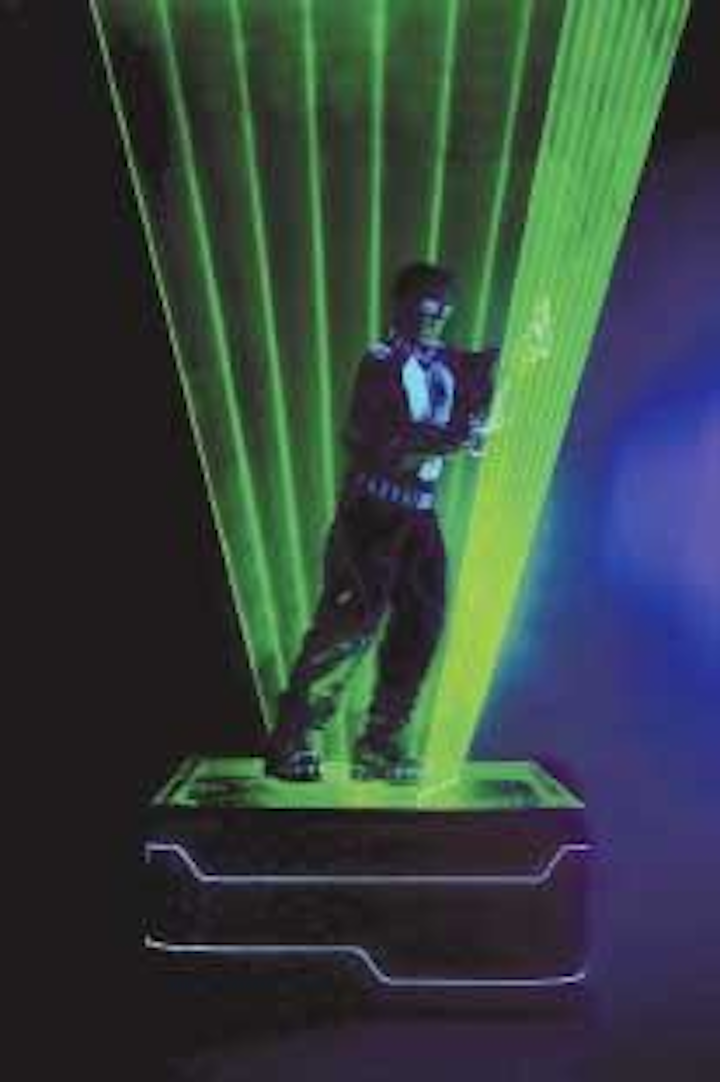 The entertainment and display market continues to suffer from the worldwide recession, although some of the larger companies are doing better than they were a year ago, due in part to their adoption of more broad-based approaches to the market. The most successful laser companies in this market are those diversifying into complementary technologies such as video and pyrotechnics to become full-fledged multimedia and production companies.
This trend was very much on display at the 17th annual International Laser Display Association (ILDA; Bradenton, FL) conference in Brussels, Belgium, in November 2003, where attendees were treated to a snazzy awards show and a host of new product introductions. In addition, members elected the new ILDA president, Jim Hardaway of LFI International (Bellevue, WA).
The ILDA awards ceremony, held Nov. 29, 2003, honored a spectrum of applications ranging from a citywide festival in Budapest to pulsating beam shows for nightclubs and discotheques. The awards were preceded by an elaborate opening ceremony created by Laser System Europe that included aquatic fountains, dancers, live ice sculpting, and, of course, laser effects (see figure).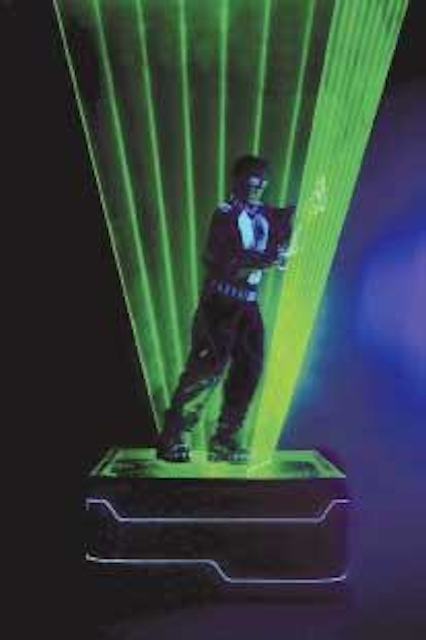 During the ILDA conference in Brussels, Belgium, Theo Dari performs "Laserman," in which he uses his hand to manipulate beams from a frequency-doubled Nd:YAG laser.
Click here to enlarge image
Lobo Electronic (Aalen, Germany) took honors in nine of ILDA's 14 artistic categories, including four first-place awards. The company's three-dimensional beam shows resulted in four awards, with all the shows created through a subscription service that provides clients with a new show each month.
Additional highlights included a first-place award to LFI International for the "Surpraser" stage show in Seoul, South Korea, which combines live actors and dancers with laser effects. Laser System Europe (Brussels, Belgium), which hosted the ILDA conference, took first place for the opening ceremony of Moscow's Utah Games. The show synchronized lighting, sound, aquatic fountains, and laser displays with live performers.
ILDA's Fenning Award for Technical Achievement honored a new laser show by LaserAnimation Sollinger (Berlin, Germany) that creates a realistic preview of a laser show using a computer monitor. MediaLas (Dusseldorf, Germany) was honored for the Avatar, a stand-alone laser-control system for clubs and discos. A laser-show data-conversion and processing system, the Optical Showlink Transcoder by Raven Systems Design (Independence, OH), was also honored with a Fenning Award.
The annual Advanced Technology Workshop gave members a firsthand look at new laser-display equipment, including galvanometers from Cambridge Technology (Cambridge, MA) and a host of solid-state red-green-blue (RGB) laser projectors. Cambridge unveiled the latest product developments in the 6200 Series of galvos, the driving hardware technology behind high-speed laser displays. The company's newest galvos are said to result in faster performance for entertainment applications, while a new digital amplifier offers a self-tuning capability that optimizes galvo performance.
Several companies demonstrated new solid-state RGB projectors that will give laser show producers a more compact, reliable and efficient means of creating full-color laser shows. Arctos-Showlasertechnik (Saaldorf-Surheim, Germany) showed its ARC-LB projector; MediaLas demonstrated its YT line of RGB projectors; and at the nearby Audio Visual Creative Fair, HB-Laserkomponenten (Schwabisch Gmund, Germany) offered its new Zeus RGB projector. All the new solid-state projectors offer sufficient power for laser graphics and small beam shows.
David Lytle is executvie director of the ILDA and editor of The Laserist Magazine and web site (www.laserist.org/Laserist); e-mail: lytle@ipns.com.