Ten Prism Award winners named during SPIE Photonics West
At a gala banquet held during SPIE Photonics West, 10 winners of a Prism Award for Photonics Innovation were announced by industry leaders.
Feb 5th, 2018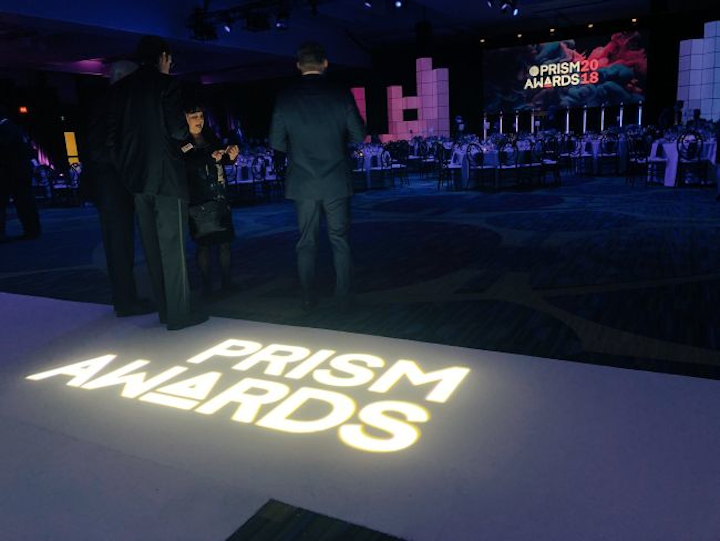 At a gala banquet held during SPIE Photonics West, 10 winners of a Prism Award for Photonics Innovation were announced by industry leaders. The categories, winning companies, and products are:
Detectors and Sensors:NKT Photonics (Denmark) LIOS EN.SURE Long Range DTS and RTTR, a long-range optical-fiber-based temperature- and strain-sensing measurement system designed to monitor underground transmission and distribution power cables, and overhead transmission lines
Environmental Monitoring: Block Engineering (USA) LaserWarn Analyzer, uses Quantum Cascade Lasers (QCLs) combined with mid-infrared spectroscopy to detect and identify chemical clouds in seconds
Illumination and Light Sources: SoraaLaser (USA) LaserLight Fiber Module, the world's first white-light, high-luminance, remotely delivered white laser light module, enabling the highest luminance light source available
Imaging and Cameras: Luminar (USA) Model-G 3D LiDAR sensor architecture delivering more than one million data points per second, with each point capable of reliably detecting less than 10% reflective targets at more than 200 meters away
Lasers: Class 5 Photonics (Germany) Supernova Optical Parametric Chirped-Pulse Amplifier, providing options for tunability, multiple outputs, and CEP stability to allow tailoring for custom multicolor experiments at full system performance and unprecedented stability over days
Life Science Instrumentation: Quantumcyte (USA) Q1 - ArraySeQ, enabling phenotypic profiling of single cells over thousands of cells simultaneously, and correlating that information to the genetic data collected from each cell
Material Processing and Additive Manufacturing: LIMO (Germany) Activation Line UV-L750, optical beam-delivery and beam-shaping system for UV laser lift-off of flexible OLED displays, which may be used for solid-state laser annealing as well
Medical Diagnostics and Therapeutics: ContinUse Biometrics (Israel) SmartHealth Mod, first-ever sensor capable of simultaneously monitoring several bio-parameters continuously and from a distance, by detecting nano-vibrations of the body
Optics and Optomechanical Components: AdlOptica Optical Systems (Germany) foXXus -multi-focus optics, a highly flexible optics tool that gives lasers improved process performance at lower costs
Test and Measurement: Spheryx, Inc. (USA) xSight, the first quantitative measurement of both size and composition in complex fluid samples in their native environments - in real-time in a matter of minutes - to detect dangerous or damaging particles or simultaneously detect different particles of the same size
Presenting the awards were leaders from the photonics industry:
• Kathleen Burke, Vice President and General Counsel at MKS Instruments
• Debbie Gustafson, CEO of Energetiq Technology
• Uwe Higgen, Managing Partner at BMW i Ventures
• Akira Hiruma, President and CEO of Hamamatsu
• Ray O. Johnson, Bessemer Venture Partners, former CTO, Lockheed Martin
• Wilhelm Kaenders, Co-Founder and President TOPTICA Photonics
• Peter Leibinger, Vice Chairman of the Managing Board of TRUMPF
• Eric Mottay, CEO of Amplitude Systèmes
• Darius Sankey, Managing Director at Innovation Acceleration Capital
• Danielle Wuchenich, Liquid Instruments & Lockheed Martin
A full list of the semi-finalists may be found HERE.
Source: SPIE