WaveOptics and EV Group collaborate on mass production of AR wearables
Goal is to produce low-cost, high-performance, waveguides for the consumer AR market.
Apr 26th, 2018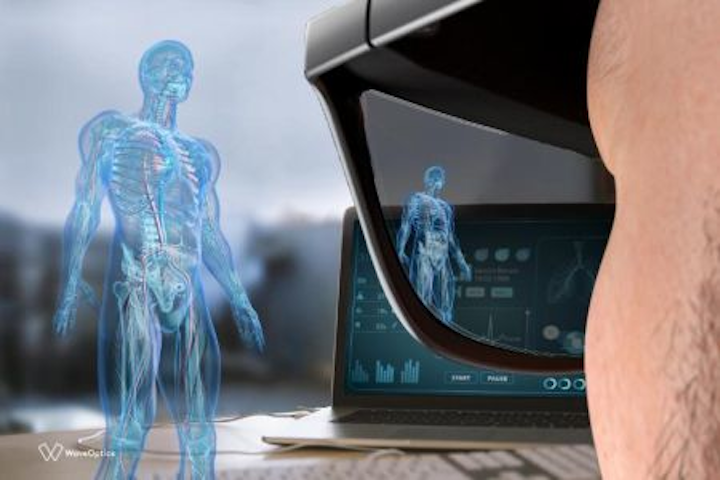 IMAGE. AR wearables such as smart glasses enable users to see digital images overlaid on top of the real world. WaveOptics' waveguide technology transfers light waves from the light source and projects them into the user's eye. (Courtesy WaveOptics)
WaveOptics (Abingdon, England), a designer and manufacturer of diffractive waveguides, is collaborating with EV Group (EVG), a supplier of wafer bonding and nano-imprint lithography equipment, to produce low-cost, high-performance, waveguides for the consumer augmented reality (AR) market.
WaveOptics CEO David Hayes said, "This partnership marks an AR industry inflexion point and is a critical step in the mass manufacture of high quality AR solutions--a capability that has not been possible to date. A combination of EVG's expertise together with our scalable and versatile technology will allow AR-end user products to be on the market for under $600 by the end of next year.
Related: Augmented reality project aims for broad acceptance by surgeons by BioOptics World chief editor Barbara Gefvert
Related: Diving into emerging AR/VR markets--opportunities for optics by contributor Michele Nichols
Related: Optical Engineering Design Conference, Oct. 24, Rochester, NY—talks on optical design for VR/AR by several experts, including Oculus VR scientist
Markus Wimplinger, corporate technology development and IP director at EVG, noted, "We develop new technologies and processes to outperform the most complex challenges, helping our customers to successfully commercialize their new product ideas. For the proliferation of our leading-edge nanoimprint lithography (NIL) technology, we have created our NILPhotonics Competence Center. Within this framework, which has strong policies to protect our customers' IP, we support our customers on their product development and commercialization journey."
Source: WaveOptics