BASF invests $4.4M in augmented reality startup RE'FLEKT
With the new funding, RE'FLEKT will continue its strong growth and further invest in its team and products.
Jun 27th, 2018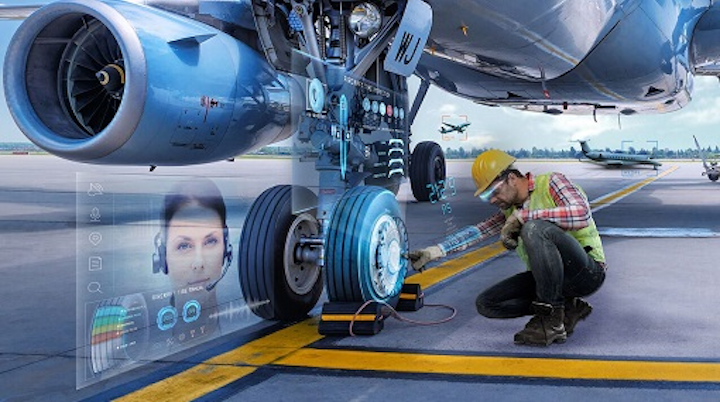 IMAGE:Augmented reality (AR) will have an important role in industrial applications such as on-site equipment repair and educational instruction. (Image credit: RE'FLEKT)
BASF Venture Capital has invested in RE'FLEKT (Munich, Germany and San Francisco, CA), an augmented reality (AR) startup that provides enterprise customers content creation and remote expert solutions. BASF Venture Capital's opening investment of $4.4 million dollars follows Bosch's investment in the company in 2015."The investments from two of the world's largest industrial companies validate our leading position in the Augmented Reality market. With the new funding, we will continue our strong growth and further invest in our team and products," says RE'FLEKT CEO and founder Wolfgang Stelzle.
RELATED ARTICLE: Freeform optical design software speeds AR and VR devices to market
"Digital technologies are a high priority at BASF. We see significant benefits in using Augmented Reality for a variety of key simulation, communication, and digital learning use cases, especially related to operations and industrial processes," says Markus Solibieda, managing director of BASF Venture Capital. "Our partnership with RE'FLEKT further establishes value for our customers, who will be able to use Augmented Reality to improve the efficiency and effectiveness of manufacturing and industrial processes."
RE'FLEKT has been developing its enterprise augmented and mixed reality ecosystem since the company was founded in 2012. Consisting of a multi award-winning content creation platform and a remote expert solution for maintenance, training and operations, the RE'FLEKT ecosystem intelligently projects step-by-step instructions directly onto complex machines and systems using AR. "The RE'FLEKT platform helps machine operators and maintenance personnel eliminate mistakes and significantly in-crease uptime," says Stelzle.
Industrial companies use the RE'FLEKT Ecosystem to transform their existing CAD drawings and data from traditional technical documentation into interactive AR applications for mobile devices and smart glasses. These applications can be used regardless of location to provide interactive user support and standardize learning and education for complex machinery and processes.
RE'FLEKT says the 2020 global market potential for AR applications is estimated at more than $100 billion dollars. Market trends such as knowledge society, connectivity, and globalization are just a few of key factors that expected to drive the opportunity for enterprise AR solutions that improve communication and knowledge transfer.

SOURCE: RE'FLEKT; https://www.re-flekt.com/wp-content/uploads/2018/06/Press-Release_REFLEKT_BASF_EN.pdf