NIST waveguide-to-free-space converter produces wide collimated beam for gas sensing (see video)
The device can couple light out of and back into a photonic circuit -- useful for detecting substances in the air.
Nov 28th, 2018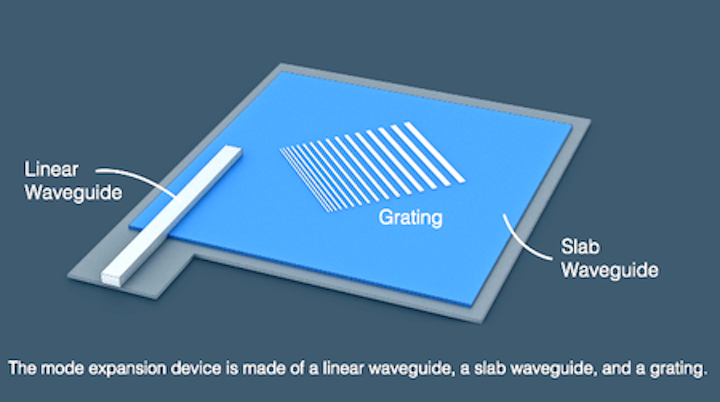 (Still image from NIST video below) Researchers at the National Institute of Standards and Technology (NIST; Gaithersburg, MD), the University of Maryland, (College Park, MD), and Texas Tech University (Lubbock, TX) have created an optical waveguide-to-free-space coupler that converts a waveguide fundamental mode to a collimated free-space Gaussian beam with a 160 µm waist.1 The component, which can be part of an integrated photonics circuit, can be used to couple light into as well as out of a photonic circuit. Thus, it can take light in a waveguide, couple it out into a gas-filled environment, then back into the circuit (using a second coupler) -- a configuration valuable for photonic-circuit-based gas sensors. In the device, light from a 300 × 250 nm silicon nitride high-index single-mode waveguide is first coupled into a slab waveguide to expand it in one dimension; the light then strikes a grating couple to expand it in a second dimension and couple it to free space (see video).
(Video: NIST)

The researchers demonstrated outcoupling of light from a waveguide into free space, propagation over 4 mm in free space, then coupling back into a waveguide.

The test device was designed for use at a 780 nm wavelength, but could be designed for telecom or visible wavelengths, say the researchers.

Source: https://www.nist.gov/news-events/news/2018/11/new-device-widens-light-beams-400-times-broadening-possibilities-science

REFERENCE:

1. Sangsik Kim et al., Light: Science and Applications (2018); doi: 10.1038/s41377-018-0073-2.