NexOptic and Spectrum Optix capture first images from Blade Optics telescope
NexOptic and Spectrum Optix have completed assembly of their proof-of-concept telescope prototype lens stack.
Feb 22nd, 2017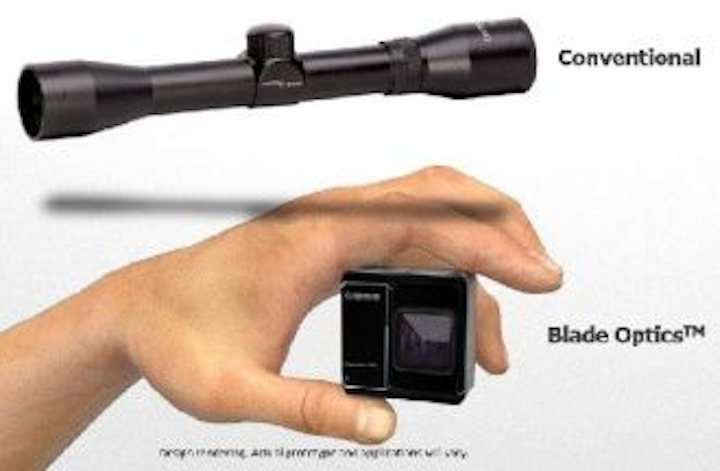 NexOptic Technology Corporation (Vancouver, BC, Canada) and Spectrum Optix (Calgary, AB, Canada) have completed assembly of their proof-of-concept telescope prototype lens stack and successfully captured its first set of unprocessed images of the moon.
RELATED ARTICLE: Spectrum and NexOptic launch Blade Optics 'flat lens' technology
Alignment and assembly of the optics, construction of the casing and testing of the full lens stack are complete. The Companies are pleased with the unprocessed imaging results from the prototype lens stack. Tests of the prototype delivered image resolutions comparable to conventional 5-inch-aperture telescopes while maintaining the device's unique form factor. The prototype incorporates the Companies' Blade Optics [trademarked] system that allows the entire device to be housed in a body approximately 5 inches deep while keeping a diagonal aperture of roughly 5 inches in a lens stack depth that is significantly thinner than comparable conventional telescopes on the market today.
The Companies commissioned electrical engineer Larry McNish, a member of the Royal Astronomical Society of Canada, to field test the prototype. McNish has been an amateur astronomer and astrophotographer for 30 years and has served as president of the Calgary Centre of the Royal Astronomical Society of Canada. After field testing the prototype, McNish said, "I've observed and imaged through a lot of different shapes and sizes of telescopes over the last 30 years. Having the opportunity to take images with the NexOptic prototype, I believe that they have potentially created a 'paradigm shift' innovation in optical design."
Prototype specifications include a 1460 mm focal length, 89.6 mm x 89.6 mm square aperture, 486-656 nm spectral bandwidth, 0.2 x 0.2 degree field of view, 2.7 arcsec resolution, 6.8 km hyperfocal distance, and overall device dimensions 10 x 9 x 5 inches.
Ruda Cardinal (Tucson, AZ) is an optical engineering and manufacturing firm whose expertise has provided cutting-edge solutions to Fortune 500 companies, universities, the US government, tech industry and start-ups for over 22 years and NexOptic says their strong engineering skills and quality workmanship have played an essential role in the Companies design and development efforts of the Blade Optic's system. Ruda-Cardinal is also ITAR certified as they provide services to many international firms across the globe.
Spectrum has completed the initial iteration of its proprietary software that captures, processes and displays images from the prototype. Spectrum is refining its flat-lens image processing techniques for the prototype unveiling event, which is scheduled for April 4, 2017, at the H.R. MacMillan Space Centre in Vancouver, BC, Canada. For availability, please contact the company exclusively through media@nexoptic.com.
NexOptic is a publicly traded company that has an option to acquire, in the aggregate, 100% of Spectrum Optix, a private corporation. The Companies are, in essence, working as a single corporation at this time, with their respective CEOs sitting on each other's boards of directors.
Spectrum is developing technologies relating to imagery and light concentration applications. Utilizing its patent-pending Blade Optics technology, which contains flat lenses, the company says it aims to disrupt conventional lens and image capture-based systems.
SOURCE: NexOptic; http://nexoptic.com/_resources/news/nr_20170221.pdf