Next-generation laser optics for NIF tolerate more power
A new AR coating and novel chemical process for laser optics was developed by LLNL to improve NIF's energy tolerance.
Apr 10th, 2017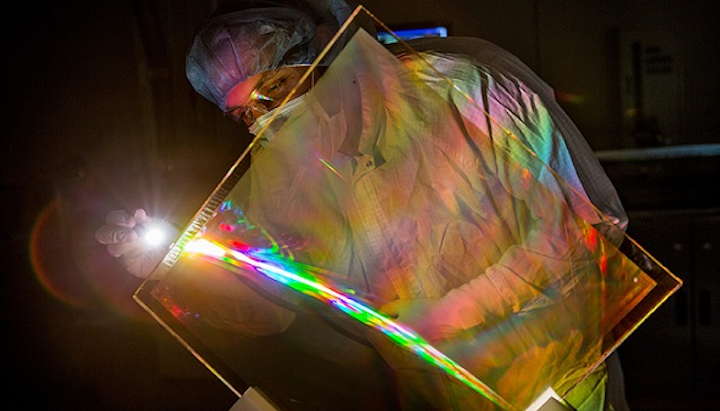 IMAGE: Marcus Monticelli inspects the anti-reflective coating on a National Ignition Facility grating debris shield. The coating restores lost NIF energy and eliminates a source of optics damage. (Image credit: Jason Laurea/LLNL)
A new anti-reflective coating and a novel chemical process for laser optics, developed by Lawrence Livermore National Laboratory (LLNL; Livermore, CA) researchers, represents an important breakthrough in its effort to boost the energy of the National Ignition Facility's (NIF) 192 giant lasers, and cut the cost of repairing or replacing damaged optics vital to its operation.
RELATED ARTICLE: Diamond metasurfaces increase damage thresholds in high-power laser systems
The coating was developed to overcome energy-robbing reflections from the rear surface of the laser facility's grating debris shields, or GDS. The GDS is the penultimate optic before NIF's laser beams enter the target chamber, protecting other optics from the target chamber environment and assisting in diagnosis of the energy of NIF's laser beams.
A patented chemical process, called the Advanced Mitigation Process (AMP), further protects the optics by making their surfaces more damage resistant by removing impurities and absorbing microfractures. These imperfections, when exposed to laser light, create tiny damage craters on the surface, which grow with repeated laser shots and limit the life span of the optic. Both the AMP process and the coating are required to realize these reductions to the damage rate and the possibility of higher energy on NIF.
These technologies are a result of sustained research and development over the past decade, much of it supported by LLNL's Laboratory Directed Research and Development (LDRD) program. This effort involved forming a fundamental understanding of the chemistry and physics involved - including isolating and identifying nanoscale absorbing precursors leading to laser damage, understanding the complex laser matter interaction physics and developing novel chemical processes to mitigate them.
"Maximizing the amount of energy and shots reaching NIF targets is a critical factor in the facility's efforts to serve the needs of its users and Laboratory missions," said Tayyab Suratwala, program director for Optics and Materials Science and Technology (OMST). "By minimizing the damage rate to NIF's optics, we can save considerable time and expense involved in recycling or replacing optics that become unusable, and thereby increase the number of shots available to experimenters."
Read the full story at the SOURCE link below………..
SOURCE: LLNL; https://www.llnl.gov/news/lab-scientists-develop-next-generation-nif-optics-boost-energy-and-limit-damage