U.S. Secretary of Labor Acosta visits REO
Secretary Alexander Acosta wanted to learn more about REO's optics apprenticeship program, a model for a wider initiative in September.
Aug 8th, 2017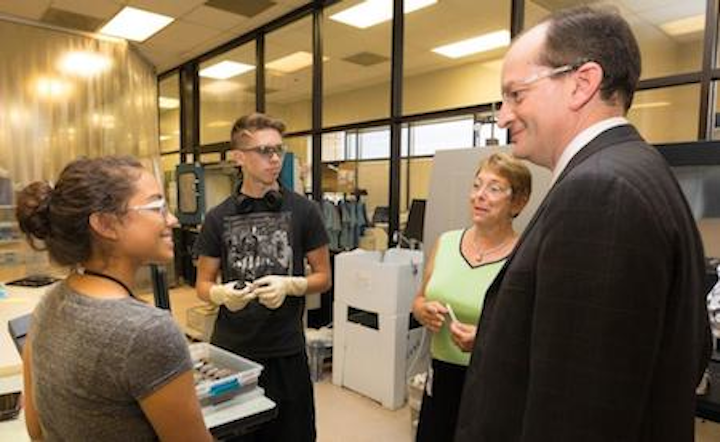 (Image: REO)
Secretary Alexander Acosta of the U.S. Department of Labor visited REO (Boulder, CO) on Friday, July 21st, 2017 to learn more about the company's optics apprenticeship program, which is in its second year. Together with Front Range Community College and several Colorado-based optics and photonics manufacturing companies, REO has led the effort to develop an optics technician apprenticeship program and certification.
This program combines on-the-job training and classroom learning to provide a solid foundation for a successful career in precision optics manufacturing. The Front Range of Colorado has become a center for optical manufacturing and the demand for highly trained and skilled optical technicians continues to increase.
Secretary Acosta toured the REO facility and met four of the six REO apprentices. When asked by Secretary Acosta how things were going, one apprentice responded, "This is cool: my friends are working at Olive Garden and I get to build HeNe lasers!"
Secretary Acosta wanted to know how the Department of Labor could help continue to support apprenticeship initiatives like this one. He noted that in September an initiative will be announced to encourage more apprenticeship programs headed by companies within various industries rather than by the government.
To learn more about REO's optics apprenticeship program, see http://www.reoinc.com/apprenticeship-program
Source: REO