Solar-Tectic develops inexpensive, scratch-resistant sapphire-coated glass
With soda-lime glass as the base, thin-film sapphire adds high hardness.
Mar 28th, 2017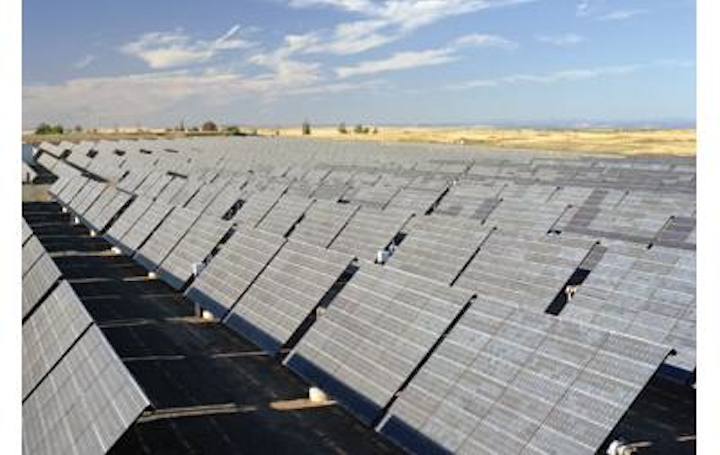 An array of silicon photovoltaic panels collects power from the sun. Solar-Tectic is developing a method to deposit crystalline coatings on inexpensive glass, which could be used as a base for thin-film crystalline solar cells. (Image courtesy of NREL)
In 2015, Solar-Tectic LLC (ST; Briarcliff Manor, NY) announced plans to develop sapphire glass based on its technique that was reported on in Materials Letters in 2014.1 Now, ST announced that it has succeeded in developing this sapphire glass using its (patent-pending) technique.
Sapphire, or crystalline aluminum oxide (Al2O3), is a material well-known to the Laser Focus World audience, as it is used for optics of many types, as the base for ultrafast-laser gain material, and as a substrate for gallium nitride (GaN)-based LEDs. As an optical material, sapphire excels for applications requiring ruggedness due to its hardness.
Sapphire film on soda-lime glass
ST's technique involves the deposition of a transparent thin-film layer of sapphire on ordinary soda-lime glass (or other common materials such as quartz) via a thin buffer layer using e-beam evaporation, which is a simple and common deposition technique. The company is also working on laser-assisted deposition.
The resulting pane or other optic is much less expensive and much lighter than single-crystal sapphire, and is easily scalable for manufacturing and commercialization. The sapphire film is extremely thin, reducing manufacturing costs. (As Laser Focus World readers remember, not too long ago Apple and others tried without success in making cost-effective sapphire glass for smartphone covers.)
The new sapphire glass has a MOHS 8 (verified by a 3rd party independent institution). Single crystal sapphire has a MOHS 9. ST will be optimizing the films with the aim of achieving MOHS 9 hardness.
For licensing of the technology, sample requests, or other inquiries, please contact H. Thomas Davis, Jr. at Carter Ledyard & Milburn LLP [email protected] 212-238-8850.
Solar is an application
Solar-Tectic LLC is a thin-film specialist with patented technology primarily focused on developing highly textured (oriented), single-crystal semiconductor films on glass or other inexpensive substrates. Solar-Tectic LLC's primary focus is solar cells, but also extends to LEDs.
SOURCE Solar-Tectic LLC
REFERENCE:
1. Ashok Chaudhari et al., Materials Letters (2014); doi: 10.1016/j.matlet.2014.08.089