UCF researchers use nanoscale patterns to hide images and information in plain sight
Plasmonic structures show patterns only in selected IR bands; they can also be dynamically switched on and off.
Jan 4th, 2019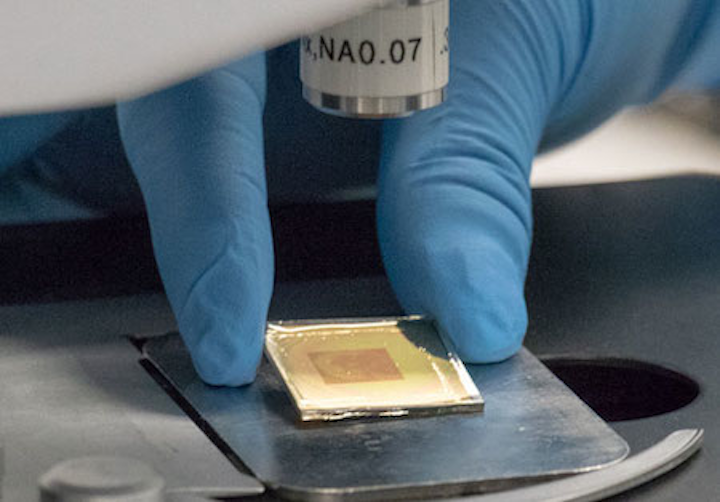 To see the intended information encoded into this plasmonic structure, a person must look through an IR lens or camera tuned to the correct IR band. (Image: UCF)

Scientists at the University of Central Florida (UCF; Orlando, FL) have found a way to hide information on materials and only make it visible to a person using the right technology.1 "We found we can create a surface where we preferentially control absorption of light," says Debashis Chanda, an associate professor of physics, optics, and nanoscience who has developed the technique.

The trick is to put the information on a surface that is patterned with nanoscale structures, which can fool the naked eye by reflecting only a solid color rather than the intended information. To get the intended information, a person must look through an infrared camera tuned to the correct IR band. Not only can information be hidden this way, but the information can also be changed so that the messages invisible to the human eye can be erased and rewritten.2

To hide images within the IR spectrum while the same area appears as a solid color in the visible spectrum, the researchers created a three-level layered plasmonic system with a polymer layer imprinted with nanoscale holes sandwiched between a gold mirror at the bottom and a gold layer at the top, with holes that match the polymer layer.

Images can be imprinted on top of the plasmonic sandwich; aspects of the holes, such as size and depth, help dictate which IR band the image can be seen in. Without looking through an IR camera tuned to the right band, the top of the device looks like a solid color, such as a yellow square,

The researchers developed a way to erase and display the image in selected IR bands by adding a layer of phase-change material -- vanadium dioxide -- within the plasmonic sandwich that dynamically changes the light reflection from the surface from 100% to 0% and back as the phase change is triggered.

Applications include anticounterfeiting security, infrared tagging (for example, the presence of a designer label could be confirmed with a look through an IR camera), and infrared camouflage. It also has military applications, such as confirming which assets are friendly and which are enemy by tags on their surfaces that are only visible in a specific infrared band or by dynamically changing the information for IR camouflage.

Source: https://today.ucf.edu/ucf-researchers-develop-method-hide-images-information-plain-sight/

REFERENCES:

1. Daniel Franklin et al., Light: Science & Applications (2018); https://doi.org/10.1038/s41377-018-0095-9.

2. Alireza Safaei et al., ACS Nano (2018); https://doi.org/10.1021/acsnano.8b06601.