ficonTEC and industry partners launch National Photonics Manufacturing Pilot Line
The National Photonics Manufacturing Pilot Line aims to advance photonic technologies from concept to commercialization.
Mar 13th, 2019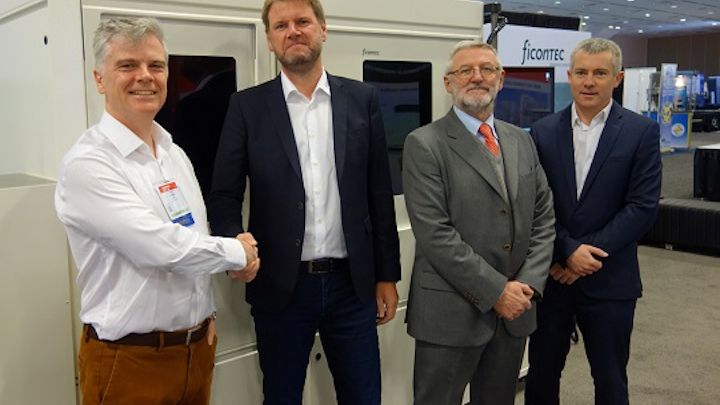 IMAGE: Peter O'Brien, head of photonics packaging, Tyndall and director of PIXAPP, Torsten Vahrenkamp, CEO of ficonTEC, Ignazio Piacentini, director of business development at ficonTEC, and Patrick Morrissey, head of Photonics Operations and IPIC Centre manager, are all shown at Photonics West 2019 in San Francisco, CA.
Tyndall National Institute (Cork, Ireland) and ficonTEC (Achim, Germany) Service, along with other industry partners including Eblana Photonics, Faz Technology, mBryonics, and Sanmina, have come together to build the National Photonics Manufacturing Pilot Line, an integrated photonics manufacturing ecosystem designed to advance disruptive photonic technologies from concept to commercialization.
The Pilot Line, located in Tyndall, with an initial investment of 6 million euro (about 6.77 million dollars) and a team of 15, will engage with sectors such as medtech, life sciences, and communications. Tyndall is already the location of the PIXAPP Pilot Line Gateway, the Irish Photonics Integration Centre, and InPulse, which collectively provide access to leading-edge technology, highly-skilled researchers and valuable infrastructure.
ficonTEC will establish a unique facility with a dedicated support team to develop advanced photonics manufacturing equipment for emerging markets. Torsten Vahrenkamp, CEO at ficonTEC, said, "I am really pleased that we can place a team together with systems from our new in-line production platform at Tyndall to serve the integrated photonics industry needs within Ireland and for Europe as a whole."
The Pilot Line will additionally train the future photonics workforce in advanced manufacturing processes, with particular focus on medtech, a valuable sector. Ireland is home to one of the world's leading clusters for medical device development and production with 29,000 employees.
Peter O'Brien, head of the Photonics Packaging Group, said, "This collaboration represents a unique partnership between world-class researchers, leading industrial equipment providers, manufacturing experts and product designers. The Pilot Line will enable the transfer of disruptive packaging technologies currently under development here to high-volume production. Our focus on emerging applications, such the use of photonics in medical devices, complement developments in PIXAPP and will additionally benefit the Irish economy via engagement with leading companies based here."
Funding is being provided by the Irish Government through its Disruptive Technology Innovation Fund and is run by the Department of Business, Enterprise and Innovation, with administrative support from Enterprise Ireland. Access to the Pilot Line is open to any and all companies around the globe looking to quickly realize future integrated photonics devices within a dedicated and experienced ecosystem.
SOURCE: ficonTEC; https://www.ficontec.com/