Huawei launches 5X zoom on P30 smartphone using folded optics
The components make a 90-degree right turn after the lens cover, and the CMOS sensor is arranged horizontally.
Mar 28th, 2019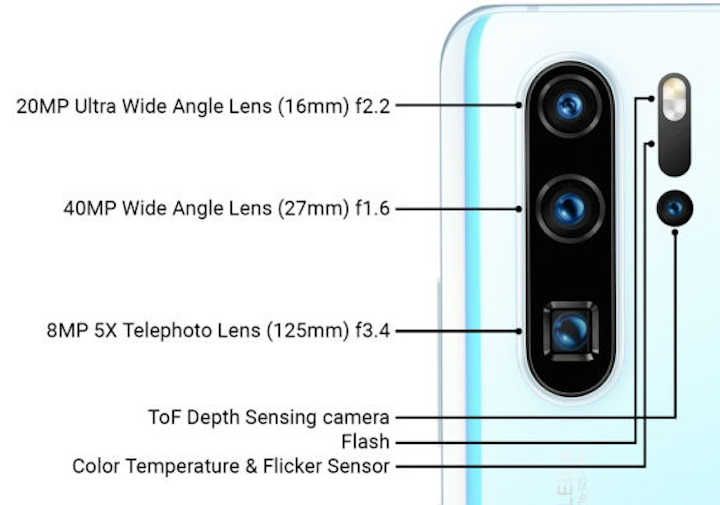 IMAGE: The Huawei P30 smartphone has a lot of cameras, including one that delivers a true 5X optical zoom using folded optics. (Image credit: Huawei/Ron Amadeo)
While the new Huawei P30 Pro smartphone has a new Huawei-made system on a chip (SoC), an in-screen optical fingerprint reader, and lots of other high-end features, one of its highlights is the camera's 5X optical zoom--not digital zoom, but real optical zoom.
Most high-end smartphones like the iPhone XS and Galaxy S10 provide a 2X optical zoom. Usually, these exist in an entire second sensor and lens on the back of the phone, giving you a choice between the standard 1X lens or extra 2X lens. The reason you usually don't get large zoom multipliers in smartphones is because zoom lenses take up space. Inside a zoom lens is a series of smaller lenses, some of which move inside the lens body to change the focal length.
To save space, the Huawei 5X optical zoom uses a periscope design. From the outside, it looks like a normal camera setup, albeit with a funky square camera opening. Internally, though, the components make a 90-degree right turn after the lens cover, and the zoom lens components and CMOS sensor are arranged horizontally. Now instead of having to cram a bunch of lenses and the CMOS chip into 8 mm of vertical phone space, there are acres of horizontal phone space to play with.
And while the optical zoom is the big new camera feature, there are four total cameras on the back of the P30 Pro. A 40MP main camera, a 20MP wide angle, the 8MP 5X telephoto, and a time-of-flight (TOF) depth-sensing camera. The main 40MP camera uses a 1/1.7 inch-type sensor that, when measured diagonally, would make it 32% larger than the 1/2.55 inch-type sensors in the Galaxy S10 or iPhone XS.
Huawei also made a big deal out of the new "RYYB" pixel layout in its camera sensor. Normally CMOS sensors are "RGGB," one red pixel, two green, and one blue. By changing the green pixels to yellow, Huawei claims it can capture 40% more light, as the yellow filter captures green and red light. Of course, this will make the color wonky, but Huawei claims it can correct for that in software.
The front uses a standard notch design featuring a single 32MP camera in the middle of the screen. The display is a 6.47 inch OLED with curved sides and a 2340 x 1080 resolution. An optical fingerprint reader is embedded in the display, and you won't find an earpiece anywhere, as that is embedded into the display, too. The Huawei P30 Pro retails for $1,125.
SOURCE: Ars Technica; https://arstechnica.com/gadgets/2019/03/new-huawei-phone-has-a-5x-optical-zoom-thanks-to-a-periscope-lens/