Diffraction-limited metalenses operate at visible wavelengths
Harvard and Waterloo researchers have prepared visible-light metalenses that operate at 660, 532, and 405 nm.
Jun 13th, 2016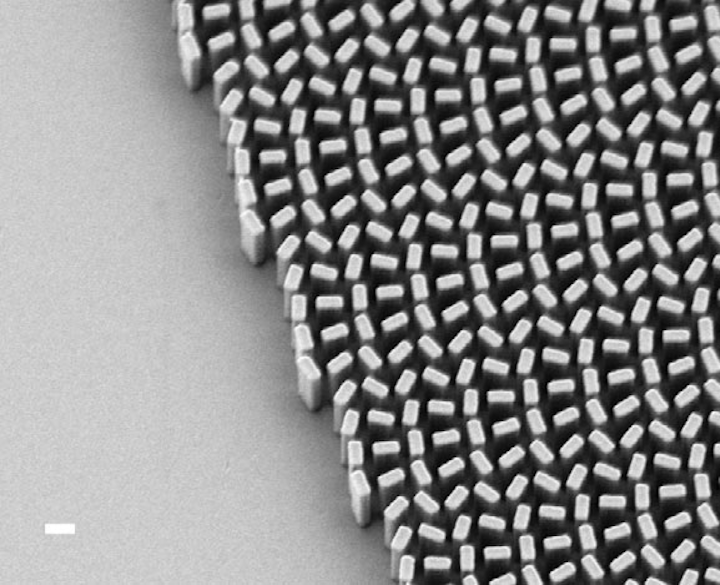 IMAGE: Metamaterial lenses or metalenses have been prepared at visible-light wavelengths using titanium-dioxide rectangular pillar structures. (Image credit: Harvard University and University of Waterloo)
Although diffraction-limited, high-numerical-aperture, subwavelength-resolution imaging has benefited greatly from silicon- and plasmonic-based metamaterial lenses or "metalenses" that eliminate the bulky form factor of conventional refractive optics through miniaturization via a planar structure, these metalenses have high losses in the visible wavelength region from 400 to 700 nm. And while using dielectric materials with visible-light transparency including gallium phosphide, silicon nitride, and titanium dioxide (GaP, SiN, and TiO2) can have good efficiency in the visible, it is difficult to fabricate the high-aspect-ratio nanostructures needed to build the phase profiles required to create efficient metalenses.
RELATED ARTICLE: Metamaterial imager eliminates lenses and moving parts

Using atomic layer deposition of TiO2 over a photoresist mask,however, researchers from Harvard University (Cambridge, MA) and the University of Waterloo (Waterloo, ON, Canada) have been able to prepare visible-light metalenses with mathematically modeled and optimized angled patterns of rectangular TiO2 pillars with height 600 nm and length/width of 85/410 nm, 95/250 nm, and 40/150 nm for wavelength operation at 660, 532, and 405 nm, respectively.
The 240 µm diameter and 90 µm focal-length metalenses have a high numerical aperture (NA) of 0.8 and are capable of focusing beams into diffraction-limited spots. Compared to a commercially available Nikon objective lens with 0.8 NA, the metalenses--operating at the three visible wavelengths for which they were optimized--provided 1.5X smaller and more symmetrical focal spots.
REFERENCE: M. Khorasaninejad, Science 352, 6290, 1190-1194 (June 3, 2016).
SOURCE:Science; http://science.sciencemag.org/content/352/6290/1190.abstract