Optical film by E-Lead Electronic cuts cost of windshield head-up display (HUD) by 90%
The new HUD was unveiled at 2015 AMPA & AutoTronics Taipei.
Apr 20th, 2015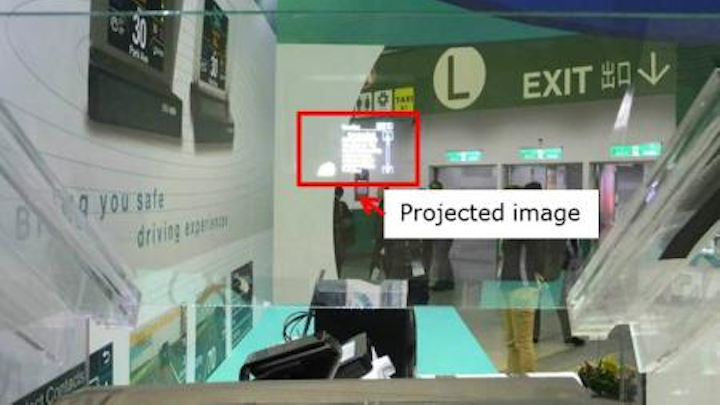 A "windshield type" HUD exhibited by E-Lead Electronic may lower costs of these types of HUD by 90%. (Image: Tech-On!)
E-Lead Electronic Co (Shengang, Taiwan), which makes automotive electronics, unveiled a low-cost head-up display (HUD) at 2015 AMPA & AutoTronics Taipei (April 8 to 11, 2015; Taipei, Taiwan).
In the new HUD, a light-redirecting optical film is attached on the windshield and the information-containing image projected on it. The film can be attached to and used with a conventional windshield; this is in contrast to other windshield-type HUDs, which require the use of a special windshield with a slight optical wedge in it. The new technology cuts cost by more than 90%, according to E-Lead Electronic said. The company plans to commercialize the technology by the end of 2015.
In general, there are three types of HUDs: "windshield type," which directly projects an image on the windshield, "combiner type," which projects an image on a dedicated display integrated with the projector, and "LED/TFT direct-reflection type," which reflects an image directly on the windshield.
With the windshield type, the driver sees a projected image at a longer distance, and the driver does not have to move the eyes or adjust the eyes' focal distance. However, the windshield type requires a special windshield to reduce the generation of double images and is difficult to be designed.
In the special windshield normally used, the transparent plastic safety material sandwiched in between the two pieces of glass must have a slight and very precise wedge, so that the vehicle operator does not see a HUD double image. For example, see info on DuPont's Wedge windshield for HUDs: http://plastics.dupont.com/myplastics/Mediator?common=5,4895,4973&locale=jp_JP.
The technology developed by E-Lead Electronic reduces the generation of double images with the optical film attached to a windshield. Because it does not require a special windshield, it can realize an HUD with a low cost. The projector is installed in the dashboard or on the back of the rear-view mirror.
The transmittance of the film is as high as 90%. A projected image is viewed from a distance of 2 to 3 m and seems natural.
The cost of the HUD is lower than those of HUDs that have been employed by Audi AG, BMW AG and Daimler AG and use a special glass ("wedge-type" glass). E-Lead Electronic estimates the cost of the new HUD at US$300-399.
Source: http://techon.nikkeibp.co.jp/english/NEWS_EN/20150415/414425/