Richardson delivers large echelle grating to the Discovery Channel Telescope
The grating is for a spectroscopic instrument designed to detect Earth-like planets.
Dec 23rd, 2015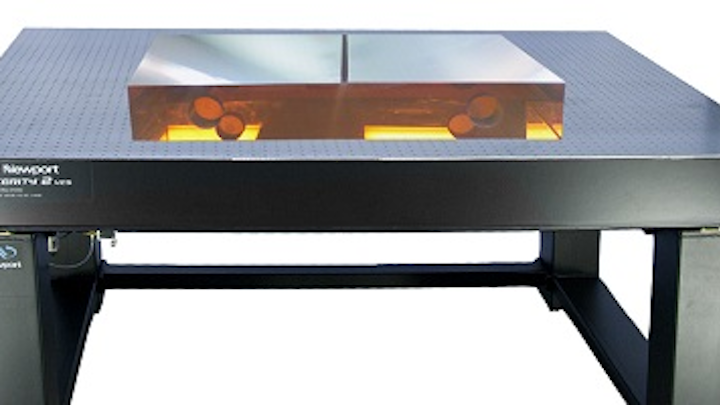 IMAGE: ARichardson Gratings mosaic echelle grating is shown on a Newport optical workstation. (Image credit: Richardson Gratings)
Diffraction gratings manufacturer Richardson Gratings (Rochester, NY), a Newport company, shipped a large mosaic echelle grating for the EXtreme PREcision Spectrometer (EXPRES), a spectroscopic instrument for the Discovery Channel Telescope designed to detect Earth-like planets in the neighborhood of our solar system as part of Yale University's 100 Earths Project.
RELATED ARTICLE: Richardson Gratings produces large mosaic echelle grating for planet-finder spectrograph
This 214 x 840 x 125 mm mosaic grating, with 31.6 grooves per millimeter and a nominal blaze angle of 75 degrees, was fabricated as a monolithic aluminum-coated replica grating from two matched gratings from the same echelle master. The sixteenth mosaic echelle produced by Richardson Gratings, it possesses excellent performance characteristics as measured by spectral resolution, efficiency, blaze angle, wavefront, and alignment between the two segments.
The peak unpolarized diffraction efficiency meets or exceeds 60% for diffracted orders peaking between 400 and 700 nm. Spectral resolving power was measured to exceed 600,000 at 633 nm, and spatial resolution was measured to be better than four arcseconds. The overall diffracted wavefront demonstrates irregularity from a plane wavefront of less than 0.1 waves at 633 nm.
The EXPRES instrument, designed to provide higher spectral resolution than existing instruments, will be part of the 4.3-meter Discovery Channel Telescope at the Lowell Observatory outside Flagstaff, Arizona. The 100 Earths Project aims to search nearby stars for rocky planets on which liquid water may exist--such planets are thought to be suitable for harboring life. For further information about the 100 Earths Project, see http://exoplanets.astro.yale.edu/science/100_Earths.php.
SOURCE: Richardson Gratings; http://gratinglab.com/News/News.aspx