Graphene oxide lens has broadband 3D subwavelength focusing capability
Lens is created via a laser photoreduction process.
Sep 24th, 2015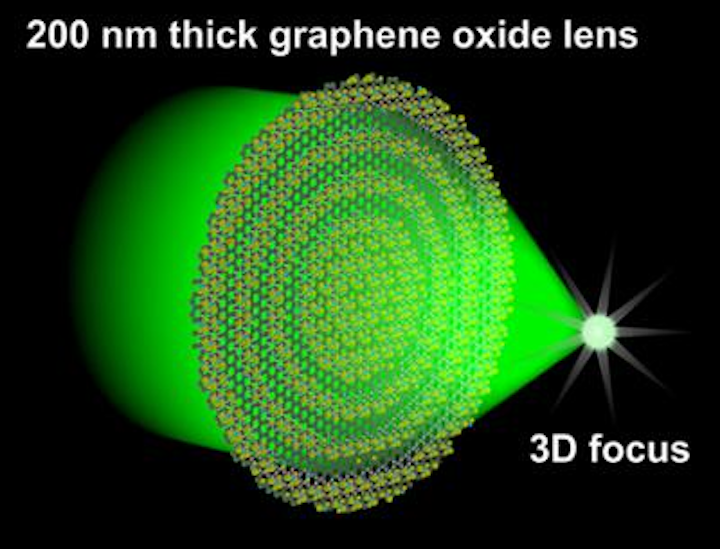 (Image: Swinburne University of Technology)
Researchers at Swinburne University of Technology (Hawthorne, Australia) and Monash University (Clayton, Australia) have developed an ultrathin flat graphene oxide optical lens with very large refractive index and absorption modulations that allow tailoring of its diffractive qualities.1
The index and absorption are modified in a process where a laser chemically reduces the graphene oxide. The lens is only 200 nm thick and has far-field 3D subwavelength focusing (with a voxel size of λ3/5) and a very large bandwidth of 400 to 1500 nm.
The ultrathin lens enables potential applications in on-chip nanophotonics and can also be useful in noninvasive 3D biomedical imaging, aerospace photonics, and laser tweezers.
"Our lens concept has a 3D subwavelength capability that is 30 times more efficient [than existing nanophotonic flat lenses], able to tightly focus broadband light from the visible to the near infrared, and offers a simple and low-cost manufacturing method," says Baohua Jia, research leader in nanophotonics at Swinburne's Centre for Micro-Photonics (CMP).
"These flexible graphene oxide lenses are mechanically robust and maintain excellent focusing properties under high stress," says Xiaorui Zheng, lead author of the research.
The research was funded by the Australian Research Council under its Discovery Early Career Researcher Award, Discovery Project and Laureate Fellowship scheme.
Source: http://www.swinburne.edu.au/media-centre/news/2015/09/ultrathin-lens-could-revolutionise-next-gen-devices.html
REFERENCE:
1. Xiaorui Zheng et al., Nature Communications (2015); doi: 10.1038/ncomms9433