What goes down comes back up
The 35th annual Semicon West conference and exhibition (July 11-1; San Francisco, CA) coincided with a forecast of a 12% decline in the capital-equipment market, which in a way was good news, according to Stanley Myers, president and CEO of SEMI (San Jose, CA).
Oct 1st, 2005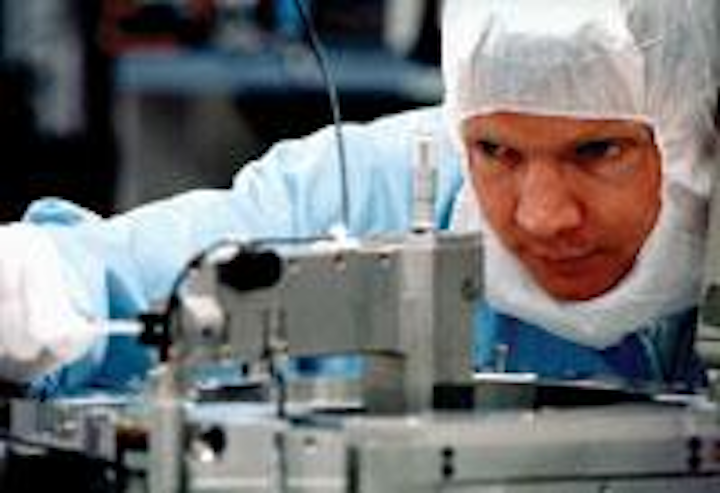 The 35th annual Semicon West conference and exhibition (July 11-1; San Francisco, CA) coincided with a forecast of a 12% decline in the capital-equipment market, which in a way was good news, according to Stanley Myers, president and CEO of SEMI (San Jose, CA). In the traditionally cyclical semiconductor industry, the current dip is relatively mild, particularly following a strong global equipment and materials recovery last year. Single-digit growth is expected (based on a consensus survey of SEMI members) to resume next year, returning to double-digit growth in 2007.
To some degree, the slight decline may have been evidenced in the show itself. The overall attendance figure of 43,815 was down about 12% from the 50,000 attendees last year. The exhibit-hall hours and space were consolidated into three days within the recently expanded Moscone Center spaces in San Francisco rather than taking five days stretched over San Francisco and San Jose. The mood throughout the exhibit floors, however, was upbeat. Talk of new products and promising business strategies seemed to be the rule rather than the exception.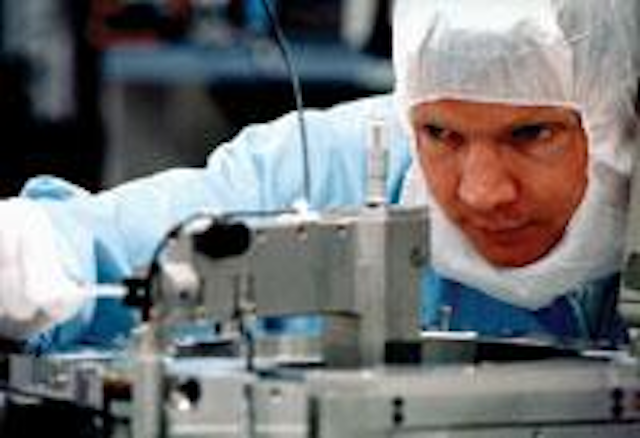 ASML's fourth-generation immersion lithography tool relies on a catadioptric lens design developed in collaboration with Carl Zeiss to achieve a numerical aperture of 1.2.
Click here to enlarge image
ASML (Veldhoven, The Netherlands) introduced its fourth-generation immersion-lithography tool, a 193-nm system with a numerical aperture of 1.2 for the 45-nm node based on a catadioptric lens design combining refractive elements with mirrors, which was codeveloped with Carl Zeiss SMT (Jena, Germany). The dual-stage platform enables performance of the dry metrology step on one wafer simultaneously with the immersion-exposure step on another, yielding a maximum throughput rate of 122 wafers per hour (see figure). Commercial shipments are expected to begin in the first quarter of 2006.
Newport (Irvine, CA) introduced several products focused specifically on semiconductor applications. A solid-state, 1-W ultraviolet (355 nm), quasi-continuous-wave laser was introduced by the company's Spectra-Physics Division for high-resolution inspection applications, as an alternative to current continuous-wave water-cooled UV ion lasers. Newport's refractive beam shaper, introduced more than a year ago based on technology obtained from IBM (Armonk, NY) for converting visible-wavelength Gaussian beams into flat tops, made a debut at Semicon West this year in two different wavelength ranges, NIR for applications such as marking and UV for applications such as flat-panel and wafer annealing.
ESI (Portland, OR) exhibited a wafer-ID reader with external dimensions of only 3 × 2 × 2 in. to occupy as little as possible of the expensive air space above the wafer. The reader was in beta testing during Semicon West; ESI stated that it might start taking orders for the product this month. CyberOptic Semiconductor (Beaverton, OR) displayed its robotic wafer-mapping sensor based on reflected laser signals, with a laser stripe reduced in size to 0.05 mm for detecting narrow wafer edges and a 3° vertical tilt in laser-beam direction to prevent erroneous wafer-detection signals caused by reflections from the back of the wafer holder.
Cutting, dicing, scribing
Synova (Ecublens, Switzerland) was describing advantages of its water-jet-guided laser cutting and dicing systems to potential semiconductor customers. According to the company, the device is particularly advantageous for thin wafers, in which it cuts faster than saws, for low-k wafers, which tend to be brittle and difficult to saw, and for compound semiconductors, often a problem for saws because of either brittleness or hardness (see Laser Focus World, May 2004, p. S15). The Synova laser is directed through a water jet by total internal reflection, which enables deeper and narrower cutting, along with efficient cooling and surface cleansing due to the water flow. The company had sold 50 machines as of July and was looking for new markets for precision machining that had been previously closed to lasers.
New Wave Research (Fremont, CA) exhibited laser scribing and cutting systems primarily intended for production environments. Originally focused on production of laser systems and modules for microelectronics and analytical instrumentation applications, the company boasts more than 6000 lasers installed worldwide. More recently, however, New Wave Research has started developing and marketing systems for highly competitive applications such as scribing of light-emitting diode wafers, repair of flat-panel displays, and failure analysis of semiconductors, which has rapidly become not only the company's fastest growing business segment, but also its largest market.
Cymer (San Diego, CA) unveiled the fourth-generation light source on its master-oscillator power-amplifier platform, a 193-nm, 6-kHz, argon fluoride light source for 45-nm immersion-lithography applications. Micronic Laser (Taby, Sweden) announced the opening of a an Asia Technical and Applications Center in Tokyo, which is the company's first tech center outside Sweden. About half of Micronic's business is in Japan and about 80% is in Japan, Korea, and Taiwan, so the company is expanding rapidly into Asia to maximize proximity as well as sensitivity to customer needs. Micronic is also shifting business emphasis to pay more attention to the display market, which although still representing less than one third of the company's business is growing much faster than the semiconductor market, which represents more than two thirds of current business.
"The capacity growth in the FPD market continues to be strong, driven by LCD-TV sales," said Sven Löfquist, Micronic president and CEO. "We are experiencing a strong demand for our advanced TFT-LCD pattern generators as display makers increasingly employ more advanced photomasks in their drive to reduce costs."
Hassaun A. Jones-Bey