New Products
The Diamonex line now includes new diamond-like coated glass for barcode scanning applications.
Nov 1st, 2005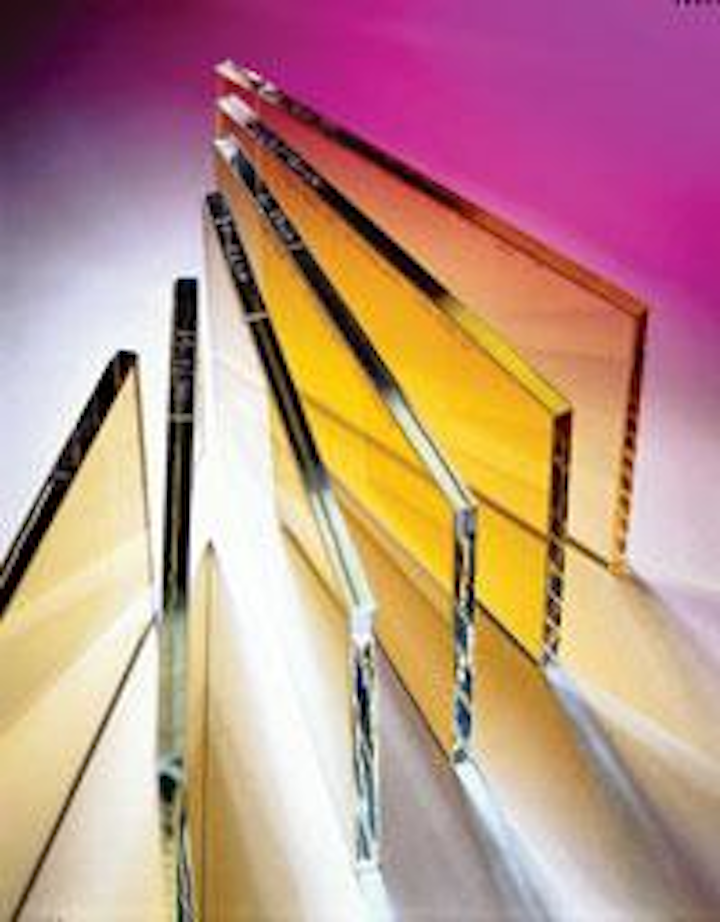 Diamond-like products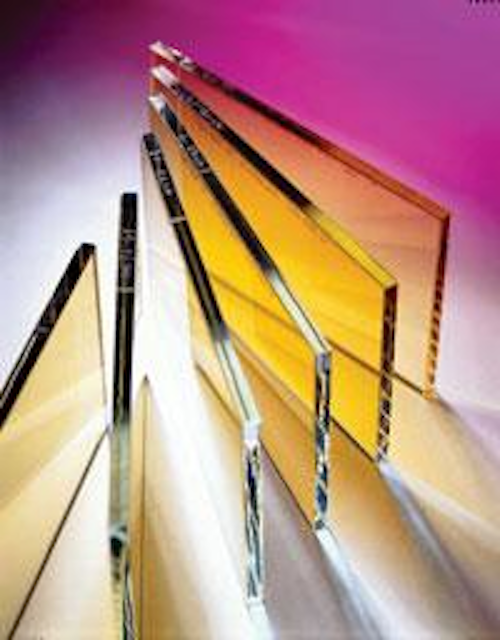 Click here to enlarge image
The Diamonex line now includes new diamond-like coated glass for barcode scanning applications. The coated glass offers high hardness, chemical resistance, and low friction, resulting in less rescanning. Everscan windows exhibit diamond-like properties lasting the lifetime of the scanner. Aegisglass Plus uses Diamond-like Carbon for abrasion-resistant qualities in barcode-scanner window applications.
Morgan Advanced Ceramics,
Fairfield, NJ
www.morganadvancedceramics.com
Galvanometer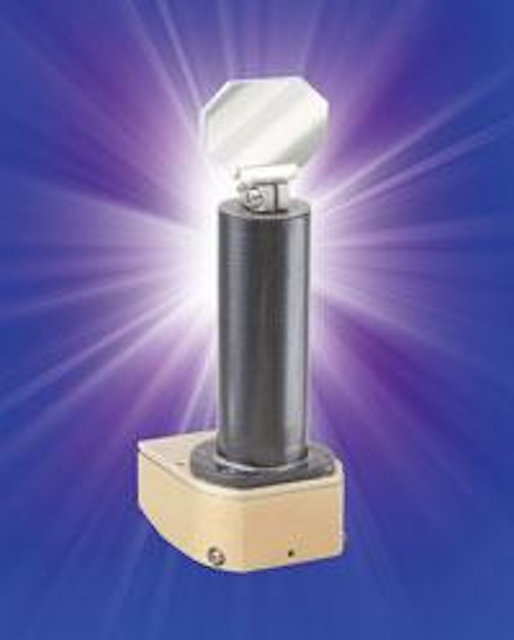 Click here to enlarge image
The QuantumScan-10 (QS-10) galvanometer is designed for 8- to 15‑mm-aperture mirrors. Features include increased strength magnets and low resistance/low inductance coils to provide a 40% increase in scanning speeds compared to previous models. A high-output position detector generates a 50-µA/° ouptut signal for high signal-to-noise ratio and 6-µrad repeatability.
Nutfield Technology,
Windham, NH
www.nutfieldtech.com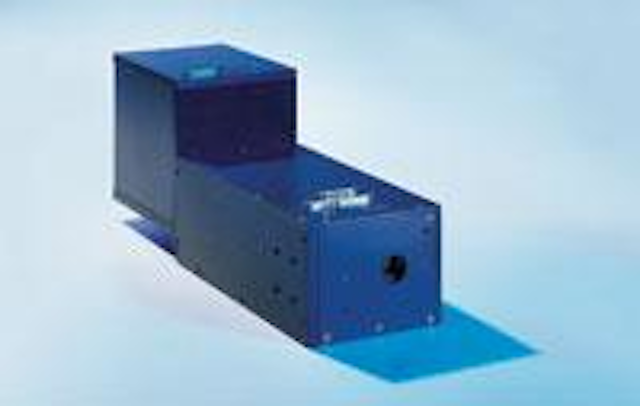 Click here to enlarge image
The Axialscan three-axis system produces tiny focused spots while processing large fields. It is now available with the RLT‑19 Linear Translator, which increases speed by more than 60%, allowing processing speeds faster than 16 m/s in a 500 × 500-mm field. The Superscan-SC-30 is also available for high-speed applications.
Raylase, Wessling, Germany
www.raylase.de
Machine-vision cameras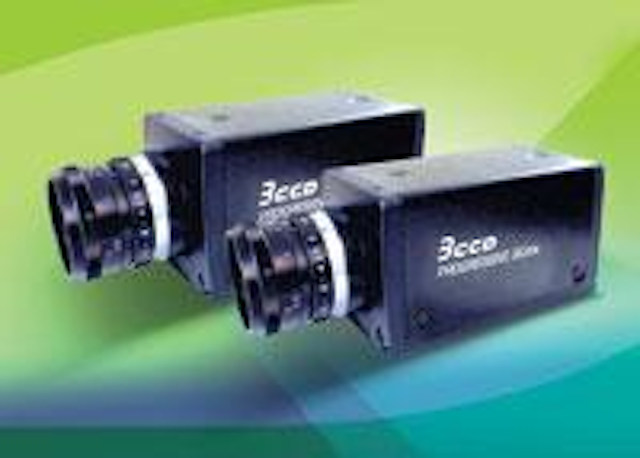 Click here to enlarge image
The enhanced models IK-TF5C and IK-TF7C 3CCD color machine-vision cameras are designed with Camera Link outputs. The IK-TF5 provides 180 frames/s and the IK-TF7 offers 90 frames/s. Both have 1/100 to 1/100,000-s electronic shutter capability and one-or two-pulse random triggering for prof-essional imaging applications.
Toshiba, Irvine, CA
www.cameras.
toshiba.com
Laser diode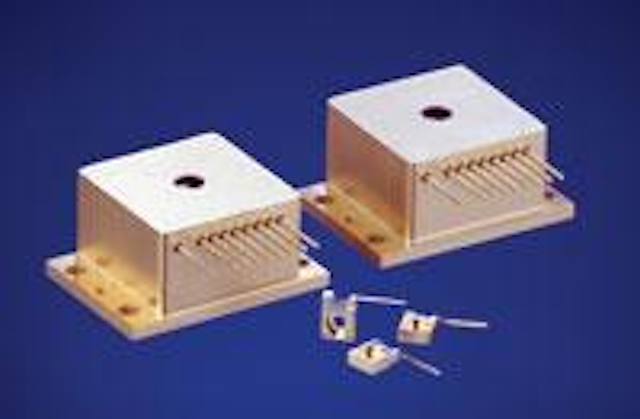 Click here to enlarge image
A near-IR laser diode emits 3-W CW power from a single 100-µm broad-area emitter. It utilizes proprietary MOCVD-grown laser structure and facet-passivation technology. Available in a C-mount or high-heat-load (HHL) package, this 808-nm, multimode laser diode can be used as a pump source for solid-state lasers and as a heat or illumination source for medical and industrial applications.
nLight, Vancouver, WA
www.nLight.net
Two-component epoxy
Click here to enlarge image
EP45HT MED is a two-component, heat-cure epoxy. It can withstand long-term exposure to temperatures from -80°F to 500°F and has a glass transition temperature higher than 185°C. It has a 100 to 30 mix ratio by weight and requires a minimum cure temperature of 250°F. It is 100% reactive and does not contain any solvents or diluents.
Master Bond, Hackensack, NJ
www.masterbond.com
Video storage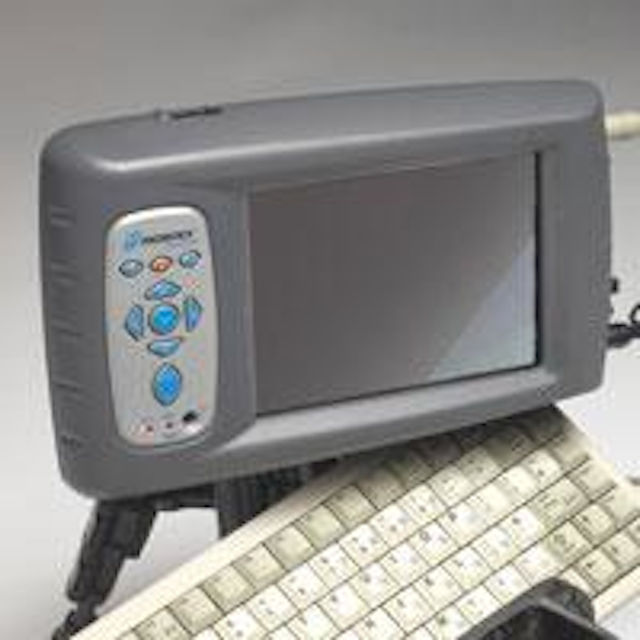 Click here to enlarge image
VideoStore is a portable video capture and storage device for on-site and laboratory applications. It can capture more than 500 still images in JPEG format or about three minutes of video clips in Motion-JPEG (Quicktime) compressed format on a removable 128-MByte CompactFlash card and is compatible with PAL, NTSC, composite, or S-video signals.
Moritex Europe,
Cambridge, England
www.moritex.com
LIBS modules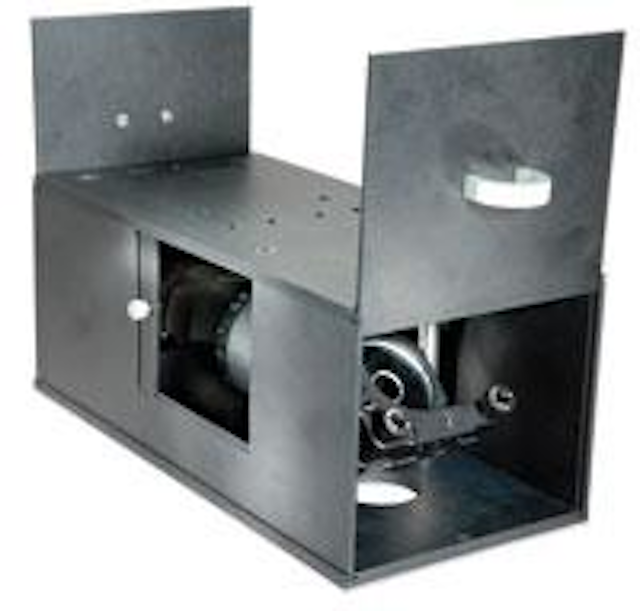 Click here to enlarge image
The LIBS-IM and LIBS-IM-C modules attach to the company's LIBS-SC sample chamber and allow users to magnify a sample image and precisely establish a laser ablation target on the sample. They are designed for applications including forensics, semiconductor analysis, botany, biomedical analysis, gemology, and metallurgy.
Ocean Optics, Dunedin, FL
www.oceanoptics.com
Color sensors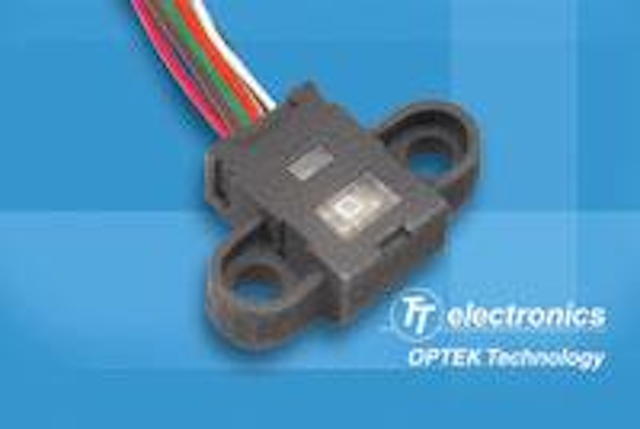 Click here to enlarge image
A sensor assembly is designed to electronically detect color differences in liquids or solids. It combines a white LED with a reflective color sensor chip in a plastic housing of less than 1/4 cubic in. The chip measures the hue, saturation, and luminance of light reflected from the sample and processes them through an algorithm.
Optek Technology,Carrollton, TX
www.optekinc.com
Toroidal mirrors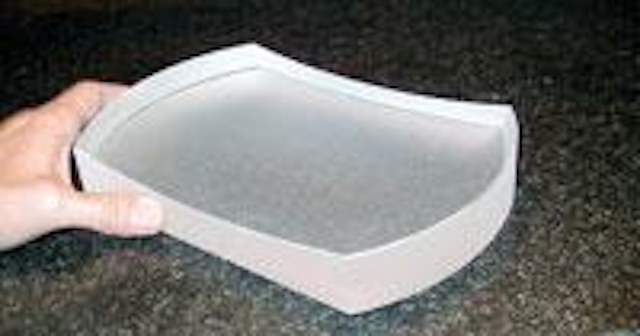 Click here to enlarge image
Custom toroidal mirrors are available for UV and IR spectrophotometry, crystallography, mass-spectrometry, and synchrotron applications. They are available in a range of materials, including Zeroduc, BK7, and fused silica, with a typical surface accuracy better than λ/5 and surface quality of 20:10 scratch dig. They can be plano-convex or plano-concave in a variety of shapes.
Optical Surfaces, Kenley, Surrey, England
www.optisurf.com
Lead-free diodes
The DL-6147-240 and DL-6147-040 lead-free laser diodes from Sanyo are designed for applications such as low-level laser therapy, medical imaging, industrial alignment, laser leveling, and barcode scanning. They produce 40 mW CW at 658 nm. They come in a 5.6-mm package and have threshold current of 30 mA, typical operating current of 65 mA, operating voltage of 2.4 V, and temperature range of -10°C to 60°C.
Photonic Products,
Hertfordshire, England
www.photonic-products.com
Windows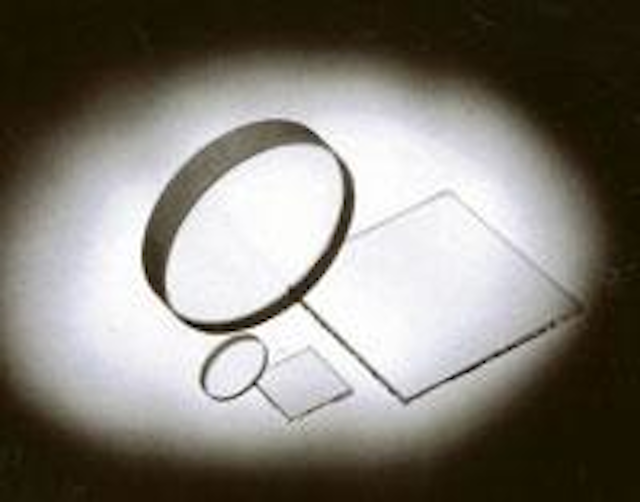 Click here to enlarge image
Optical-grade, heat-resistant, fused-quartz windows are custom-built to protect a CO2 laser from backsplatter during cutting and welding. They can be customized to size, scratch-dig quality, and flatness and can have faces polished or multilayer coated. Typical production time for 100 pieces is about 10 weeks.
Rolyn Optics, Covina, CA
www.rolyn.com
2-D, 3-D beam profiling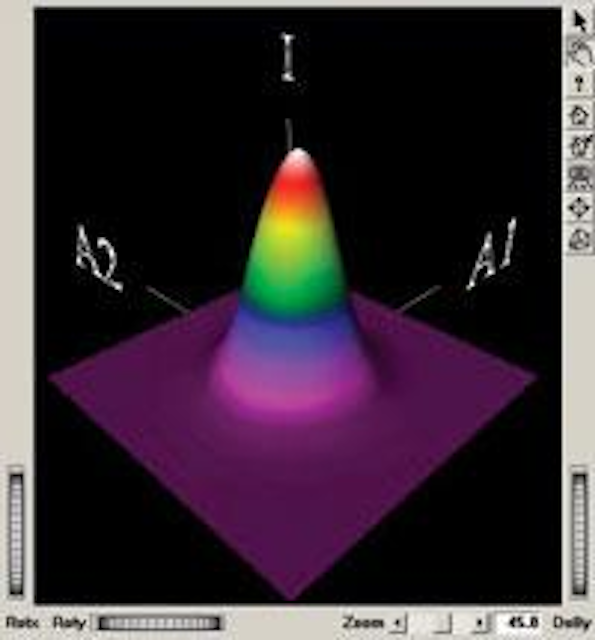 Click here to enlarge image
The NanoScan beam profiler has 2-D and 3-D beam profile visualization. It uses a scanning-slit-beam profiling technique to generate two orthogonal linear profiles. Detector options are silicon for 350 to 1000 nm, germanium for 700 to 1800 nm, and pyroelectric for 190 nm to 20 µm.
Photon, San Jose, CA
www.photon-inc.com
Green pump lasers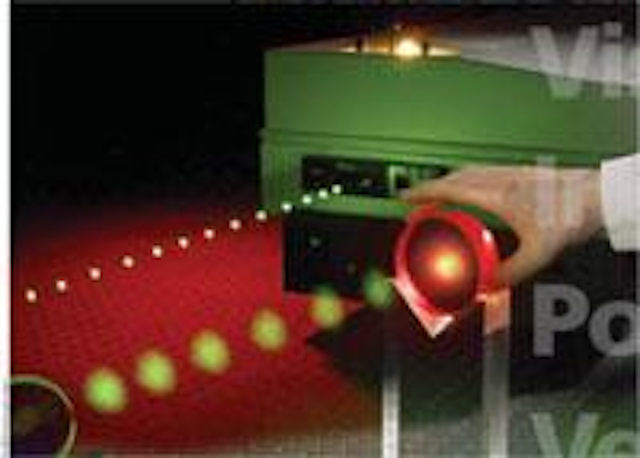 Click here to enlarge image
The Powerlite Plus laser from Continuum delivers 2J of output power at 532 nm for pumping Ti:sapphire laser systems designed to fullfil the scientific community's desire for more green energy. The laser delivers more energy than its predecessor while maintaining beam quality.
Photonic Solutions,
Edinburgh, Scotland,
www.psplc.com
Zoom lenses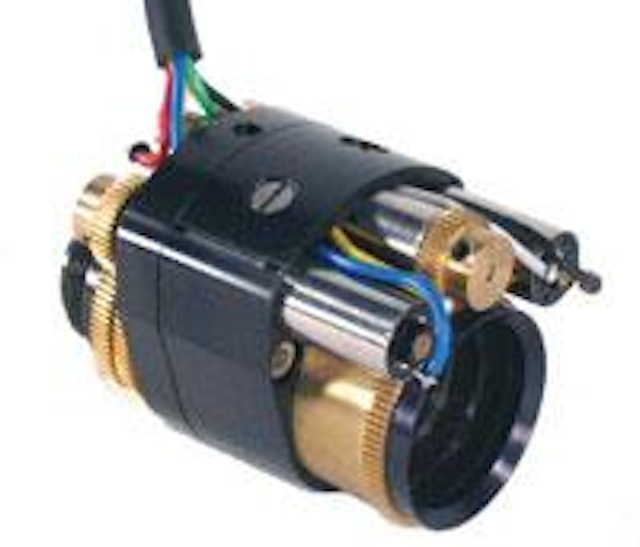 Click here to enlarge image
A range of miniature ƒ/2.8 color zoom lenses matches the resolution of color CCTV cameras. The type 207 range of lenses measures 50 × 34 × 31 mm and can focus from infinity to an object 35 mm in front of the lens. The lenses are used with single-chip 1/2-in. and 1/3-in. CCTV cameras in broadcast, industrial inspection, and robotics.
Resolve Optics,
Buckinghamshire, England
www.resolveoptics.com
Femtosecond optics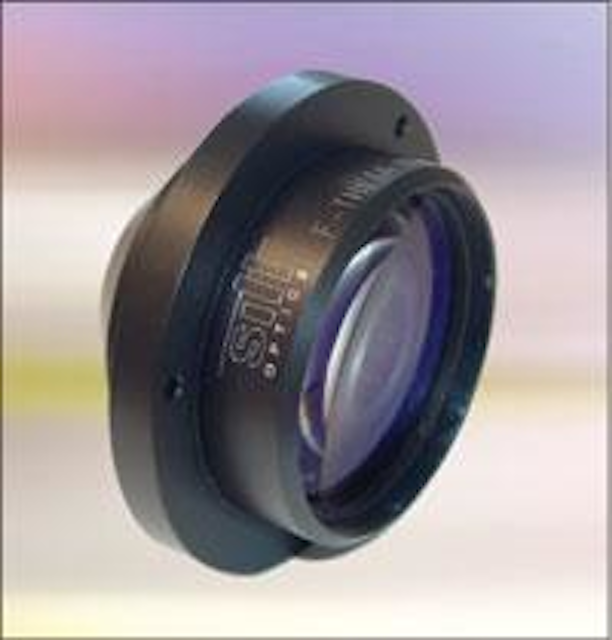 Click here to enlarge image
Beam achromatic expanders and f-theta objectives are designed for use with femtosecond lasers. The optics are designed to take into account the fact that normally dispersive media like glass impose a positive frequency sweep on a femtosecond pulse. The optics minimize the chirp on the pulse.
Sill Optics, Wendelstein, Germany
www.silloptics.de
Photon counter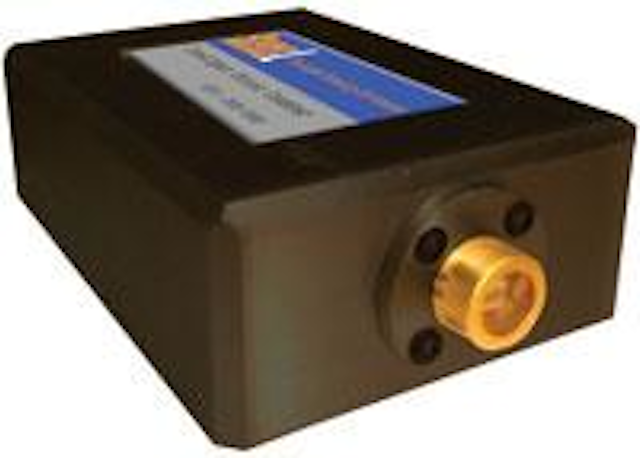 Click here to enlarge image
A solid-state photon-counting sensor, the PCMPlus incorporates microprocessor-based dynamic setting and control to become an intelligent counter. The silicon sensor is based on shallow-junction Geiger-mode avalanche photodiode technology. It has QE of 45% at 655 nm, a spectral range of 400 to 850 nm, and a dynamic range of 1 to 10M counts/s.
SensL, Cork, Ireland
www.sensl.com
Protection sleeves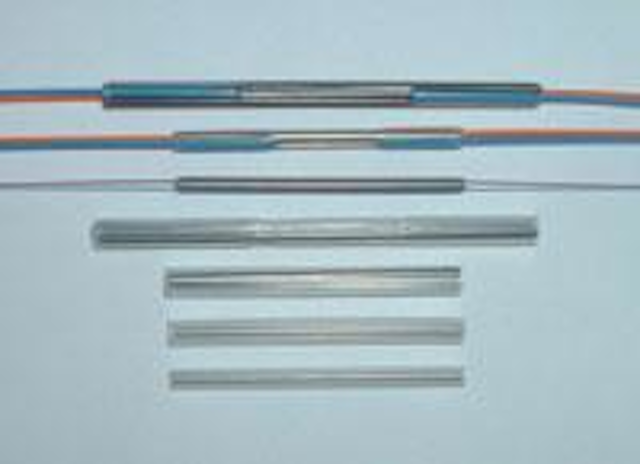 Click here to enlarge image
The Dual Fiber Series fusion-splice protection sleeves provide individual conduits for two fibers in one sleeve. They are available 40 and 60 mm long, with an after-shrink diameter as small as 2.1 mm. The two inner melt-EVA adhesive tubes, two stainless-steel strength members, and one outer polyolefin heat-shrink tube are heat bonded.
Splice Technologies, Yaphank, NY
www.splicetechnologies.com
Spectroradiometer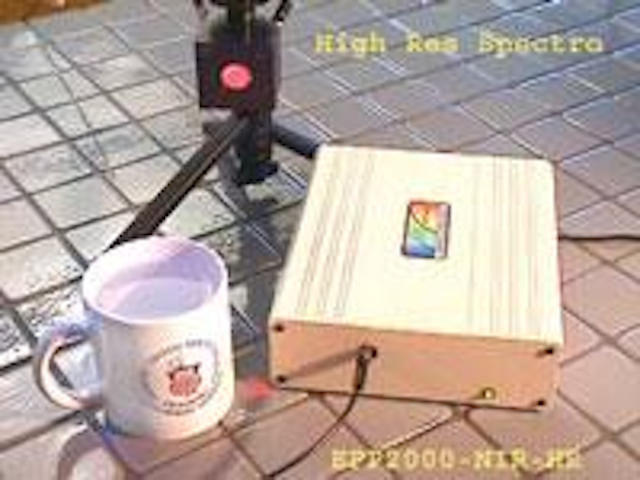 Click here to enlarge image
The EPP2000-UVN-SR spectroradiometer covers the 200- to 1100‑nm range. Optics include a UV-enhanced 2048-pixel CCD detector with a composite grating that provide 0.75-nm resolution with a 14-µm slit. An integrated order-sorting filter and detector lens allow the instrument to be calibrated for measurement of absolute and low-level light intensities.
StellarNet, Tampa, FL
www.stellarnet.com
Speckle line reducer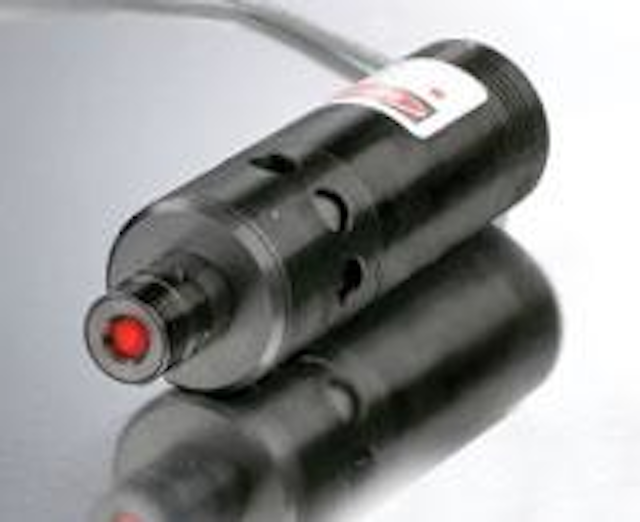 Click here to enlarge image
The Lasiris reduced-speckle line generator diminishes the speckle content in standard lasers to increase the accuracy of machine-vision profiling applications. The module provides low spatial coherence and a spectrally broadband beam. It is available in 680- and 810-nm versions.
StockerYale, Montreal,
Quebec, Canada
Spectrometer
Click here to enlarge image
The CompactSpec II spectrometer is based on xenon flashlamp technology for process applications. An internal electronic multiplexer provides multiple measurement channels. A solarization-free UV light guide measures down to 195 nm. It comes in a stainless-steel cabinet with a process computer and TFT touchscreen for use in hazardous environments.
tec5USA, Plainview, NY
www.tec5usa.com
Linear motors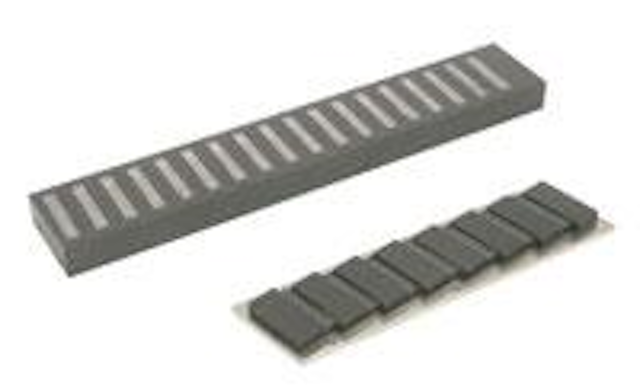 Click here to enlarge image
The BLMFS5 Series "flat" linear motors utilize a proprietary manufacturing process and laminated iron-core design to provide 25% more power, in an equivalent envelope, than competing models. The motors provide a continuous force of up to 377 N and a peak force of up to 1500 N. Features include a steel-core forcer coil, unlimited travel length and optional water-cooling.
Aerotech, Pittsburgh, PA
www.aerotech.com
Thermal-sensor modules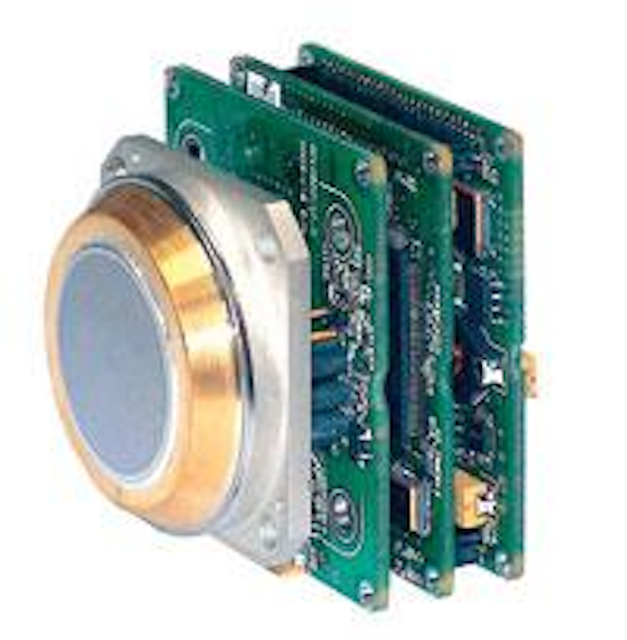 Click here to enlarge image
The IR112 thermal-sensor module is based around a 384 × 288-pixel array of 35-µm square pixels fabricated from amorphous silicon. It uses 40% more pixels for 8- to 14-µm infrared imaging applications. The uncooled microbolometer array has been designed for integration into third-party thermal-imaging camera systems. Features include plug-and-play with standard video output (PAL/NTSC) and a built-in FireWire 1394.
Armstrong Optical,
Northants, England
www.armstrongoptical.co.uk
Confocal microscope
The Revolution 488 confocal microscope uses a single-line 488-nm laser line, from either an argon or DPSS source. It is suited for rapid, sensitive fluorescence 3/4D imaging of GFP and Fluo dyes. The Fluo indicator family is used to monitor rapid changes to intracellular calcium ion (Ca2+) concentrations. The microscope provides frame rates of up to 1000 s-1.
Andor Technology,
Belfast, Northern Ireland
www.andor.com
Replacement lenses
Kodak replacement lenses have been added to the company's current line of precision-molded glass aspheric lenses. Kodak A414, A365, A375, A390, and A397 designs are available. The L110, L170 as well as 10 and 12.5 EFL lenses are also in production. The molded lenses are produced using the proprietary PerfectLens technology platform.
Archer OpTx, Rowlett, TX
www.ArcherOpTx.com
Laser assembly services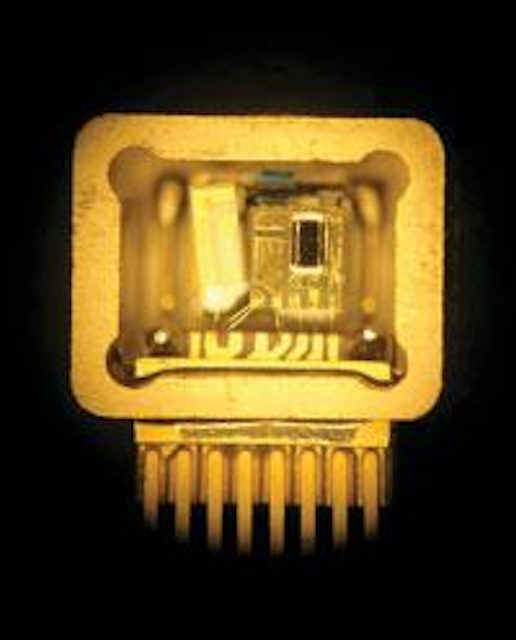 Click here to enlarge image
Laser assembly services are available, including design, prototyping and volume manufacturing, supported by modeling tools and production equipment. Particular expertise is offered in laser assembly for high-frequency RF designs for applications such as modulated lasers. Modeling tools include electrical/RF, optical, thermal and mechanical analysis.
Avo Photonics, Horsham, PA
www.avophotonics.com
Laser module withAC adapter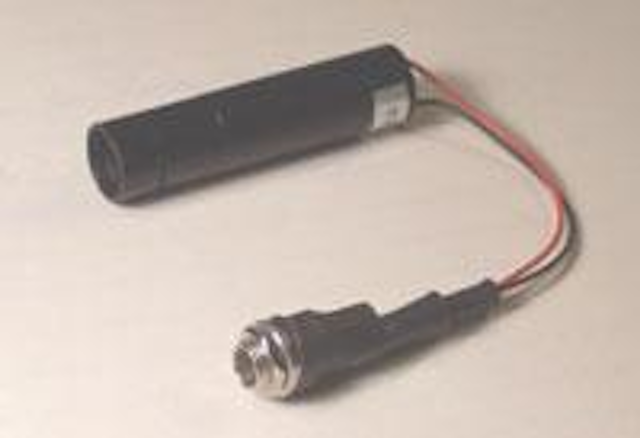 Click here to enlarge image
The new Model 150P Series laser module with AC power adaptor plugs directly to an AC power supply, producing 6-V DC. The 635 nm and 650 nm versions provide outputs of 3, 5, and 7 mW, suitable for applications including alignment, event/edge detection, leveling, metrology, position, robotic control, and security usages.
BEA Lasers, Elk Grove Village, IL
www.bealasers.com
Laser-beam profiler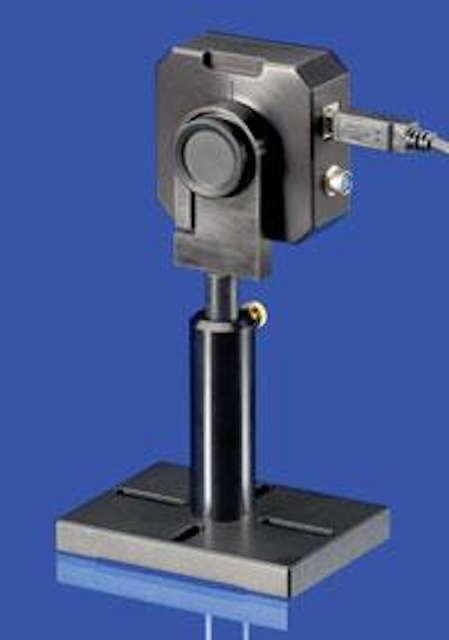 Click here to enlarge image
The LaserCam HR is a compact laser-beam profiler that uses a USB 2.0 camera to enable plug-and-play connectivity, eliminating the need for a frame-grabber card in the host computer. It features a 1.3-megapixel (1280 × 1024) sensor, which characterizes CW and pulsed laser beams in the 0.26- to 6-mm-diameter range, with spectral sensitivity from 300 to 1100 nm. BeamView software is included.
Coherent, Santa Clara, CA
www.Coherent.com
Network camera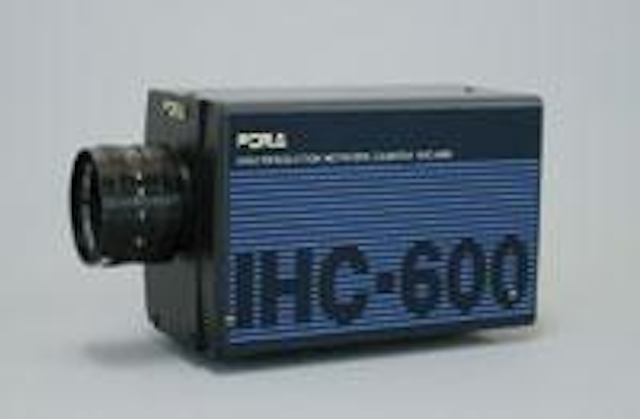 Click here to enlarge image
The IHC-600 network camera is designed for LAN surveillance systems with a 2880 × 2160-pixel picture for a resolution of 6 million effective pixels, an internal digital recorder and a network interface. The LAN port allows users to deploy distance surveillance via Ethernet, allowing an unlimited number of cameras to be connected, and up to four units displayed and controlled at one time via the computer monitor.
FOR-A, Cypress, CA
www.for-a.com
Ultrafast laser series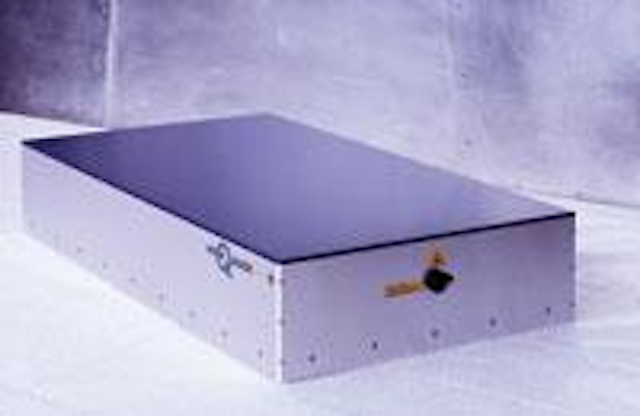 Click here to enlarge image
The picoNOVA and femtoNOVA are newly developed cavity-dumped, modelocked lasers. The picoNOVA provides pulse energy of up to 1 µJ with a peak power ca. 100 kW and pulse duration of 7 ps at 1064 nm. The femtoNOVA operates at 800 to 900 nm and 1030 to 1045 nm. It provides pulse energy of up to 0.5-µJ, peak power of approximately 1 MW and pulse duration of 300 fs. Both have free triggerable repetition rates of up to 1 MHz.
High Q Laser, Hohenems, Austria
www.highqlaser.com
Machine-vision camera
The TM-1325CL is a miniature, monochrome, progressive-scan CCD machine-vision camera. It has a resolution of 1.4 megapixels with an output of 30 frames/s at full resolution. Features include asynchronous reset with a no-delay shutter of up to 1/16,000 or pulse-width exposure control. An incorporated, patented look-up table (LUT) allows full dynamic range control of the CCD.
JAI PulNiX, San Jose, CA
www.jaipulnix.com
Digital cameras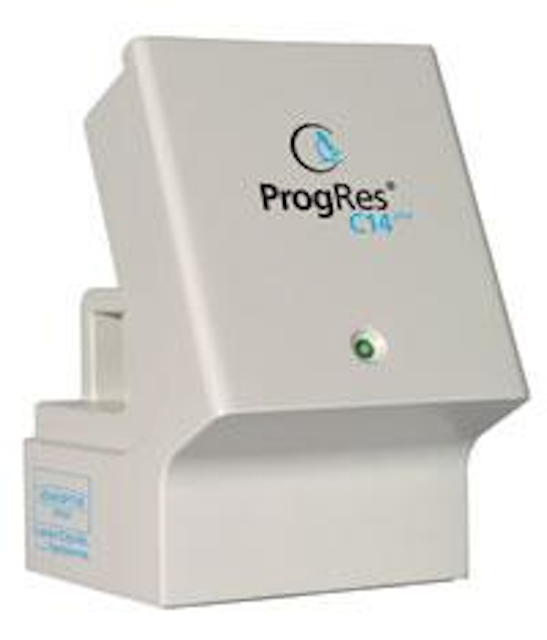 Click here to enlarge image
The new ProgRes C14plus and ProgRes CFscan digital cameras are designed with microscanning and color co-site sampling capabilities. The ProgRes C14scan offers true color-image information without any interpolation. The ProgRes CFscan provides images of up to 4080 x 3072 pixels in 14 bit RGB.
Jenoptik Laser, Jena, Germany
www.jenoptik-los.com
1.54-µm DPSS microlaser
The MK-88 is a DPSS 1.54-µm microlaser measuring 0.7 × 1.9 × 2.4 in. with a repetition rate of 10 Hz. It provides 5‑mJ output in a 7-ns TEM00 pulse. The laser uses an Er-Yb co-doped phosphate glass. Applications include use in laser rangefinder,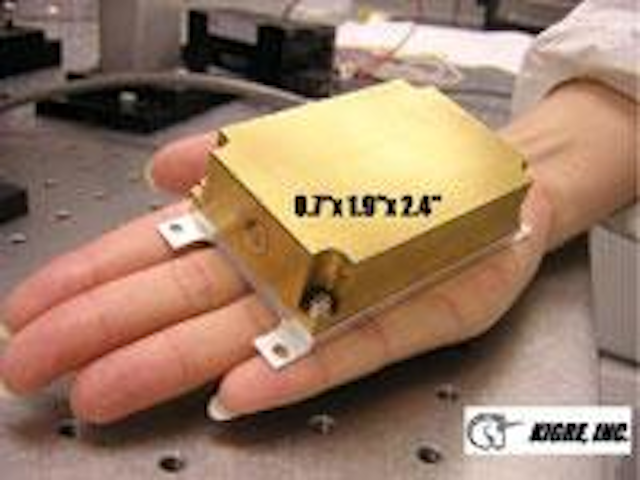 Click here to enlarge image
radar, or range-gated imaging systems as well as use as an eye-safe plasma source for laser-induced breakdown spectroscopy.
Kigre, Hilton Head, NC
www.kigre.com
High-pressure syringe pump
Click here to enlarge image
The new KDS 410 is a high-pressure syringe pump. It works with syringes of 10 µl up to 140 ml with flow delivery from 1 nl/min to 145.5 ml/min. The pump is designed for delivery of flow to chemical reactors or fluids to pressurized reactors or for viscous fluids.
KD Scientific, Holliston, MA
www.kdscientific.co