Manufacturers' Product Showcase
The Spectra-Physics Solstice™ sets the industry standard for one-box ultrafast amplifier stability and reliability.
Oct 1st, 2008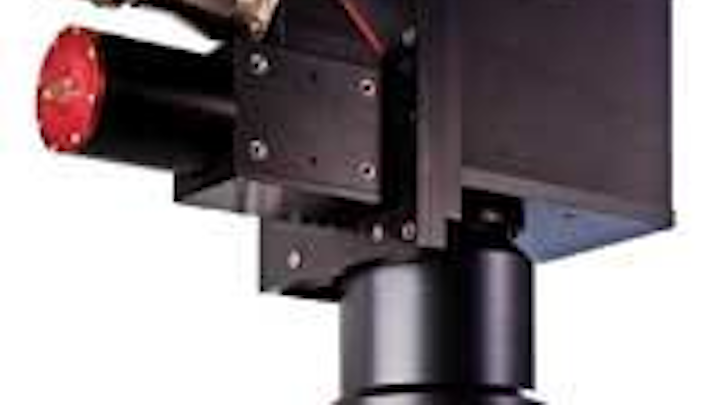 Solstice® One-Box Ultrafast Amplifier
Click here to enlarge image
The Spectra-Physics Solstice™ sets the industry standard for one-box ultrafast amplifier stability and reliability. Built to deliver hands-free, performance and ultra stable operation, it utilizes the same field-proven optical design as the industry-leading Spectra Physics Spitfire® Pro XP. Fully integrated in a single, compact enclosure the Solstice delivers an average power >2.5 W, high contrast pulses <100 fs, and a superb quality beam of M2 <1.3.
Phone: 800-775-5273 • www.newport.com/Solstice5
---

Deep UV from the Maya2000 Pro
Click here to enlarge image
The new Maya2000 Pro spectrometer from Ocean Optics is the perfect solution for applications that demand low light-level, UV sensitive operation. This back-thinned, 2D FFT-CCD, uncooled instrument offers greater than 90% quantum efficiency, high dynamic range and UV response as low as 180 nm and lower. The Maya2000 Pro features a USB 2.0 interface and low-noise electronics. Plus, you can choose from 14 grating options and a variety of slits from 5 to 200 μm to make your Maya2000 Pro a customized solution for your application. For deep UV and high quantum efficiency, there's nothing quite like the Maya2000
Ocean Optics World Headquarters
www.oceanoptics.com • info@oceanoptics.com
Tel.: (727) 733-2447, Fax: (727) 733-3962
---

QWIPCHIP™ LWIR Focal Plane Array — 1024 × 1024 See in Greater Detail
Click here to enlarge image
QWIP Technologies, a subsidiary of Cantronic Systems, Inc. offers the QWIPCHIP™, a Long Wave Infrared (LWIR) Focal Plane Array. With its exceptional LWIR definition, this QWIP-CHIP™ FPA lets you see in greater detail. Various grades and custom designs are available from 2.7 to 28 microns. QWIP also offers integrated detector cooler assemblies (IDCAs.) Other sizes/resolutions available. Please call for details.
For more information: www.qwip.com • www.cantronics.com mmandell@cantronics.com
QWIP Technologies
499 Nibus Street, Suite D, Brea, CA 92821
Phone: (714) 529-7947, Fax: (714) 529-7946
---

Silicon Materials & Optics
Click here to enlarge image
Novotech is proud to announce we now offer Optical Grade Silicon. Novotech is a manufacturer and supplier of Germanium, ZnSe, ZnS and Si. We specialize in infrared optical fabrication, lens generating, windows, and custom optics. Sieved evaporation materials and sputtering targets are also sold. We can purchase and recycle your spent optics and slurries. Novotech's team of experienced engineers will guarantee product specifications with quick delivery. Our prices remain very competitive.
---

Spiricon: Laser Beam Profiling Software
Click here to enlarge image
Ophir-Spiricon, the global leader in precision laser measurement equipment, introduces its latest version of LBA, the company's high accuracy laser beam analysis software. LBA measurement precision is based on Ultracal™, the company's patented, baseline correction algorithm that helped establish the ISO 11146-3 standard for beam measurement accuracy. LBA also features a Pointing Stability program that collects centroid and peak power and graphically displays them in real-time; critical for maintaining accuracy in welding, laser manufacturing, and military range finder applications.
www.ophir-spiricon.com • (866) 755-5499
---

CARGILLE LABORATORIES
55 COMMERCE ROAD
CEDAR GROVE, NJ 07009 USA
PH: 973-239-6633
FAX: 973-239-6096
EMAIL: CargilleLabs@aol.com
www.Cargille.com
Click here to enlarge image
Cargille Labs, started in 1924, develops and manufactures Optical Liquids calibrated for Refractive Index for use throughout many laboratory disciplines involving microscopy and/or optics, ex: aerospace, telecommunications, particle identification, hematology, geology, testing labs, art conservation, etc. A Specialty Optical liquids catalog is available which includes typical optical & physical properties and comparative diagrams of glasses and optical liquids. Cargille's other catalog includes data sheets on Disposable Beakers, Heavy Liquids, Immersion Oils, Refractive Index and Immersion Liquids, Plastic Boxes, Reference Sets, Sample Storage Systems, Micro Slide and Tissue File Boxes and Viscosity Tubes.
Cargille's major products: Refractive Index Matching Liquids, Optical Coupling Liquids, Immersion Oils, Meltmount™ Mounting Media packages, Optical Gels, Fused Silica matching liquids, high Refractive Index melts, glass & mineralogical reference standards and slides for microscopy, Heavy Liquids and Sink-Float® density standards.
---

Universal Laser System — Laser Engraving Solutions
From tool marking to gaskets, to degating, part marking, channel etching and pad printing, Universal Laser Systems® comprehensive line of upgradeable CO2 laser systems' cut, mark and engrave on a variety of materials.
Click here to enlarge image
As the industry's only laser system manufacturer that manufacturers and seamlessly integrates CO2 laser, laser system and Laser Interface+™ print driver for improved operation, optimized workflow and expanded applications, Universal's solutions offer engraving areas from 16×12 inches (406×305 mm) to 48×24 inches (1219×610 mm) and laser power from 10-150 watts. With Rapid Reconfiguration™ customers can quickly change laser power in seconds without tools.
Universal's product line is designed to meet the demands of custom, one-off items to identical mass-produced parts.
7845 E. Paradise Lane, Scottsdale, AZ 85260
800-859-7033 or 480-483-1214 (Phone)
moreinfo@ulsinc.com • www.ulsinc.com
---

CO2 Laser —OEM Solution
Universal Laser Systems® offers a complete line of air- and water-cooled CO2 RoHS compliant lasers. The compact, reliable, high performance CO2 lasers provide for easy integration into all types of OEM system configurations. With Universal's advanced technology, all CO2 lasers are RF-excited with an internal tickle and can be operated from CW to their maximum modulation frequency. Universal's innovations such as TTL temperature warning output guards against overheating, and new fault indicator LED.
Click here to enlarge image
Leverage Universal's advanced CO2 laser technology and tailor an advanced laser solution for your specific business challenges and requirements. www.co2laser.com
7845 E. Paradise Lane, Scottsdale, AZ 85260
800-859-7033 or 480-483-1214 (Phone)
moreinfo@ulsinc.com • www.ulsinc.com
---

White Light Lasers
Up to 5 W of power, distributed across 400-2500 nm, in a collimated laser beam
Click here to enlarge image
Optical supercontinuum systems offered by Fianium, Inc. generate coherent laser emission across visible and near-IR. Based on compact ultrafast fiber lasers combined with photonic crystal fiber, these systems deliver up to 5 W of power in a collimated Gaussian beam.
It is also ultra-fast! Depending on wavelength, the pulse duration ranges from 0.4 to 10 ps. Repetition rate of these systems varies from 1 MHz to 40 MHz, so it can be used in applications requiring pulsed or quasi-CW sources.
Fianium, Inc.
858 West Park Street, Eugene OR 97401
www.fianium.com