Moore's Law thrives
At the 2003 SPIE Microlithography meeting (Feb. 27–28; Santa Clara, CA), representatives of the optoelectronics world held court on topics mundane and esoteric—including Moore's Law, which predicts an exponential rise in the capacity of computer chips.
Apr 1st, 2003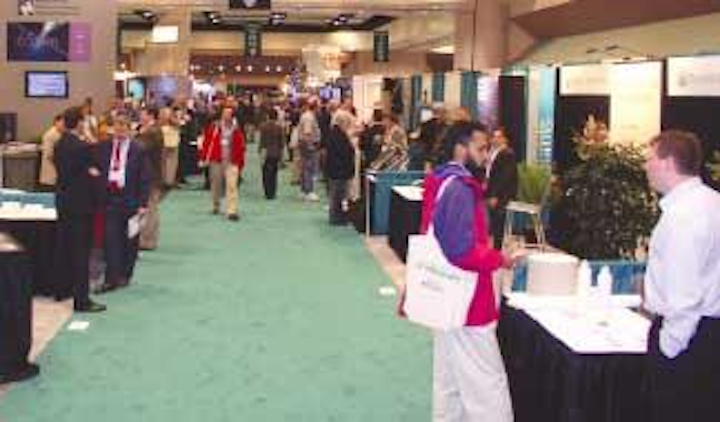 At the 2003 SPIE Microlithography meeting (Feb. 27–28; Santa Clara, CA), representatives of the optoelectronics world held court on topics mundane and esoteric—including Moore's Law, which predicts an exponential rise in the capacity of computer chips. The idea of a $6 million mask set or a $50 million extreme-ultraviolet (EUV) next-generation lithography tool seems to indicate the end of the line in terms of continuing to increase the number of transistors on a chip. But as Chris Mack, vice president of lithography technology at KLA-Tencor (San Jose, CA), pointed out to an overflow crowd at the plenary session, even Gordon Moore revised his "law" to match changing conditions after its initial publication in 1965.
"There's nothing forcing any of this to happen," he said. "We just do it because we want to." He argued that the rate of progress according to Moore's Law is no longer and perhaps never has been technology driven by shrinking feature sizes, growing chip sizes, and improved designs. Continuing those trends to 2025, for instance, would call for $1000, 3 × 6-in. chips on 32-in. diameter wafers created in $1 trillion fabrication facilities.
The volume-dependent economic drivers of lower cost per function, enabling of new applications, and increasing volume requirements can be seen as the real drivers of semiconductor technology growth today. "For the last decade, Moore's Law has not been about scaling up, but about scaling down," he said. "We can already put more devices on a chip than the market wants."
Faster, deeper cycles
The nature of the demand has changed with the market change from high-margin corporate buyers to low-volume consumer buyers. So technology cycles are speeding up, according to Klaus Rinnen, chief analyst and director of semiconductor electronics at Gartner-Dataquest (Stamford, CT). And faster technology cycles are deepening the economic cycles in an industry, in which, as Mack pointed out, a two- to three-year rise time in building fabs and producing chips is perpetually chasing a rise and fall time for production of chips on the order of six months. So despite an average 15% average annual growth rate going all of the way back to 1961, the cyclical nature of the semiconductor business is likely to get worse before it gets better.
And although the market pull rather than the technological push is now clearly in the driver's seat, technological innovation delivered at a reasonable cost is still the enabler. An evening seminar of the BACUS technical group of mask makers, equipment suppliers, and mask users discussed how they might meet the need for innovation without having to come up with a $6 million mask set. They generally agreed that improved communication and integration of technology elements, such as finding ways to channel technologies from the fab and from wafer toolmakers into less expensive mask making, are needed, along with new business models to facilitate such cooperation.
Pit of the stomach
Despite numerous assurances about Moore's Law, a continuous flow of innovation in the technical sessions, discussion of developing new business models, great attendance at the meeting, and what Dan Hutcheson, president of VLSI Research (San Jose, CA) described as the economic components for an impending market upturn, news like the layoff of 4000 people at Agilent (Palo Alto, CA) still left an unsettled feeling in the pits of even the most hardy Silicon Valley stomachs.
The economy is actually in a recovery, sustaining a 3% growth rate. And despite a high unemployment rate, overall employment and consumer spending are up, according to Hutcheson. He predicted slow but difficult growth in 2003 at the rate of 6% for chips and 11.2% for equipment, with accelerated improvement expected in 2004. He added that clearing up political issues with Iraq and Korea might even lead to an economic boom.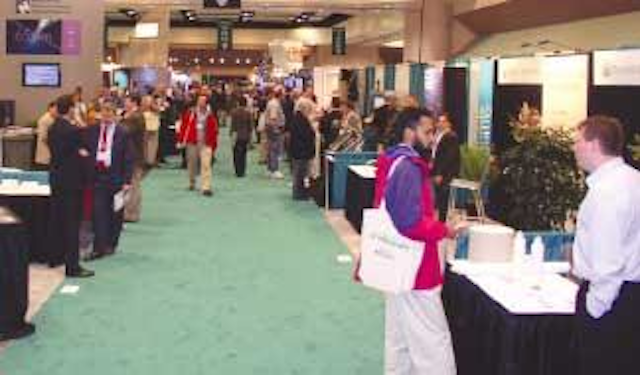 Overall attendance at the annual SPIE Microlithography meeting was up 10% and exhibit walk-in attendance was up 47% over last year.
Click here to enlarge image
null
Nevertheless, even though the technology is there, industry is not spending to support it, and Hutcheson drew historical parallels that were simultaneously disturbing and intriguing. "The last time that we had three years of decline in the stock market was between 1939 and 1941, at the outbreak of World War II," he said. "And if the decline continues into the beginning of next year, it will be similar to the four years of decline leading up to 1929" and the beginning of the Great Depression.
In 1929, the new killer technology was radio. "RCA was the dot-com of its time and its stock did not come back to its 1929 high until the 1960s," Hutcheson said. "Today Internet growth has continued unabated, just as radio did after 1929. The stock market doesn't always drive technology."