Developers press for hang-on-the-wall TV
Direct-view displays that are larger than 40 in. diagonal but are flat and lightweight enough to hang on a wall have been a goal of developers since the 1960s, and recent developments may finally mean that cost-effective displays will soon be available. Japanese companies Fujitsu and NEC recently announced that they will spend billions of yen to begin large-volume production of plasma displays by 1996, and Sony will commercialize an alternative technology. Maturation of large-area printing and f
Oct 1st, 1995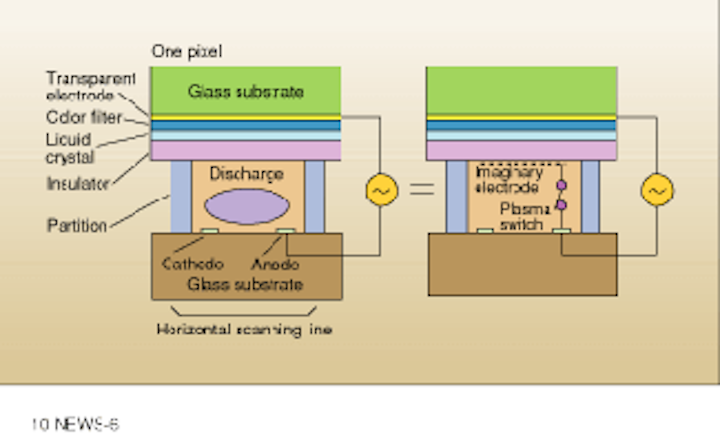 Developers press for hang-on-the-wall TV
Chris Chinnock
Direct-view displays that are larger than 40 in. diagonal but are flat and lightweight enough to hang on a wall have been a goal of developers since the 1960s, and recent developments may finally mean that cost-effective displays will soon be available. Japanese companies Fujitsu and NEC recently announced that they will spend billions of yen to begin large-volume production of plasma displays by 1996, and Sony will commercialize an alternative technology. Maturation of large-area printing and fabrication techniques promise to make these displays much more affordable than other technologies. The primary market for these displays will be high-definition TV (HDTV) to serve the emerging multimedia needs of consumers and computer users.
Projection systems are often used to display images in the 40-60-in.-diagonal range. Both front-view and rear-view projection systems are now in transition from CRT-based to LCD-based technologies. But front projection requires a theater-like room, and rear-projection systems are still quite large because of the optics. Direct-view CRT systems can be made up to 30 in. diagonal, but they are very large and bulky, too. Traditional active-matrix liquid-crystal displays (AMLCDs) have been demonstrated as large as 21 in. diagonal, but, because they require photolithographic techniques for fabrication, they are not expected to be able to be made bigger than this economically.
Large-area plasma displays
What many users prefer is a large wall panel that becomes the TV or multimedia display. As a result, most groups have been working on plasma-display devices. Plasma-based displays are competitive in this size range because they can be manufactured with low-cost/high-yield printing techniques instead of expensive photolithographic methods. Such printing techniques can also be readily scaled to larger displays.
NEC and Fujitsu both plan to build new production facilities to manufacture ac-driven plasma displays. These devices operate similarly to fluorescent light bulbs; they use a voltage to ignite a gas, forming a plasma. To make a display, manufacturers segment gas pockets into pixels, which are individually addressed. Colored phosphors are deposited at each pixel site to form a full-color display. Such displays have proven to have good contrast ratios (>40:1), high brightness (>200 cd/m2), and wide viewing angles (160°).
Fujitsu already sells a 21-in. display primarily for public viewing applications such as stock exchanges and transportation centers. Its plans call for investing 䂰 billion in a new line that would enable production of 10,000 devices per month by 1996 and 100,000 devices per month by the year 2000. It plans 42- and 55-in. products in the HDTV 16:9 format.
NEC has similar plans calling for an 䃄 billion investment to reach production of 150,000 devices per month by the year 2000. Volume production should also help bring prices down. For example, NEC spokesman Joe Schmidt says that he expects pricing in 1996-1997 to be "about 䁾,000 per diagonal inch." That translates to less than $5000 for a 42-in. display.
Sony announced that it will commercialize another technology(plasma-addressed liquid-crystal displays (PALCDs)--that it licensed from Tektronix (Beaverton, OR). Sony is being assisted in its commercialization effort by Technical Visions (Beaverton, OR). President Tom Buzak notes, "The plasma-addressed liquid-crystal display is not a plasma display at all, but an AMLCD with a different type of transistor. The difference is that you replace the silicon transistor with a gas or a plasma switch." As a result, fabrication can be accomplished with low-cost/high-yield printing techniques as with plasma-display devices (see figure). However, PALCDs use the same polarizers, backlights, and color filters as AMLCDs.
The performance of a PALCD is also like an AMLCD, which means it can be made quite bright for high ambient viewing and requires much lower power than conventional plasma displays. However, there is a trade-off: the viewing angle is similar to today`s laptop displays, which is only about 90°. But Sony says this problem will be corrected in production units. Initial products, due in 1996, will be targeted toward business and public viewing applications. "Widescreen TV for the Nagano Winter Olympics is the rallying cry and target toward which we are all driving," says Fujitsu`s vice president of corporate strategic planning, Tom Miller.
Ultimately, however, wide-screen TV/HDTV consumer products are the main goals of these development efforts. But computer users could benefit as well. Work is also underway that will permit higher resolutions for workstation or multimedia applications in a few years. This application will free up significant amounts of desk space, which is at a premium, particularly in Japan.
CHRIS CHINNOCK is a technical writer based in Norwalk, CT 06850.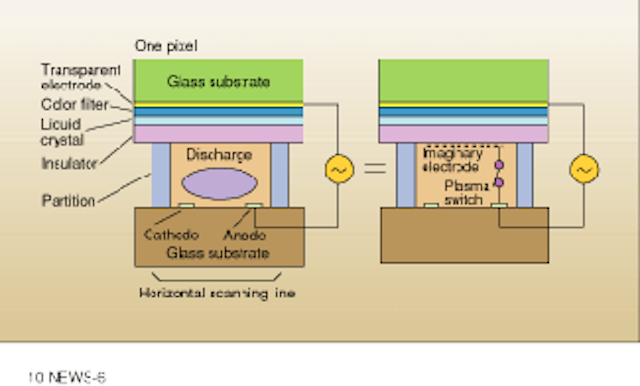 Click here to enlarge image
In a plasma-addressed liquid-crystal display, when an appropariate amount of voltage is applied between the cathode and anode, an electrical discharge occurs in the tube, and the area between the imaginary electrode and source acts as a conductor (turns on). When the plasma switch is turned on by display signals delivered to the tranparent electrode and anode, signals are input onto the liquid crystal.