New Products
Apr 1st, 2002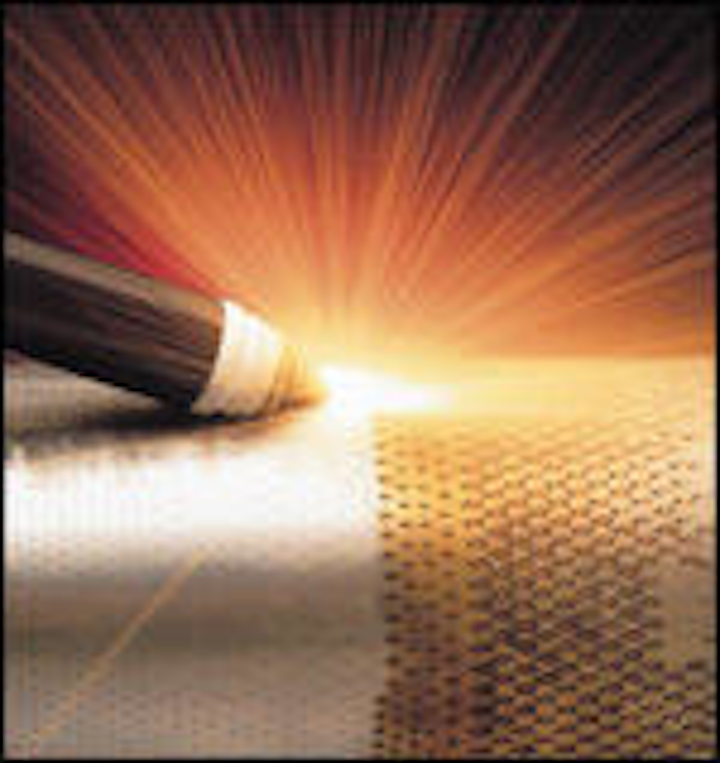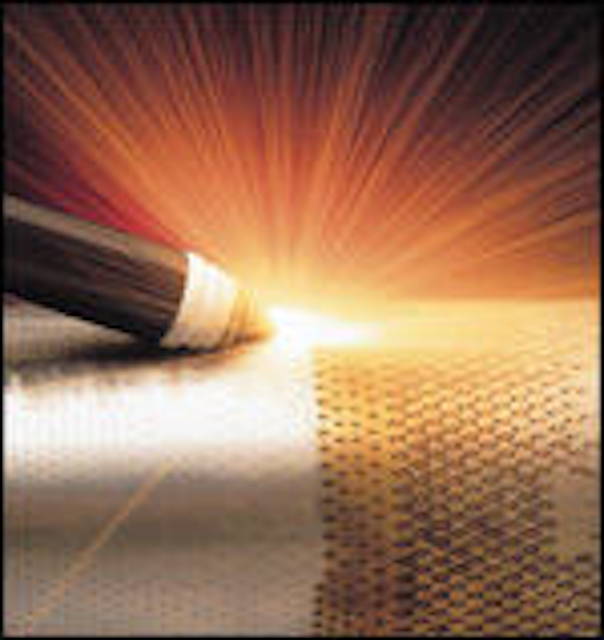 Click here to enlarge image
Optical focus control
New optical focus control (OFC) technology tracks the laser's focal point automatically in a closed-loop system with optical feedback. It is designed for use in material processing and focal point setup of laser systems. OFC operates independently from the nozzle standoff distance, shape, and material composition. Nozzle independence allows incidence angles up to 75°, suitable for shallow-angle drilling and the mapping of uninterrupted surfaces.

Laserdyne Prima, Maple Grove, MN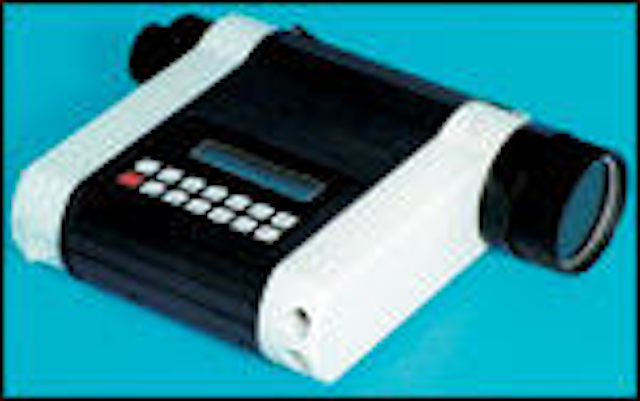 Click here to enlarge image
Software for IR thermometer
New software has been introduced for the Pyrolaser portable, automatic, emissivity-correcting IR thermometer. The software allows the user to recalibrate the Pyrolaser in the field without factory service. This allows the user to ensure calibration without taking the unit out of service, which is useful for users with ISO and quality compliance programs.

The Pyrometer Instrument Company, Northvale, NJ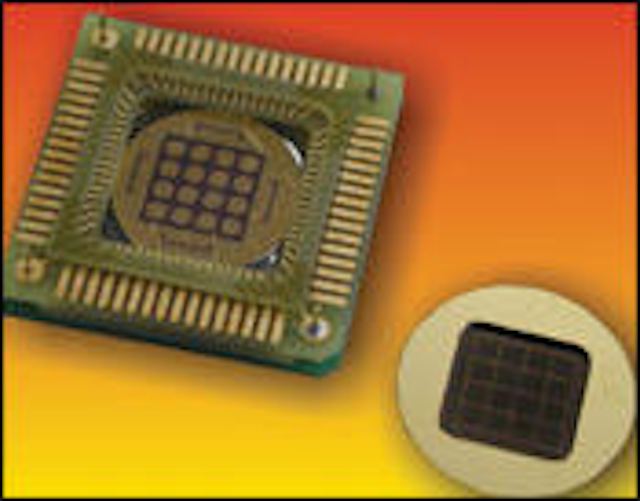 Click here to enlarge image
LAAPD array
A new, monolithic, 16-element LAAPD array utilizes patented technology to provide an all-solid-state alternative to multichannel PMTs for use as photodetectors in low-light applications. The array offers a QE of up to 90% and a spectral range of 250 to 900 nm. The array is available in either 4 x 4 (2.2 x 2.2-mm pixel size) or 1 x 16 (0.5 x 9-mm pixel size) element configurations.

Advanced Photonix, Camarillo, CA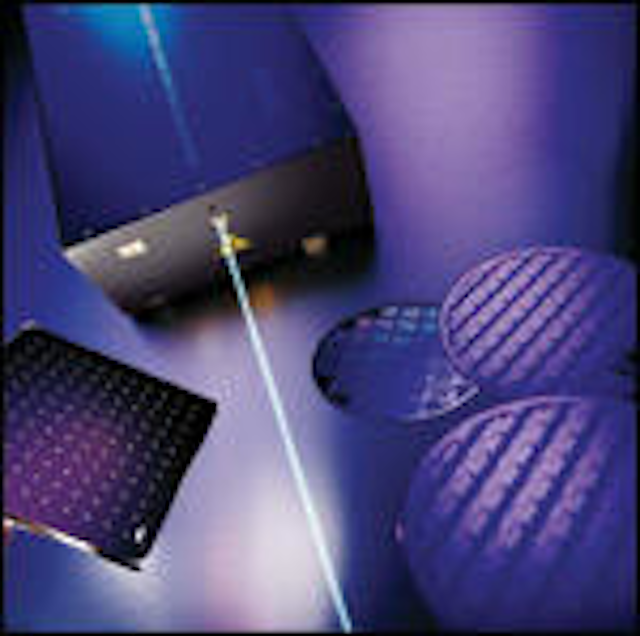 Click here to enlarge image
Deep-UV industrial laser
The Azure is a cw, diode-pumped, deep-UV laser. The frequency-doubled laser provides 266-nm output with an output power of 200 mW and a TEM00 beam profile. Designed as a "hands-free" laser source, industrial applications range from writing fiber Bragg gratings to semiconductor metrology. The compact unit incorporates the proprietary Sentinel system for automatic control of all operating features.

Coherent, Santa Clara, CA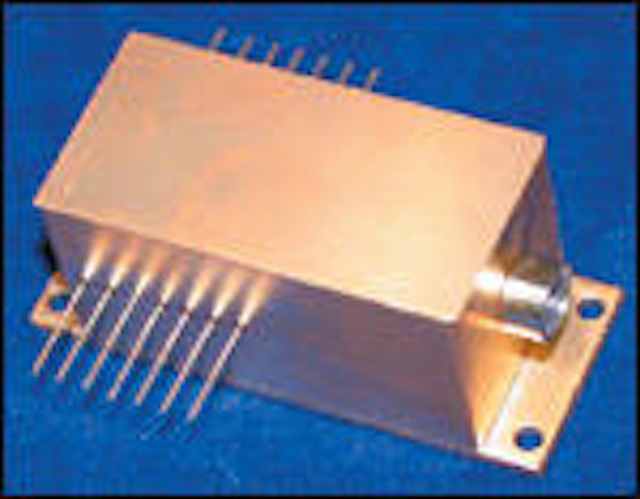 Click here to enlarge image
Bragg laser diode
A narrow-linewidth Bragg diode laser from Crystal GmbH emits 200 mW of uncollimated radiation at 860 nm at a driving current of approximately 250 mA. The emitted mode structure is fundamental in spatial and spectral mode, and a distributed-feedback resonator reduces mode-hopping at current changes. It has noise of <0.005% rms from 0 to 20 MHz.

Princeton Scientific Corp., Princeton, NJ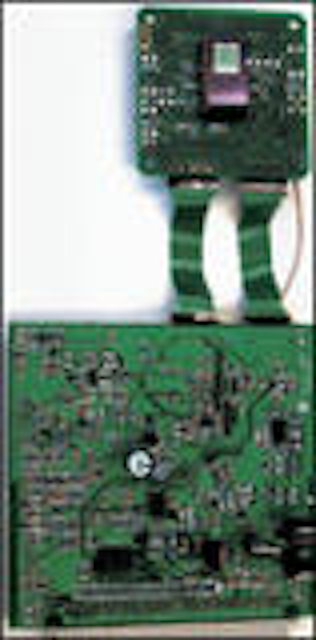 Click here to enlarge image
Monochrome camera
The new FTM18D/22 is a 1-megapixel monochrome camera that uses a 1K x 1K, 7.5-μm pixel, progressive-scan, frame-transfer CCD sensor. Operating at a frequency of 30 MHz, the camera provides 22 or 44 f/s with vertical binning. The camera utilizes TTL output and provides a 10-bit digital output signal with <2 DN readout noise. Applications include biometrics, machine vision, and high-frame-rate imaging.

Narragansett Imaging, North Smithfield, RI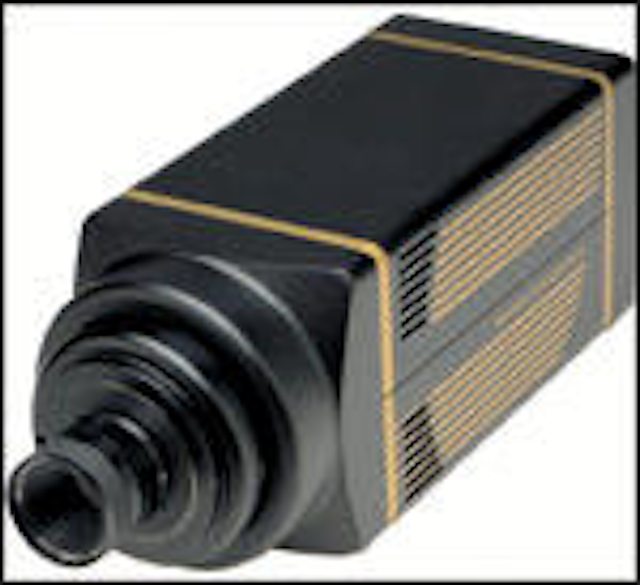 Click here to enlarge image
Intensified CCD camera
The PI•MAX:1K intensified CCD camera has been introduced for high-resolution gated imaging and spectroscopy applications. The camera uses new intensifiers with limiting resolution of 72 lp/mm. A built-in HV pulser and a proprietary gating technique combine to offer QE >45% and gate widths <2 ns.

Roper Scientific, Tucson, AZ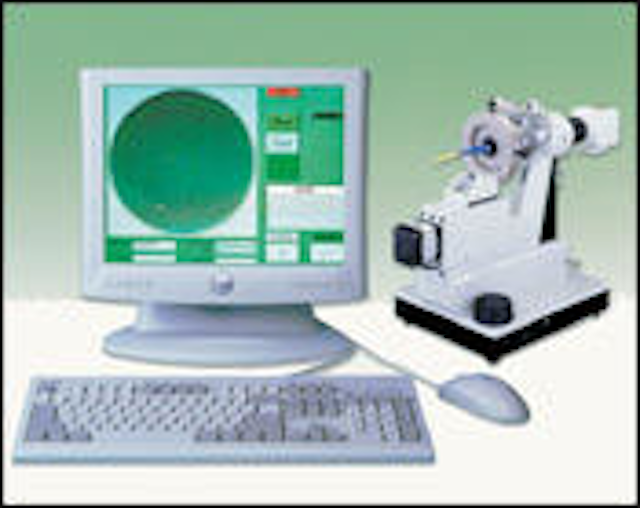 Click here to enlarge image
Connector certification system
The ConnCert 100 is a complete fiberoptic-endface inspection and certification system that takes the subjectivity out of the inspection process. Using ConnCert 100 software, the user can specify inspection parameters based on programmed requirements, while enabling a variety of pass/fail criteria for various zones across the fiber. The system is able to detect and measure pits, scratches, curved scratches, fretting, and particulate contamination. An autofocusing system ensures consistency.

Prior Scientific, Rockland, MA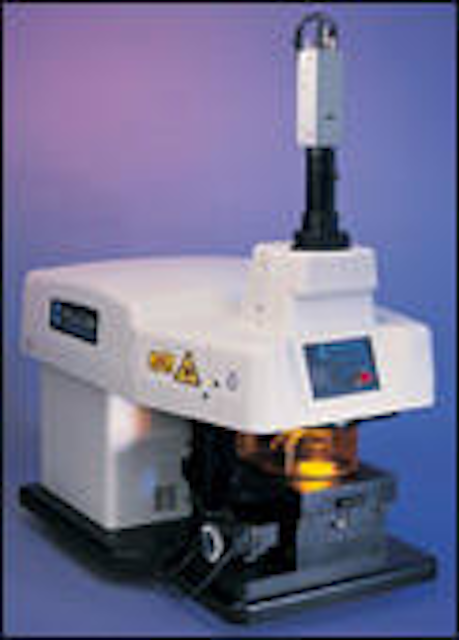 Click here to enlarge image
Tabletop machining system
AccuLaze is a compact, tabletop microelectronics machining system. The self-contained system includes an Nd:YAG laser, a high-magnification video system, and control software to allow trimming and repairing of a variety of micro devices. AccuLaze is available in six different wavelengths from deep UV (213 nm) to IR (1064 nm), allowing users to match the system's wavelength to the absorption level of the material to be processed.

New Wave Research, Fremont, CA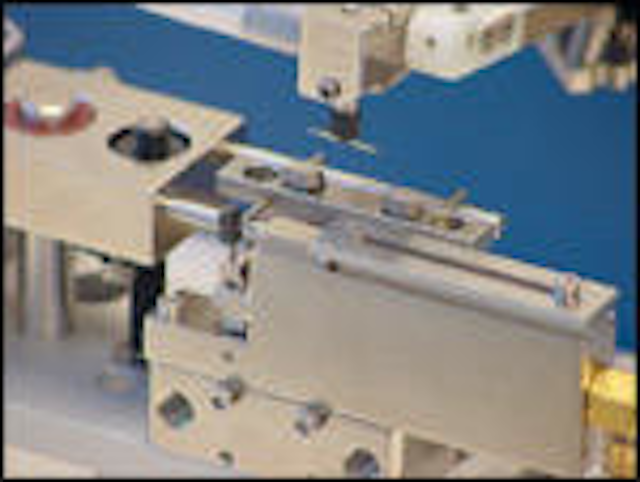 Click here to enlarge image
Laser-diode-bar stacking system
The System P35 laser-bar stacker picks unsingulated laser-diode bars from wafer tape and places them into fixtures for coating processes. A secondary input station allows spacers to be picked up and placed with the laser bars. Laser-diode bars are handled at production rates of >1000/h. The operator can easily change the machine to accommodate different size laser-diode bars.

Royce Instruments, Napa, CA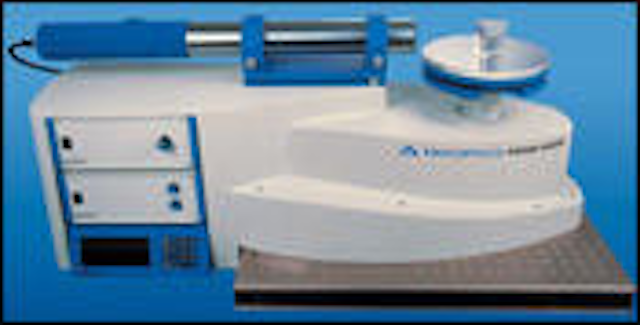 Click here to enlarge image
Prism/polygon measuring instrument
The PrismMaster HR is an automated turnkey system that includes an ultraprecision rotation drive for fully automated measurement of optical components. The system includes an electric autocollimator and offers resolution of 0.036 arc sec and accuracy of 0.1 arc sec. Software features include automated zero positioning, constant or variable measurement steps, selectable rotation speed, and multiple measurements.

Trioptics, Wedel, Germany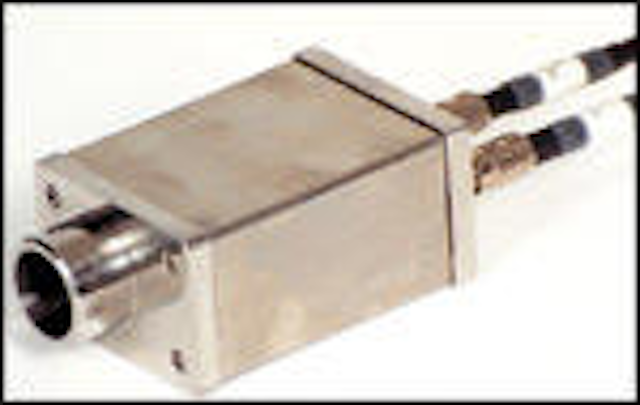 Click here to enlarge image
IR sensor head
The Pyrofiber single-axis fiberoptic sensor head is designed for measuring IR temperature and emissivity values of miniature targets. Target sizes to 1 mm can be measured accurately. The sensor head is part of the Pyrofiber Lab, automatic emissivity-correcting IR temperature-measurement system.

The Pyrometer Instrument Company, Northvale, NJ
Click here to enlarge image
Fiberoptic light modules and engines
Solarc 50-W fiberoptic light modules (LM50) and light engines (LE50) are now available to industrial OEMs. The systems emit bright white light suited for microscopy, machine vision, and other industrial inspection applications. The LM50 consists of a lamp with integrated cooling mounted block, a ballast, and a connector cable assembly. The LE50 contains the same components mounted in a durable housing.

Welch Allyn, Skaneateles Falls, NY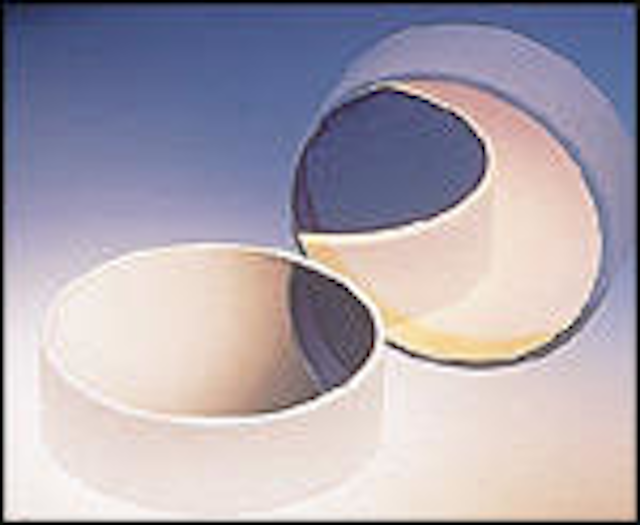 Click here to enlarge image
Mirrors and laser line reflectors
New diode-laser mirrors and high-power laser line reflectors offer reflectance of >99.8% and a damage threshold of 20 J/cm2. Available in diameters of 12.5 and 25 mm, the mirrors are manufactured from fused silica with a dielectric coating. Applications include beam-steering visible and NIR lasers in the kilowatt power range and for directing Nd:YAG laser lines.

Edmund Industrial Optics, Barrington, NJ
Spectral radiometer
The new RSA2000-CVF spectral radiometer is designed with 8-in. diameter optics and a circularly variable filter for high-resolution spectral analysis. The dual detector is cryoengine-cooled and provides a spectral response of 1.4 to 14 μm with <1% l spectral resolution. The narrow FOV can be focused from 1.2 m to infinity using the boresighted CCD TV camera. Controller electronics, software, and a field-portable computer are included.
Electro Optical Industries, Santa Barbara, CA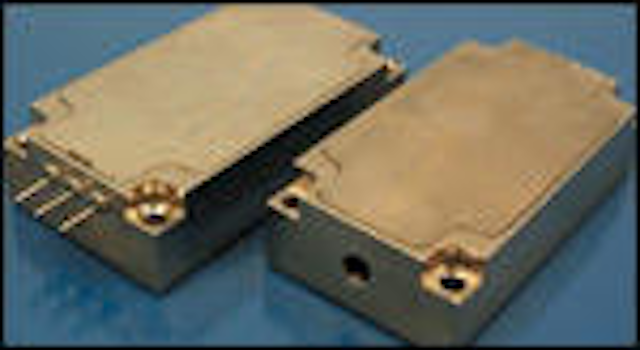 Click here to enlarge image
Pump for micro-YAGs
The UM4200/m20/CB series of high-brightness diode-laser modules allows the efficient pumping of micro solid-state lasers with power up to 4.2 W at 808 nm. The compact units supply a collimated, symmetrized, polarized, and homogenized output beam. The units have an m2 value <20 in x- and y-directions that is adapted to a longitudinal pumping approach. In addition to pumping applications, the series can be used in medical treatment and micromaterial processing.

Unique-m.o.d.e., Jena, Germany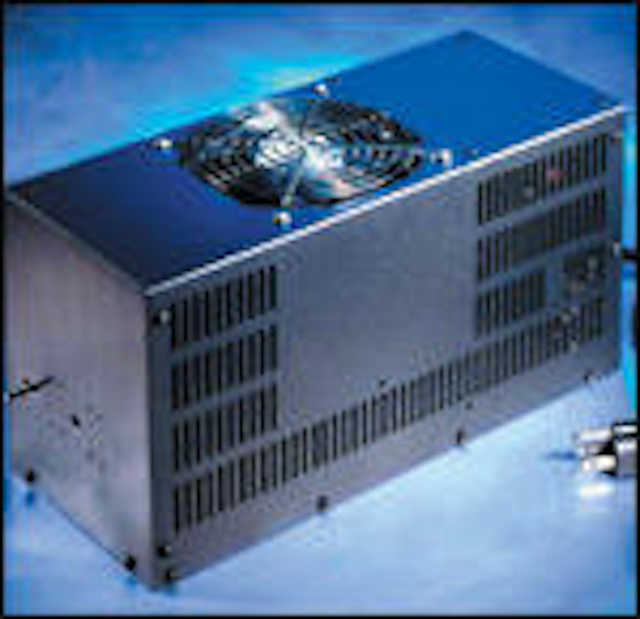 Click here to enlarge image
Ion laser
The new Solano is an air-cooled ion-laser system that integrates both laser head and power supply into a single, compact package. The entire laser head measures 370 x 133 x 163 mm. A "smart" power supply automatically compensates for variations in input line voltage from 90- to 265-V ac. Standard models deliver up to 70 mW of all lines output (458 to 514 nm) or linearly polarized, single-line output at either 488, 458, or 514 nm.

Spectra-Physics, Mountain View, CA
Scanner laser welding
The new programmable focusing optic (PFO) focuses the laser beam to any defined location on the working area using a series of Galvo mirrors. With an integrated pulsed or cw laser, parts can be welded without movement of the focusing optics or the workpiece, eliminating the need for linear axis or additional controls. Up to four PFOs can be operated simultaneously with a single laser unit.
Trumpf, Plymouth, MI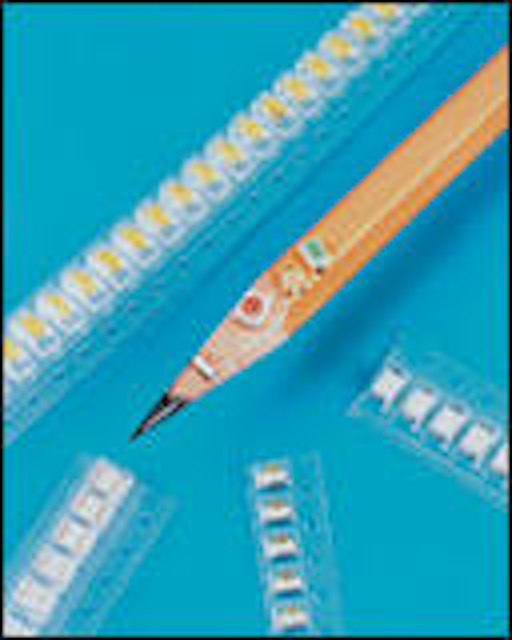 Click here to enlarge image
Surface-mounted LEDs
Surface-mounted LEDs are designed to save space on printed circuit boards and are supplied on tape and reel for automated placement on equipment. Available in gull-wing, SOT-23, 1206, 0603, 0805, and other industry-standard packages with right-angle, different colors, bicolor, and one- and two-pin styles, they are suitable for IR reflow and vapor-phase reflow soldering.

Gilway Technical Lamp, Woburn, MA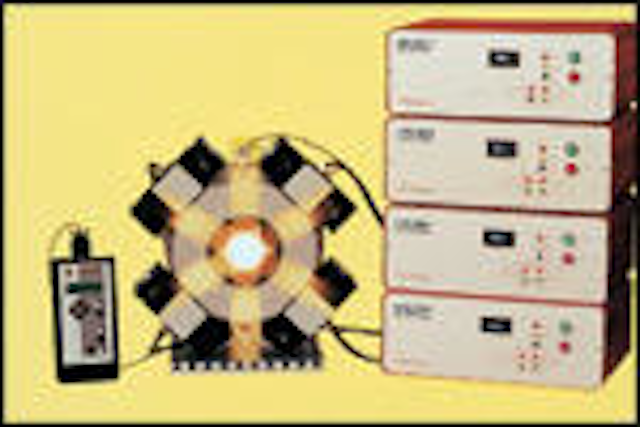 Click here to enlarge image
Controllable luminance/radiance light source
The Model BN-0101 luminance/radiance calibration standard is designed around a 250-mm-diameter integrating sphere with highly reflective OP.DI.MA.coating. Four individually driven lamps, with signal-level control from 1000 cd/m2 and 35,000 cd/m2 are mounted on the sphere. Four power supplies operate the lamps, and an optometer with a temperature-stabilized photometric or radiometric detector completes the system. The system serves as a source for uniform light with Lambertian characteristics for calibration of imaging and other optical systems.
Gigahertz-Optik, Newburyport, MA
Machine-vision system
The EZVision 12X machine-vision system includes robot guidance, pattern matching, optical character verification, and SPC data collection. Now available in Windows 2000, the system includes the processor, software, the EZVIP operator interface, camera, lens, light, and the initial inspection setup routine.
Cincinnati Industrial Automation, Covington, KY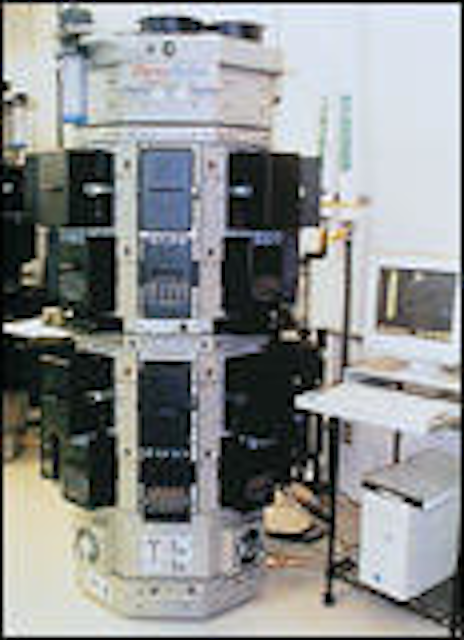 Click here to enlarge image
Laser-diode life test system
The LD 960-32 life test system uses a patented conductive thermal control technology, as opposed to an air-based oven, for precise control of diode temperature during the life test process. The system is capable of performing life tests on up to 960 diodes, with 30 diodes at 32 independent sites, and each individual diode is driven by a microprocessor-controlled source.

ThetaDelta Technologies, Lawrence, MA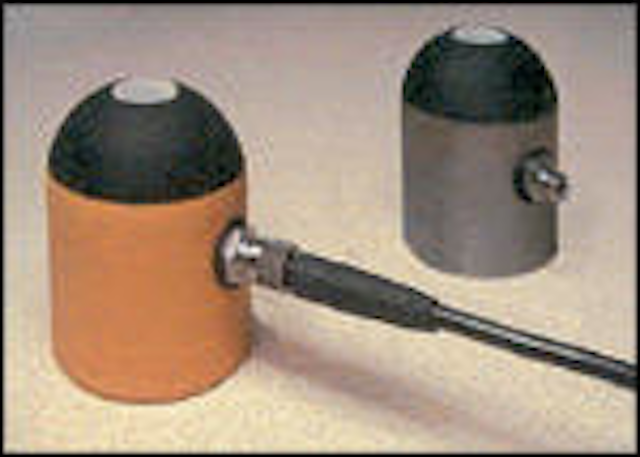 Click here to enlarge image
Miniature integrating sphere
The Innasphere is a miniature integrating sphere for use with fiberoptic spectrometers. It provides full-function cosine reception over spectral ranges from UV through visible, and into the NIR. With system calibration, it will provide both relative and traceable optical measurements. The weather-resistant sphere has a 12.5-mm input and is 30 mm in diameter. It uses a standard SMA connector.

Ancal, Henderson, NV
Linear motor stage
The NanoSlide linear motor stage is a direct drive stage, designed for applications including life science, factory automation, digital imaging, semiconductor, and photonic alignment and automation. Its integral, center-drive linear motor has a magnetic design that supports up to 3-G acceleration and 44-N force generation. Its single-phase coil allows the use of simple brush-type amplifiers. Dimensions are 35 mm high and 150 mm2.
Danaher Precision Systems, Salem, NH
Lensed fiber
Lensed fiber has been introduced to the Yellow Jacket-brand metallized-fiber product line. Both screwdriver-tip and conical-lens geometries are available. Asymmetrical radius of curvature or aspheric configurations may be specified.
Haleos, Blacksburg, VA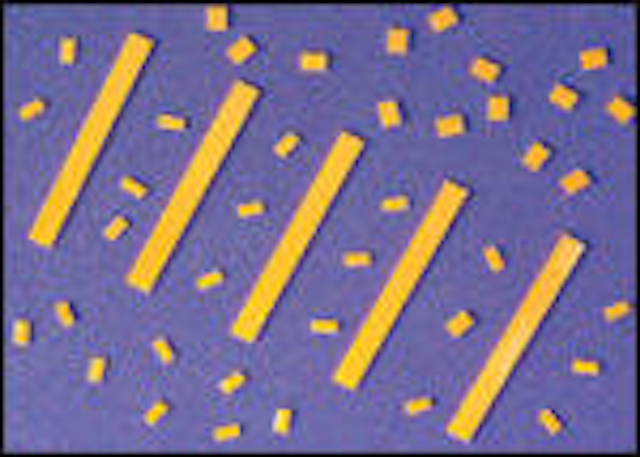 Click here to enlarge image
Unmounted diode-laser bars
High-peak-power QCW unmounted diode-laser bars, emitting in the 900-nm wavelength range, have been introduced. Consisting of 90% fill-factor, the 100-W peak power diode-laser bars are designed for integration into a number of solid-state laser pumping applications, specifically Yb:sFAP, and direct-diode target illumination.

Coherent Photonics Group, Santa Clara, CA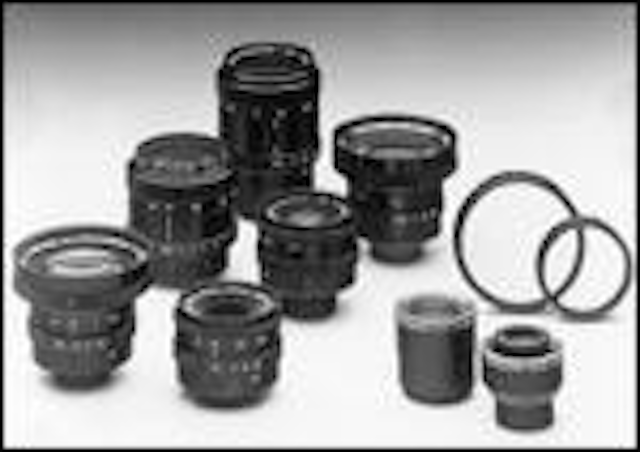 Click here to enlarge image
CCD and CCTV lenses
A new line of CCD and CCTV lenses is designed for various 1/3-, 1/2-, 2/3-, and 1-in. formats. The lenses are of 3-, 6-, or 7-glass element designs, mounted in compact, durable metal housings, with focal lengths from 10 to 45 mm, speeds from f/1.5 to f/8, and color-corrected for wavelengths from 400 to 1000 nm. The lenses have fixed or variable iris diaphragms, with lockable or click stop adjustments.
Docter Optics, Mesa, AZ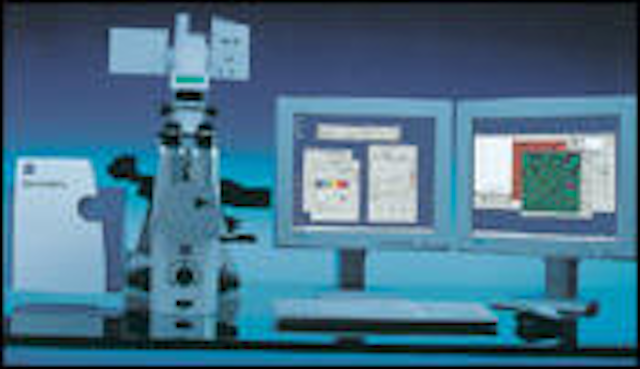 Click here to enlarge image
Laser-scanning microscope
The LSM 510 META is a laser-scanning microscope designed for fluorescence microscopy in biomedical research. The new system allows more fluorescent markers to be used simultaneously and their fluorescent emissions to be assigned despite spectral overlaps. The system splits the fluorescent light and projection onto a multichannel detector. The META detector module can be retrofitted to existing LSM 510 units.
Carl Zeiss, Jena, Germany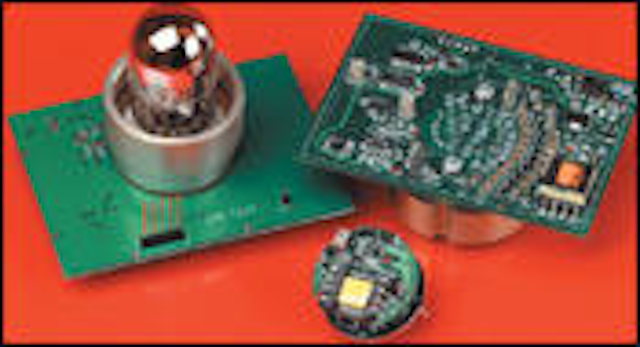 Click here to enlarge image
Thermoelectric air conditioner
The compact 400-BTU thermoelectric solid-state air conditioner, model AAC- 140B-4XT, is now available with an integral power supply and adjustable thermostat. Users can cool small electronic packages directly from a 120/240-V ac power source. A patented design expels power-supply waste heat with the outside exhaust air.
Electrografics International, Warminster, PA
Remote monitoring device
The GammaTRACER is designed for unmanned continuous surveillance of gamma radiation. The unit is a combination of a GM-based survey instrument and a microprocessor-controlled data logger in a compact, environmentally sealed package. Up to 12,800 measurements can be recorded, based on selectable time periods from 1 min to 2 h. As compared to conventional TLD badges, this product offers time-slice capability, uniquely allowing a high exposure for a short period to be recorded in memory.
Berkeley Nucleonics, San Rafael, CA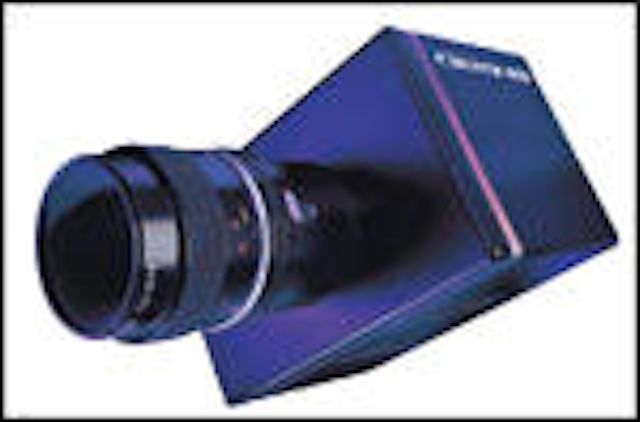 Click here to enlarge image
Area-scan camera
The megapixel DALSTAR 4M30 is an area-scan camera offering 2k x 2k resolution and true 12-bit digital output at 30 fps. It has a square pixel format and high fill factor for quantifiable image quality at low light levels. The camera has a low-noise, digitized video signal. Applications include BGA and flat-panel inspection.

Dalsa, Waterloo, Ont., Canada
Click here to enlarge image
Double-pulse Nd:YAG laser
The LDP-100MQG is a 50-W average power, diode-pumped Nd:YAG laser with an emission wavelength at 532 nm. It contains an acousto-optic Q-switch for pulse generation up to 50 kHz. A double-pulse configuration permits emission of pairs of laser pulses. This laser was designed specifically for use in particle image velocimetry (PIV) applications.

Lee Laser, Orlando, FL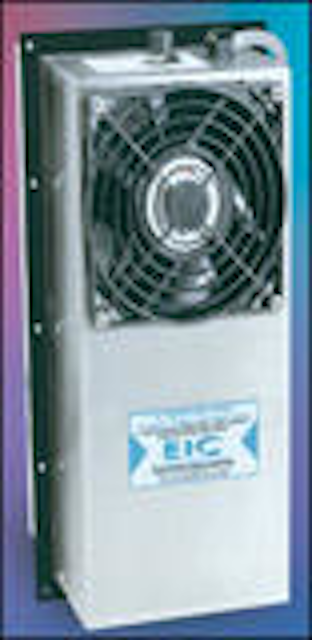 Click here to enlarge image
Power supplies
New single-board power supplies are designed for use with photomultipliers. A typical board measures 30 x 40 mm and includes a photomultiplier socket. The boards are designed for low power consumption for OEM integration into bench-top and portable instruments.

Electron Tubes Ltd., Middlesex, England
Automated sample-preparation system
The Centar can cross-section critical fiberoptic components, planar devices, and integrated circuits to an accuracy of 0.1 micron to the targeted feature. Using patented SMPT technology, the system offers integrated image processing. Applications include failure analysis, materials characterization, and yield enhancement activities.
Sagitta, Hauppauge, NY