Manufacturers' Product Showcase
Siskiyou top-adjust components let you put many degrees-of-freedom in a small volume.
Oct 1st, 2009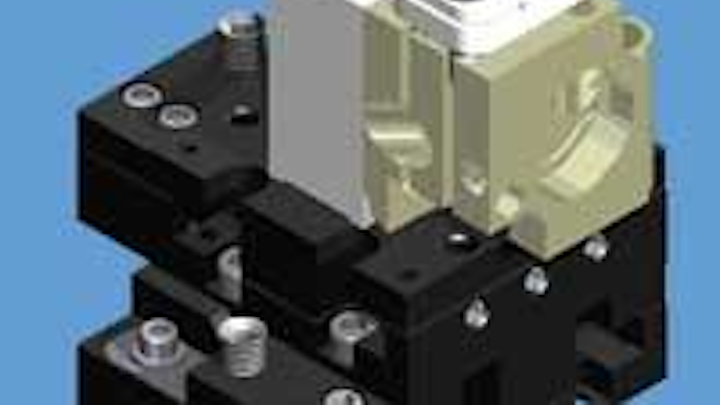 OEM Solutions
Siskiyou top-adjust components let you put many degrees-of-freedom in a small volume. Our top-adjust crossed-roller stages and tip-tilt flexure mounts with adaptable mounting blocks let you miniaturize entire designs with lockable sub-micron precision. All adjustments are made from the top to avoid the beam path. Available in standard or vacuum-compatible versions, the stages boast 150 microns per turn adjustment precision, while the flexures' rigidity makes them ideal for OEM applications.
Click here to enlarge image
sales@siskiyou.com • www.siskiyou.com
1-877-313-6418
Complete Source for Commercial, Low Cost Optics
Anchor Optics 2009 catalog has more than 230 new products including eight complete lines of Commercial Grade optics and features expanded multi-pricing making Commercial Grade optics perfect for volume buyers. Commercial Grade Optics have standard designs, are available on an ongoing basis, and are backed by excellent customer service. Anchor Optics, the essential source for Affordable Quality Optics, has over 5,000 products and 5,000,000 in stock and ready for immediate delivery.
Click here to enlarge image
Anchor Optics
www.anchoroptics.com
Lambda Research Corporation announces the release of TracePro 6.0 with x64 capability!
TracePro 6.0 accurately simulates larger CAD models by taking advantage of the additional available memory in the x64 Edition of Windows XP, Windows Vista, and Windows 7 operating systems. The Windows 64 bit architecture allows users to simulate these CAD models with larger ray sets to investigate uniformity, solar position, medical tissue scatter and color issues with multiple sources in their models.
New features in TracePro 6.0 include an interactive CIE plot showing color coordinates on a color gamut, enhanced repetitive prism geometry to simulate state-of-the-art display backlights, and solid concentrator constructors specifically designed to model today's next-generation solar collection applications.
Click here to enlarge image
25 Porter Road, Littleton MA 01460 • 978-486-0766
www.lambdares.com • sales@lambdares.com
Photon Inc.'s New USBeamPro CCD Profiler
Photon introduces the USBeamPro CCD, a 12-bit CCD-based beam profiling system with USB 2.0 connectivity, operating under Photon's renowned BeamProfiler Software in Windows®. It provides highly accurate measurements of ISO Standard beam profile parameters, including beam diameter, centroid, and power/energy. The USB 2.0 interface offers enhanced ease of use and portability.
The USBeamPro CCD features a ½-inch format 1360-1024 array with 4.65µm square pixels; for a total beam imaging area of 6.32mm-4.76mm. The camera's small form factor of 70-95-33mm allows ease of placement into typical optical paths.
The nominal optical power dynamic range of this array is 36dB (12-bit digitization).
Click here to enlarge image
1-800-374-6866 • www.photon-inc.com
2 Channel, USB Powered Laser Meters measure from fJ to mJ or pW to mW
Having a problem finding a good Dual Channel Laser Energy or Power Meter? Look no further, we have developed a family of versatile, USB powered 2 CH Laser Instruments that measure energy or power and can ratio CH A/B or B/A. Our delta products include a choice of pyroelectric, silicon, germanium and InGaAs detectors configured as energy or power probes. They mate to our delta-DPM Digital Power Modules and include powerful LabView Software. Take your laser measurements 2CH, ratio the results, display data in a strip chart or histogram or log the data to a file on your PC. They're plug and play simple!
Click here to enlarge image
5825 Jean Road Center, Lake Oswego, OR 97035
info@spectrumdetector.com, (503)697-1870
www.spectrumdetector.com
3700 High Power Temperature Controller
Newport's Model 3700 High Power Temperature Controller supplies 300W of power (+/-14A, 22V), using DSP based PID control for quick settling times and high stability. The unit features intuitive menu-driven user interface, USB computer connectivity, and affordable pricing. This is the ideal controller for demanding cooling/heating and temperature control applications, such as diode pumping, wavelength and temperature regulation for high power illumination, and high power laser diode testing and control.
Click here to enlarge image
www.newport.com
(800) 222-6440
TRA Motorized Actuators
Newport's 12.5 mm version of the TRA motorized actuator is now available. This complements the 6 mm and 25 mm travel versions and all are available with DC or stepper motors, or as vacuum-compatible. TRA actuators have a small footprint, yet have a 6 kg load capacity. Other features include sub-micron, minimal incremental motion and micron level repeatability, and an integrated optical switch for reliable, repeatable home positioning. The TRA's are compatible with many manual positioning products and Newport's full range of motion controllers.
Click here to enlarge image
www.newport.com
(800) 222-6440
High Power Laser Diode Control Kits
For optimal protection and performance of your high power laser diodes, Newport introduces a series of High Power Laser Diode Control Kits. Controllers used are series 5700 High Power Laser Diode Driver family (30A-150A, 5V-30V, with pulse capability) and 3700 High Power Temperature Controller (300W, 14A/22V, DSP based PID control). Fan-cooled active mounts up to 200W thermal dissipation capacity are also included. The kits accommodate single or multiple fiber pigtailed diodes.
Click here to enlarge image
www.newport.com
(800) 222-6440
Beam Cube, Industrial Laser Beam Analyzer
Ophir-Spiricon, the world's leading provider of laser measuring equipment, introduces Beam Cube to monitor laser beam quality in industrial applications, ensuring high precision welding and cutting results. Beam Cube measures beam profile, temporal pulse shape, focal spot position, and power up to 150W for Nd:YAG and diode lasers.
Click here to enlarge image
www.ophir-spiricon.com • (866) 755-5499
CLPT InGaAs FPA enables you to reach NIR Vision Frontiers!
Features
Spectral range in 900~1700 nm, 1, 2 and 3mm diameter
High operability, High responsitivity, High shunt resistance
640×512 with 25um pitch, 320×256 with 30um pitch
High quantum efficiency
Low dark current, wide dynamic range
Uncooled/TEC devices
CLCC/Kovar metal case, TO and CLCC package
Click here to enlarge image
Tel.: 886-3-4244050, Fax: 886-3-4245849
www.leadinglight.com.tw • E-mail: cchong@cht.com.tw
Beam Four Java Edition
Our latest optical ray tracer offers a collection of the most valuable tools for the optical designer. Because this edition is pure Java, it runs on all popular computers. It has computational support for lenses, mirrors, prisms, gratings, arrays, HOEs, irises of many types, and arrays of lenses and mirrors. It handles a wide variety of surface profiles including torics, polynomials, and Zernikes. Other features are WFE diagnostics and even stereo viewing. Visit our website and try the free download!
Click here to enlarge image
Stellar Software
www.stellarsoftware.com
Wide variety of precision molded lenses
We are ready to manufacture custom-made special lenses. Our products cover lenses which have optical surfaces including spherical and flat surfaces, aspheric surfaces and free-form-surfaces for square lenses and mirrors, lens arrays, and V-groove arrays. We are also ready for small-lot production and mass production of lenses as well as development from the optical design to test production.
Click here to enlarge image
www.sumita-opt.co.jp